Has eCommerce success been elusive for you and your business? Or are you just starting an eCommerce business? Either way, Acumatica's on-demand webinar highlighting how success and cloud ERP go hand in hand is for you.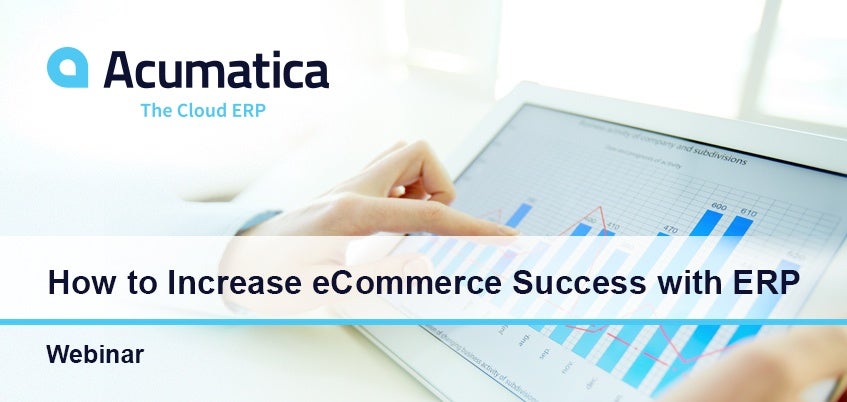 Billions of people around the world go online to research, compare and purchase the goods or services they need every day. As a buyer and a businessperson in this digital economy, you have certain expectations. The buyer in you expects a B2C or B2B eCommerce  business to provide an eCommerce website that's easy to navigate as well as one that provides images/videos of the product, buyer reviews, a clear way to contact customer service, and the ability to return items without issue. The businessperson in you expects that their website connects with a back-office system to facilitate the behind-the-scene logistics.
Acumatica's on-demand webinar, How to Increase eCommerce Success with ERP, delves into this connection, the challenges online sellers encounter, and how to utilize an integrated eCommerce and ERP system to overcome them.
Powering eCommerce success with ERP
As mentioned, eCommerce success isn't just about having a comprehensive website. This is obviously important, but if you don't have a back-office system in place to manage orders, payments, inventory, and returns—and one that connects seamlessly to said website—then there's only one outcome you can expect: failure.
The on-demand webinar speakers, Josh Fischer (Senior Product Manager – Acumatica Commerce Edition) and Sachin Wadhawan (Director of Technology Partnerships – BigCommerce) are eCommerce and technology experts. They understand that B2C and B2B eCommerce software paired with the right cloud ERP solution will produce online success.
In the webinar, they explain what cloud ERP is as well as how:
The right cloud ERP software helps your eCommerce business grow
You can keep up with buyer expectations
To stay competitive in a crowded market
To build efficient workflows
One company that's experienced eCommerce success is Acumatica customer Shoebacca, an online retailer of name-brand athletic shoes. They implemented Acumatica cloud ERP and Acumatica Commerce Edition and found they significantly increased their interoperability, profitability, and growth.
"Acumatica would be a great asset to anyone trying to expand its eCommerce platform, says Thomas Finney, Shoebacca's IT Director. "We are an eCommerce retail company; we do all of our product management within Acumatica. We also do all of our accounting in Acumatica. And we do that for multiple companies as well. The only thing Acumatica is not the primary application for us is our eCommerce Shopping Cart, but we have tight integration between our shopping cart and Acumatica."
The successful collaboration and synchronization between their website and Acumatica's cloud ERP solution is a great example of the importance of choosing the right solution from the many eCommerce software solutions available. Acumatica's eCommerce Back-Office System Evaluation Checklist can help you make the best ERP choice for you and your eCommerce business.
Ben Rothe, co-owner and CEO of Premier 1 Supplies, also chose Acumatica Cloud ERP after researching his B2C cloud ERP system options. By doing so, he transformed the family business into an eCommerce powerhouse.
"With over 60% of our sales coming from the website, we need the two systems to talk to each other, and [Acumatica's] open API allowed us to do just that," he says. "Acumatica allows us to do what we want to do, the way we want to do it, on our terms."
And Bryan Pape, CEO of MiiR (a company that produces vacuum-insulated stainless-steel drinkware that grants 3% of their revenue to organizations with sustainable methods of empowerment), chose Acumatica over at least three competitors because "its robust, its flexible, its simple, and it also has an [open] API, so as you need to connect into it, there's an ability to do that as well."
Listen to interviews with these retailers and three more who have experienced eCommerce success in our Acumatica eCommerce Customer Success interviews for advice on competing in today's marketplace.
Download Acumatica's on-demand eCommerce webinar today
Every day, people interact with many different eCommerce websites, and their expectations continue to rise. Only eCommerce businesses that have integrated their front-end system (eCommerce website) with their back-office system (ERP) will be able to meet them. eCommerce giants, such as Amazon and eBay, have done just that, mastering buying simplicity for their customers.
You need to master this, too.
Download Acumatica's on-demand eCommerce webinar today to learn how Acumatica with BigCommerce can get you not only up and running but succeeding. You'll hear about challenges others have faced before you and see examples of how an integrated B2C/B2B eCommerce software and ERP system will solve them (including improving your customers' entire buying experience). The speakers also take time to answer webinar attendees' questions.
If you have any questions, we hope you'll contact our team. You can also check out our free checklist, A Quick Reference Checklist to eCommerce Readiness, and our newest Whitepaper, The Best eCommerce Starts with Tighter Integration, for even more information on how to make your eCommerce software and cloud ERP solution work together for the best outcome.