Is your Human Capital Management (HCM) system integrated into your ERP platform? The convergence of modern technology systems brings many benefits to your business and employees, including productivity, ease of use, and cost control. 
Combining ERP with HCM
Channel partners selling enterprise resource planning (ERP) platforms like Acumatica are enjoying the money and customer loyalty they earn by specializing in back-office functionality. But many partners are overlooking an obvious way to bolster their finances and strengthen relationships with clients: Adding web-based human capital management, or HCM, systems to those ERP deals, such as InfinityHR.
"ERP and HCM solutions are a natural pairing," said Jon Roskill, CEO of Acumatica at the recent Acumatica Summit.  "InfinityHR and Acumatica share a joint vision of technology leadership, and we believe this partnership will open up many new opportunities for our joint Customers and Resellers."
Indeed, research firm Gartner Inc. predicted the HCM market would exceed $10 billion in 2016 alone and that inquiry volumes would continue to rise.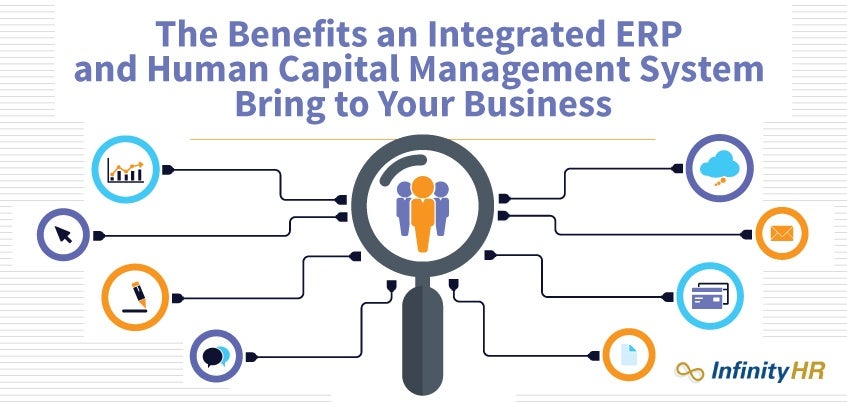 HCM and ERP data often overlap. Yet many companies' HR, finance and other mission-critical groups still maintain disparate records, often because no one has educated them about the benefits of streamlining the data. Thus, many organizations continue to operate in chaos, duplication and inaccuracy.
The need to combine systems is apparent. And it is becoming more imperative as HR teams find themselves integral to the ERP process. That's because many businesses now view HR as a strategic change agent, rather than just a group that oversees hiring and firing, payroll and benefits. Human capital, and the infrastructure required to support these people, accounts for almost 80 percent of businesses' spending. As such, HR personnel have grown more important than ever in helping with company-wide decision-making and the trend will not go backwards.
Channel partners can, and should, show prospects and existing customers how integrating HCM into the ERP program addresses these issues. Certainly companies cannot continue to operate in silos that stymie communication and progress. Instead, show clients how using ERP with HCM facilitates the sharing of critical everyday processes such as payroll and growth forecasts. Demonstrate how this improves communication, gets rid of multiple instances of data entry, and speeds up the hire-to-fire process; all the while, the partner's monthly recurring revenue increases. Pairing ERP with HCM is a no-brainer, both for channel partners and end users.
Partners selling Acumatica have a built-in HCM choice in InfinityHR: the SaaS platform holds certified integration credentials to Acumatica.
"It's an exciting time to be the preferred HCM partner for Acumatica," said Katherine Clements, Vice President of Sales and Marketing at InfinityHR. "Both companies are dedicated to innovation for our clients, providing cloud solutions to improve business processes and meet the increased demand for an integrated HCM and ERP offering."
The Payroll Convergence
Technology changes fast, and each successive generation's expectations are quickly reshaping how HR works with employees. In order to adapt, businesses must simplify their HR strategies to gain efficiencies, reduce costs, and maintain employee engagement. The convergence of cloud-based HR systems and payroll is one area of opportunity that can help businesses stay competitive now and into the future. Convergence may sound like just another corporate buzzword, but it's happening all around us as new technologies make our lives more productive and efficient.
A decade ago, HR systems were designed around better tracking for payroll and benefits for HR professionals. Today's expectations are different, and HR systems must now be designed with the employee in mind. For example, Millennials are the largest generation in the workforce, and they are pushing the use of mobile devices at work. In addition, more people are telecommuting and working outside of the traditional office.
Payroll is one area where HR can adapt to improve the employee experience. Accessing payroll on smartphones and other hand-held devices can help HR and employees keep track of pay in real-time. Convergence happens when employees can access their pay stubs while also tracking retirement accounts, paid-time off, and other HCM features. A centralized system can also connect all employees to one secure area and access information remotely, no matter where they are. Strong software applications can help standardize these features for employees across an entire company. Not surprisingly, more businesses are looking to capitalize on such payroll applications.
To adapt to these challenges, HR must see itself as a platform that provides services, tools, information, and real-time data to employees and managers. This platform mentality matches the end users' expectation that an application should seamlessly integrate from system to system. This standardization can help improve performance, decrease redundancy, and reduce human error in businesses. In the end, this simple mindset and platform approach can provide businesses a foundation to make complex decisions by easily pulling and working with data from their applications. Working through the "cloud" is one technological advance that can greatly enhance this platform approach. Cloud-based services provide automatic software updates, real-time data entry, data backup, and remote access to HR information. Thus, cloud technology makes it easier for businesses, especially smaller ones, to cost-effectively modernize and automate their payroll processes.
Business of all sizes can benefit by adopting HR technologies to improve competiveness. However, not every business is in the position to create these HCM platforms themselves. InfinityHR is one such turnkey system that can help HR executives and administrators access payroll and manage all HR data—hire to retire—in one system. InfinityHR is a cloud-based system that has been designed to help businesses enhance their HR platform by providing access to data, which makes it possible to quickly streamline hundreds of processes.
In the end, the worlds of payroll, HR, and business management are converging as companies adopt integrated solutions to control costs, improve efficiencies, and maintain employee engagement. InfinityHR helps businesses stay ahead of the competition by converging a multitude of HCM needs into one secure, convenient place and stay one step ahead of a constantly changing environment.