You've done your ERP homework: research, evaluation, and software selection. You want to purchase the system and move on to the ERP implementation, but a critical piece is missing. That piece is leadership buy-in, and if you don't have it, your work may be wasted.
 Undergoing an ERP implementation has been compared to open heart surgery while you're not only awake but still on the job. A painful analogy, yes, and not an entirely accurate one. The ERP implementation process, if taken one step at a time, will run its course successfully without any need for anesthesia.
If an organization has gotten its leadership on board, done its ERP research, and completed an ERP evaluation, then it's well on its way to making a wise and beneficial ERP software investment that will pay big dividends over time.
What happens, however, if the executive buy-in phase doesn't happen? Nothing.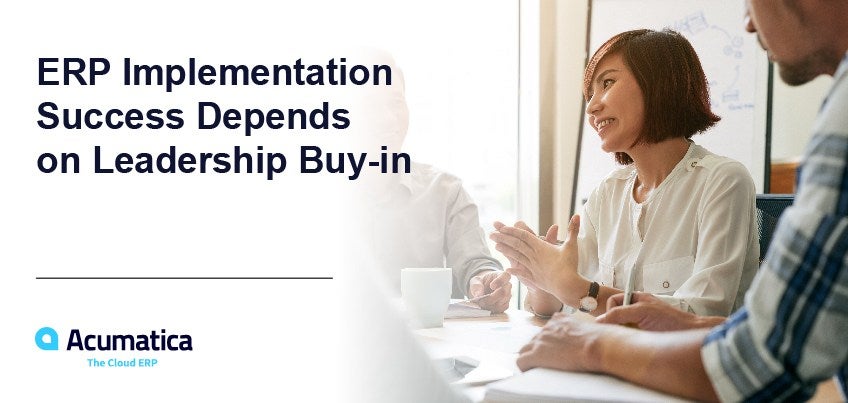 Why an ERP implementation requires leadership support
Leadership, by definition, is the action of leading a group of people or an organization. For businesses, it's usually a team made up of top-level executives addressing the big-picture decisions, setting objectives, and tracking milestones.
These executives establish the overall mission for an organization and drive the programs that make it happen. When it comes to adopting technology—cloud ERP solutions, in particular—the success of the ERP implementation rests on whether the leadership team buys into the concept and the need. Obviously, investing in an ERP software system can't even take place until the leadership approves the expenditure in the first place, but setting that aside, what other reasons are there for needing leadership buy-in? Here are just a few:
Champion: Every ERP implementation needs a champion. And the champion must be a part of the executive team. He or she is a person who is a leader within the organization and who is committed to seeing the cloud ERP adoption succeed, recognizing its inherent value from the outset. He or she is the energy and drive behind the project that keeps everyone on track throughout the process.
Manpower: An ERP implementation takes manpower. End users in all departments will need to be involved, and the leadership team can ensure you get the personnel you need.
Staff Support: If employees across the organization don't see the support (and the excitement) from the leadership team for this immense project, then you're going to get lackluster support from them. This lack of support results in disuse of valuable technology that would not only help the organization succeed, but also make employees jobs easier.
Leadership buy-in is essential if you want an ERP implementation to succeed. So how do you get it?
Attaining leadership support
Let's assume you're in charge of convincing your organization's C-suite that a new cloud ERP solution is necessary. Before you can even bring the idea of implementing a cloud ERP solution up for consideration, you'll need to go through the ERP software selection process, which involves ERP research and ERP evaluation. The information you gather is key in convincing executives to support the endeavor.
Here are some important steps to attaining leadership support:
1. Explain why a modern cloud ERP solution is important: Most executives today are fully aware of the need for a digital transformation strategy. To remain competitive in the marketplace, businesses must automate important business management processes to increase efficiency, scalability, and profitability. Your must clearly communicate what a modern ERP system can do: put every department on the same page with a "single source of truth," provide real-time data for better decision making, add in-depth analysis capabilities, offer mobility for connection anytime and anywhere, and allow for seamless integration with necessary third-party applications.
2. Highlight the ROI: Justifying a large expenditure requires estimating the cost of the investment, from licensing and implementing it to training users and maintaining the system. Cost (and timeframes) can be gleaned from your ERP vendor. The total cost is then weighed against the benefits of a new system. The benefits of cloud ERP systems generally include reduced operating expenses, improved customer satisfaction with faster response times, increased data analysis for better decision making, and ensuring employee efficiency through more comprehensive and intuitive workflows—all of which combine to affect your Return on Investment over time.
3. Keep the leadership team in the loop: This is where the champion comes into play and will be, as mentioned earlier, someone from the leadership team who can to meet with the whole org regularly throughout the ERP implementation to keep everyone informed. They'll not only be prepared for the process, they'll also have a say in it. In addition, they won't be surprised when challenges come up and they can help resolve any problems.
These practical strategies will help you gain leadership support. And as leadership coach and author John C. Maxwell points out, "People buy into the leader before they buy into the vision."
This is true for any company deciding to undergo an ERP implementation. If the leadership team is dedicated to the implementation and believes in the value it holds for the organization, the rest will follow.
Are you currently researching and evaluating your cloud ERP options? If so, we encourage you to factor usability and customer satisfaction into your selection, and to consider Acumatica's true cloud ERP solution. Contact our team of experts with any questions, or to schedule a product demonstration.