As we continue our customer-focused series, our third post zeroes in on Shoebacca's success story with Acumatica Commerce Edition. You'll read about their increased interoperability, growth, and profit and learn how it can be yours, too. And don't forget to check out the previous posts on customers Superprem and Specified Technologies Inc.
Shoebacca, the winner of the 2016 Acumatica Customer of the Year Award, was one of Acumatica's first customers to implement Acumatica Commerce Edition. The company believes all eCommerce businesses could benefit from doing the same.
"Acumatica has been behind our success and their support team has been integral in making sure that we've been as successful as possible," says Shoebacca's IT Director, Thomas Finney. "I would definitely recommend Acumatica to someone looking for a new ERP solution. Acumatica would be a great asset to anyone trying to expand its eCommerce platform."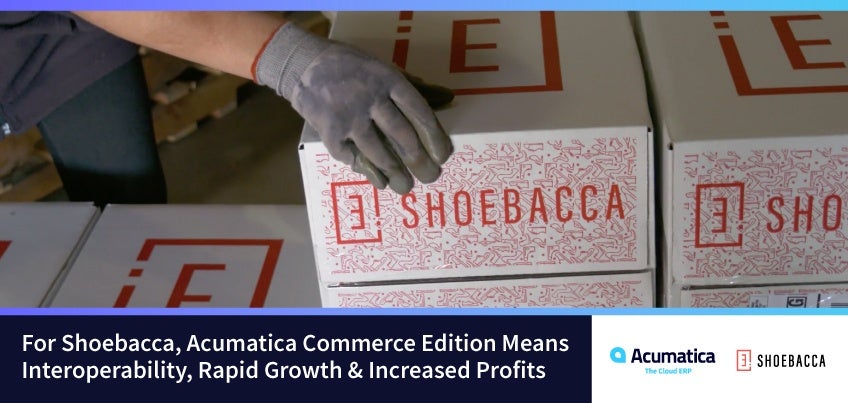 Shoebacca before Acumatica cloud ERP
Shoebacca's story begins in 2002 when brothers Marc and Robert Schlachter began selling discounted and used name-brand athletic shoes in local neighborhood markets. While providing low-income families with affordable footwear, they also sent shoes to third-world countries. Their business model, which included these outreach measures, continued as they then became resellers on eBay before finally creating their retail website and online store in 2007.
Their online presence grew as they offered brands such as Adidas, Converse, Asics, Puma, Reebok, and more, at competitive prices along with their free ground shipping, free return shipping, 110% price matching, and "unparalleled customer service." Through it all, they continued their community support by helping local and national youth organizations and charities.
It's not surprising that their efforts resulted in tremendous growth over a short period of time. To keep up, they used several disconnected eCommerce software solutions, including NetSuite—which was overpriced for what they needed, didn't have an open platform, required expensive customizations, lacked highly integrated functionality from an operations standpoint, and didn't offer real-time synchronization—along with a home-grown warehouse management system.
Without an integrated omnichannel commerce system in place to keep their growth on track and licensing concerns, they were at a fork in the road. Move forward with their custom platform, rely on NetSuite, or find a solution that could meet all their business needs? After reviewing their options, they chose Acumatica cloud ERP.
"We're a very lean company, so we rely heavily on a lot of business process automation. We also were looking for a platform that would be open and easily extensible," Finney says.
Acumatica provided that and more.
Shoebacca after Acumatica cloud ERP
The online footwear retailer wanted a fully integrated solution they could customize for their specific needs, one that provided high functionality, real-time operations, and interoperability—all at a cost that made sense for their growing operation. Unlike NetSuite, Acumatica's affordable unlimited user licensing fit the bill.
"It seemed to be very affordable and yet very open and extensible platform. It showed great promise for growth moving forward, something that would grow with our company—we could grow into rather than having to bite off a bunch of stuff we didn't need from day one," Finney says.
He continues, "We decided on Acumatica because we were looking for an ERP that could also act as a backbone for all of our other systems. Something that would integrate with our eCommerce platform, our warehouse management solution, and business intelligence reporting suites."
In addition to Acumatica Commerce Edition, Shoebacca implemented Acumatica's Financial Management, Distribution, and Customer Management editions, along with FusionRMS – Fusion WMS, and Kensium Solutions – Magento/Acumatica Connector. By doing so, they increased their interoperability, growth, and profit.
When asked about how Shoebacca is using Acumatica, Finney says, "How are we not using it for our business? Acumatica is our source of truth. We are an eCommerce retail company, we do all of our product management through Acumatica, we do all of our order management/order fulfillment with Acumatica, and all of our accounting in Acumatica—and we actually do that for multiple companies, as well."
He also says, "Acumatica allows us to connect with third-party solutions to a degree that other ERP solutions don't have. Acumatica can be molded to our specific needs, which allows us to achieve the highest degree of efficiency and automation that provides for a better bottom line."
Shoebacca rates the usability of Acumatica's commerce ERP software as praise-worthy, echoing Nucleus Research's ERP Technology Value Matrix 2018 report which places Acumatica as highest in Usability for the third straight year among 22 leading ERP vendors. And Shoebacca's satisfaction as a customer with Acumatica's commerce ERP software is on par with Gartner's recent Magic Quadrant report, which rated Acumatica highest in User Satisfaction out of the 12 cloud financial solutions evaluated.
Usability and customer satisfaction are part of Acumatica's DNA, which is reflected in our latest release, Acumatica 2018 R2. Customers like Shoebacca provide the real-life feedback we incorporate into every release to further improve our cloud ERP solution.
If your organization is searching for an omnichannel commerce and eCommerce fulfillment solution, then we hope you'll take a good look at the benefits of Acumatica cloud ERP and Acumatica Commerce Edition. Shoebacca is a shining example.
They've experienced—and continue to experience—multiple benefits, including integrating their online store, warehouse management system, and financial software; automating accounting functions; streamlining operations; eliminating an in-house development team; gaining better control over inventory; and more.
"Acumatica has been able to scale and grow with [our growth] very rapidly and very capably over the years we've been using it," Finney says.
Watch their video testimonial below and hear from Finney here for further insight into their Acumatica experience and benefits.
These benefits can be yours.
We invite you to contact us at any time with your questions and/or to request a free demonstration. You're also invited to Acumatica Summit 2019 (coming next week in Houston, Texas) where you can learn even more about our comprehensive and customizable ERP solution that can increase your interoperability, growth, bottom line, and more.
Ryan Schlachter, Shoebacca's president, agrees. "Acumatica has really allowed us the opportunity to focus on our business, which is selling shoes, instead of focusing on IT and development. Acumatica has a tremendous product, but ultimately, it really has the opportunity to fully customize your solution to your business needs."