Garage door companies aren't complaining about booming business. However, they do have concerns about their current business systems and their inability to keep up.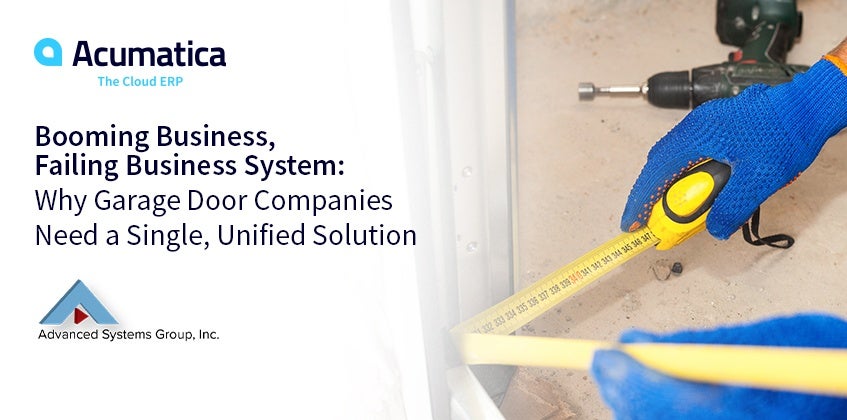 At the onset of the pandemic, garage door companies were concerned that as service providers, they would struggle like many other businesses across the nation. Turns out, this was not the case. Businesses and homeowners were using dock and garage doors even more, resulting in more demand for service and installs. This was and is great news for the door industry, but keeping up with the growing demand has been challenging for the many organizations that rely on a business system made up of disparate, disconnected solutions.
This lack of cohesion and connection has led to troubling pain points. Thankfully, easing the pain is possible with industry-specific business management software.
Business system pain points for the garage door industry
Before looking at a solution, the problem must be first understood. Garage door companies, whether they're distributing a product, offering field services for installation, or both, have a number of battles they're fighting on a daily basis. One of the biggest is utilizing fragmented business management solutions.
For example, many garage door organizations use QuickBooks as their accounting software and 3rd party service apps like ServiceTitan as their field service management software. Though not designed for the door industry, both systems have their strengths and offer great functionality within their specific areas of expertise. However, the problem these organizations eventually encounter is a lack of communication and synchronization. Door companies on multiple systems find that they're always duplicating account information, overwriting files, fixing file corruption, and working with different silos of information in separate systems.
Outside of these basic technology issues is the inability to have tools that can manage multiple business accounts, branches, and service locations. Setting up manual processes to handle the many details attached to each location within basic accounting/service systems is almost impossible without some very creative internal policies but still ends up increasing the opportunity for human error and the frequent creation of duplicate accounts, installed equipment records, and locations.
Basic accounting and service systems are also not designed to manage the concept of special-order items or non-stock inventory (essentially most of what door companies do). Over time this leads to massive inventory files for items that may never be used in the same configuration again and makes reporting a nightmare.
Disconnected system management is labor intensive, which adds up financially. It's become even more of a concern with the ongoing price increases dealers have seen during the pandemic and continue to this day. Typically, price increases from vendors occurred once or twice a year, but now they seem to be happening almost monthly. Having to manually enter these price increases because QuickBooks and 3rd party apps do not offer automated import scenarios or integrations has forced some companies to abandon system inventory controls and use Excel spreadsheets just to keep up.  Some have even hired part-time data-entry people just to manage vendor pricing.
Finally, a huge missing piece for door companies is customer management, or CRM. Door companies are SALES organizations. Many door companies spend tens of thousands of dollars experimenting with multiple CRM solutions or attempt to use a shared drives and calendar apps with little success. The result is a chaotic and disconnected sales management process, and in some cases, lost intellectual data any time a sales employee or manager leaves the company.
These pain points and more (e.g., lack of scheduling tools, limited controls over purchasing, no integration between front-and-back-office teams, and scheduling challenges due to delayed shipments and labor shortages) can better be controlled, and in many cases, eliminated completely with an integrated business management software.
Pain relief with the right business management software
What is the right business management software?
It's software that is designed to meet the needs and specific requirements of an industry. It's also software that functions as a single, unified solution. This is called a cloud-based enterprise resource planning (ERP) solution.
A cloud-based ERP solution connects every department, including accounting, field service, and customer service, with each other, providing total vision and process management across the entire organization. It rests on a centralized and comprehensive platform that automates manual tasks and administrative processes and allows open API connection to other systems when and if necessary. All company data lives in a single unified database that delivers the live information that every user needs based on their role in the company. Business data is synchronized and is accessible remotely via any web-enabled device, which means all team members, whether in the office or in the field, will have access to real-time actionable information.
For door companies, this type of solution is essential and exciting. It means relief from the daily pain points that have plagued many for years, as well as the opportunity to grow and become more profitable through automation and the reduction of unnecessary administrative labor.
As an organization that has supported door companies with technology for almost 30 years, Insite4Doors, a division of Advanced Systems Group, Inc. (ASG), highly recommends door companies consider Acumatica Cloud ERP for their business management needs. When they do, they can anticipate the following:
The elimination of multiple systems and silos of information
Complete role base vision through user configurable dashboards
The elimination duplicate effort and the automation of many administrative tasks
Ability to accurately manage costs, special-order inventory, and vendor pricing
Central control over sales activities with integrated CRM (quote entry, order fulfillment, shipment creation, pricing, discounting, and stock status inquiries)
Ability to set up hierarchies within the solution to manage multiple service locations
Door companies can also anticipate the optimization, streamlining, and mobilization of their field service operations along with being able to provide customers with insight and visibility into the service and delivery processes. This translates into a more professional and organized image to the customer.
Learn more about cloud ERP solutions
You need to offer your customers exceptional field service experiences. Acumatica's industry-specific cloud ERP software provides the technology and service support you need to make it happen.
In fact, when the Insite4Doors team finds something that needs to be improved in Acumatica's service management offering, we include it in our customized product called DoorCore, which is incorporated within Insite4Doors Acumatica solution.
As Kim Plank, Acumatica's Customer Success Marketing leader, writes in a recent post on garage door companies finding success with Acumatica Cloud ERP, "Acumatica's manufacturing management software, inventory management software, order management software, distribution management software, construction and accounting software, and field service software are all connected within the core cloud-based ERP system. Users, regardless of their department, can access updated, real-time data from anywhere at any time."
To learn more, contact the Insite4Doors experts today. We actually answer our own phones and would love to talk to you.