Acumatica achieves recognition in Gartner's first-ever Magic Quadrant focused on cloud ERP vendors and financial suites. This acknowledgement of our Financial Management system shows that our commitment to meeting our customers' needs by offering a premium product is working. Choosing the correct ERP software means the difference between your organization moving forward or falling behind in your industry.
We are thrilled to share another milestone at Acumatica. We have been named a Visionary in Gartner's Magic Quadrant for Cloud Core Financial Management Suites for Midsize, Large and Global Enterprises, their first-ever Magic Quadrant focused on cloud ERPs and financial suites. This recognition as a market visionary by Gartner – a leading information technology research and advisory company – gives us even more incentive to continue our goal of making our advanced, flexible, and mobile cloud ERP system the best ERP software for you and your company – both now and in the future.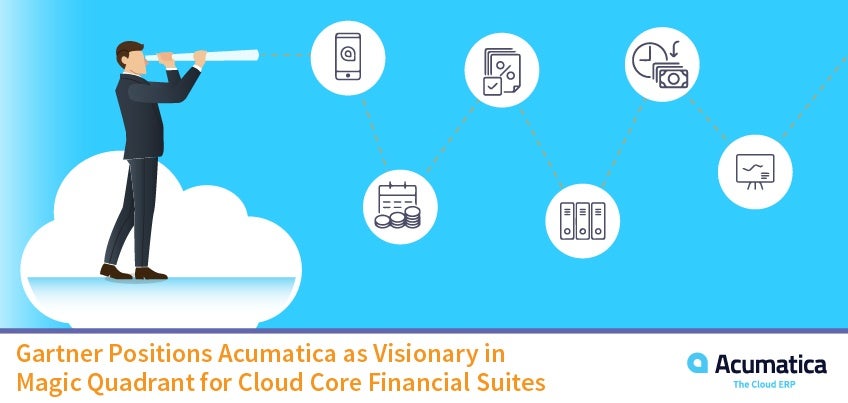 Gartner's full Magic Quadrant report – a reference for application leaders looking to move their core finance processes to the cloud. It details out why the analysts chose the 11 vendors and how they categorized those vendors as Niche Players, Visionaries, Challengers, or Leaders based on their Ability to Execute and Completeness of Vision.
Focus of the Magic Quadrant
Gartner's Magic Quadrant ranks each vendor on the core financial management suites they offer – all of which must be cloud-based, independent offerings. Gartner focused on the suites' capabilities as well as the vendors' capacity to market, sell, and support their solutions to finance organizations located in their region as well as internationally and globally.
The analysts looked at the vendors' Ability to Execute and their Completeness of Vision. Assessing these qualities required in-depth research, which included customer feedback. For the Ability to Execute, they evaluated product and service to marketing execution and customer experience. For Completeness of Vision, Gartner placed value on the vendors' ability to define their understanding of the current market trends as well as what they anticipate the market will do in the future.
Being included in the report underscores our commitment to deliver an all-encompassing ERP system that anticipates market changes and customer needs.
Why Acumatica achieved Visionary status
Jon Roskill, CEO of Acumatica, said this in the press release regarding the nod from Gartner, "We are justifiably proud of this Acumatica team accomplishment, but more importantly, we feel it's a real validation of the success we are seeing in the marketplace."
Acumatica's focus on the cloud (or as we like to call it, the multicloud world) secured us a spot in the Magic Quadrant. Along with this focus, Gartner noted our xRP platform's flexibility and the functionality of our Financial Management Suite for midsize companies.
Gartner also pointed out other Acumatica strengths leading to the Visionary placement:
Strong focus on midsize companies
Well-suited partner strategy
Ability to serve multiple industries and geographies
Customer satisfaction with ease-of-use and speed of implementation
"We continue to generate strong momentum as customers in a wide range of industries evaluate and purchase our products and solutions," Roskill states.
Customers commend Acumatica Financial Management
It's important to us that our customers correlate growth with having a strong technology base. We're committed to providing a world-class finance system that allows our customers to understand – and leverage – the many benefits that Acumatica's ERP software and the cloud offer including a single and real-time version of the truth, security, and innovation. Our feature-rich financial management system is a tool for our customers to use as a way to foster business momentum.
"You can tell Acumatica is a modern system built around the flexibility you need in today's world." Marthese Vella, CIO of Azure Services Ltd. said. "With modern systems, I have the option to integrate with our systems with ease – without the need for customization. Acumatica is exceptional at this and it's one of the things that tipped the balance to select it as our advanced financial system."
Chad Treadwell, Vice President of Operations of FSC Lighting, shared how Acumatica provided the accountability and scalability they required. He said, "We needed something very flexible, in the cloud, and overall, something that was a good value for us. And we found that in Acumatica."
Be a "Visionary" with Acumatica
Achieving the Visionary Quadrant in the Magic Quadrant report is a big deal for us at Acumatica!
We hope it continues to show our customers – and our future customers – that we are dedicated to providing innovative, functional ERP software that fits Gartner's vision of postmodern ERP and to help them achieve growth.
If you have any questions about our Financial Management Suite, or any of our other suites, we'd love to hear from you. Start accelerating your business today!