During the Acumatica Summit 2020 hackathon, Acumatica developers and their non-developer teammates took on the challenge of "out-hacking" their predecessors. They may have done it. 
I'm declaring Acumatica Hackathon 2020 a complete success. 14 teams made up of 90 Acumatica developers and non-developers gathered together to kick off Acumatica Summit 2020, our premier cloud ERP event of the year. Each team was charged with extending unique functionality to the Acumatica xRP platform. We encouraged teams with a special prize, utilizing AI and ML technologies. The creative and unique apps that came out of the 24-hour event were outstanding.

Acumatica Hackathon solutions
"Acumatica's hackathons are integrated into their user conferences, and the apps developers get done during this intense hackathon push are inspiring," said Jon Reed of digonomica in a recent post. He predicted that many of them would "become official Acumatica apps or features down the line."
The hackathon participants worked hard to prove him right. Our panel of judges—CTO Mike Chtchelkonogov, CPO Ali Jani, and VP of Platform & Technology Ajoy Krishnamoorthy—had a tough time choosing the top three winners. However, participants eagerly compete for the various benefits, including bragging rights, recognition during the Tuesday Keynote, the Acumatica Developer Network Hackathon Cup, and prizes for the top three teams.
The prizes for this year included:
Who were the winners?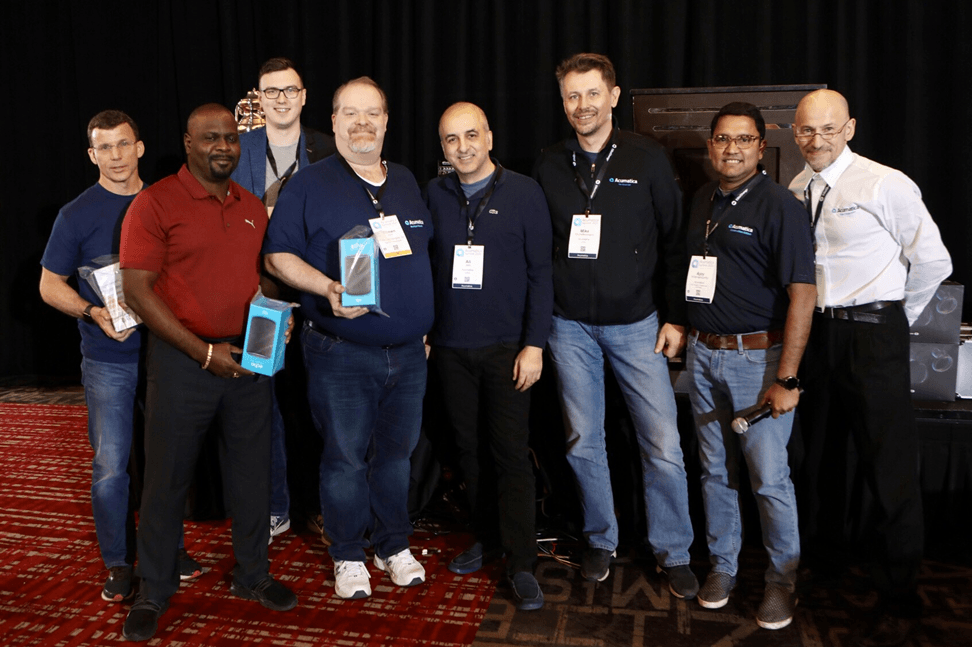 3rd Place: Team Xi
John Edwards | Nexvue
Shawn Burt | SWK Technologies, Inc
David Ferguson | Sun Oil Limited
James Sparks | Johnny's Pizza House
Ilia Zhidkov | Acumatica
Solution: Acumatica Dev Environment Deployer
Team Xi created a development tool to expedite deployments of Dev Environments for development teams. This solution allows users to select from any version of Acumatica available from the Acumatica AWS S3 site. Users are also able to pre-deploy specified customizations.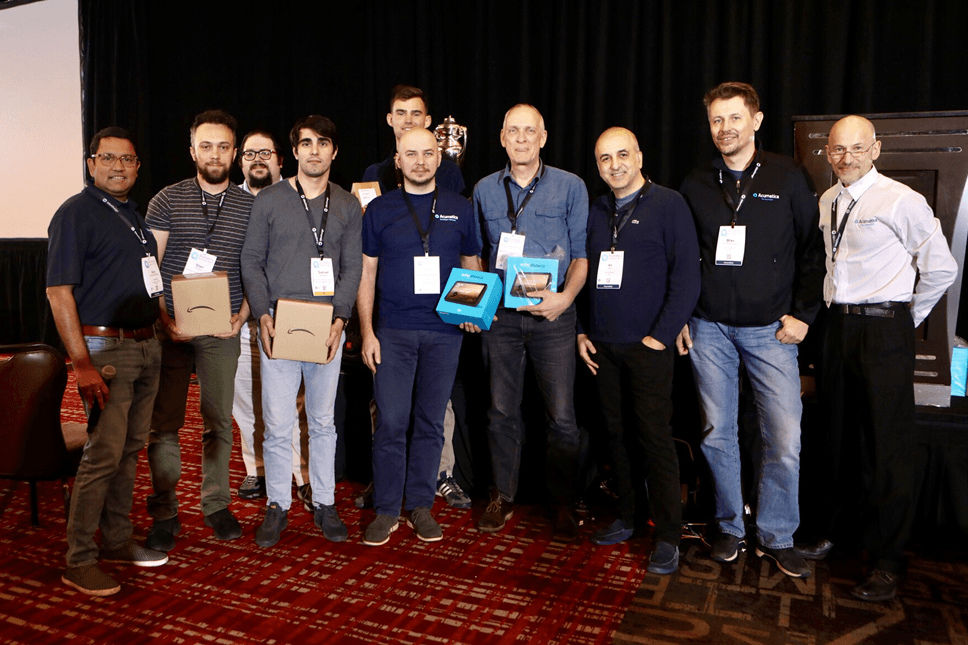 2nd Place: Team Zeta
Samvel Petrosov | Information Integration Group
Tony Hill | Advantage Sport & Fitness
Hank Vanderstoep | Contou Inc.
Kyle Vanderstoep | Contou Inc.
Stan Aistov | Quantum Leaf Solutions
Alexander Taran | Acumatica
Solution: Generic Forms
According to Team Zeta, the idea of Generic Forms is to replicate what Generic Inquiries did for Inquiry screens but for forms. Generic Forms allows the user to configure a collection of fields and then dynamically generate an entry screen based on that collection. The entry screen can persist the data into the database, which can then be viewed in a Generic Inquiry and possibly joined to other data in the system. Data that has been scattered over the network on Excel spreadsheets could then be brought into the robust and secure database and related to other records.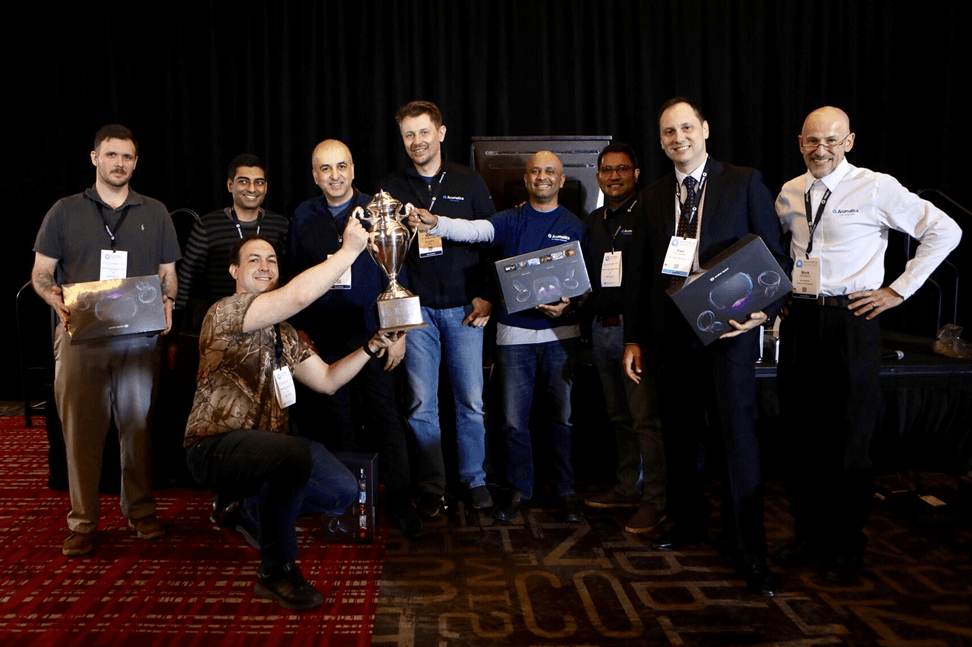 1st Place: Team Theta
Yuriy Zaletskyy | Kensium
Harsha Sarjapur | InfoSourcing Inc
Spencer Ivie | Advantage Sport & Fitness
Yuri Dorovskikh | OFS International LLC
Dhiren Chhapgar | Acumatica
Solution: Ask Fred
First place Team Theta created "Ask Fred," an integration of Fireflies.ai speech to text engine within Acumatica utilizing Microsoft ML to determine the nature of the conversation. Users can utilize this integration to streamline CRM processes, such as adding the meeting minutes to a contact and grouping and pulling information from the meeting to produce other activities on a contact, such as follow-up questions. It's an expansion on ML to pull keywords to drive automated quoting.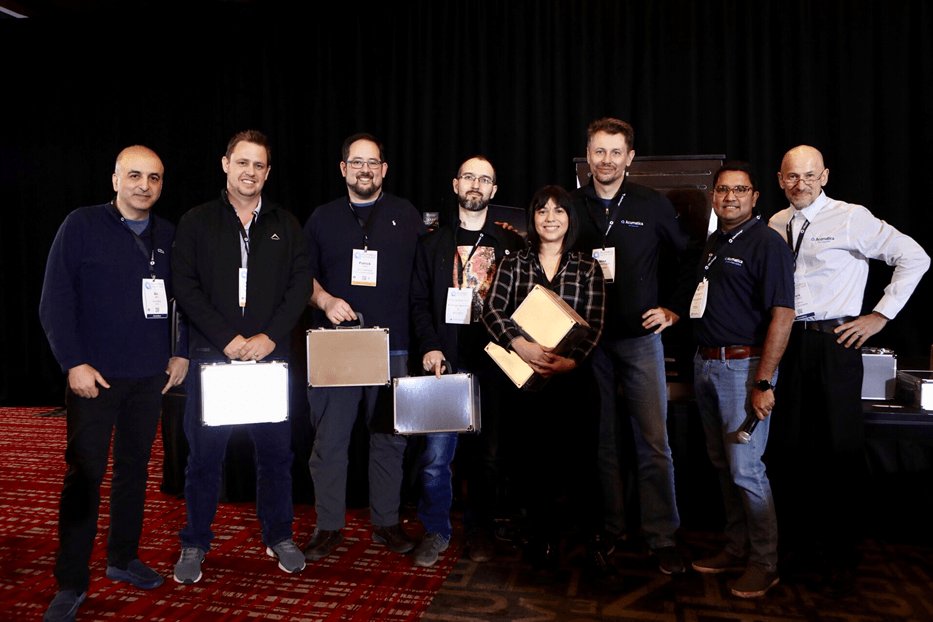 Special Prize for AI/ML Solution: Team Iota
Gerhard van den Heever | Astraia Technology
Patrick Chen | SPS Commerce
Claudio Munoz | Viemed
Valentina Diaz | Acumatica
Sergey Rogovtsev | Acumatica
Solution: Specialized Sales Order Quote Request using AI/ML
Provides a quick and easy way for the customers of vendors armed with Acumatica to request sales order quotes. When implemented, a customer can email the address set up in Acumatica asking for a quote for any number of items as if they were emailing a customer sales representative. This email will be processed by Acumatica, the body will be sent to Microsoft's LUIS natural language processor, LUIS will decide if the email is an order, and transform the request into an intent. This data will be returned to Acumatica, where a sales order quote will be generated and an email sent to the customer with a PDF sales order quote attached.
The business solutions that didn't place were just as impressive and included Team Lamba, who designed a flexible platform for gathering user-defined measurements and interacting with Azure ML to forecast "something." The design allows defining the data collection location, measurements to be recorded, and entry of the user-defined measurements.
Team Beta created Acu Time Tracker, automating the process of time tracking for billing and payroll using various technologies for different use-cases. Self-training facial recognition is used to identify users in a Punch Clock use-case.
Team Kappa built an advanced sales commissions solution, which enhances the commissions capabilities within Acumatica to create sales groups in order to split commissions between multiple salespeople and to allow for varying commission rates based on meeting sales targets assigned to the group.
Team Epsilon's solution was designed to take advantage of Amazon's robust forecast capabilities to expedite predictions based on the customer's needs, such as product demand, resource needs, or financial performance.
Team Delta built an integration with Microsoft Teams as a business events plugin extension to Acumatica's Business Events. This new plugin allows for communicating directly into MS Teams channels.
Team Mu's hackathon solution was a customization that adds a console window with intellisense to Acumatica screens to allow for troubleshooting problems, viewing hidden values on the graph, and executing BQL statements directly from within Acumatica.
Team Gamma created ACU-Insights, a customization project that allows system administrators to collect user's data on how effectively Acumatica is used. The user is monitored for active/inactive time on a specific screen as well as elapsed time for completing a transaction. This data is then displayed on a Generic Inquiry (GI), which can be customized to show the data. An administrator or team could create views that show the average time per Order Entry, fastest Order Entry agent, agents with the most edits, etc. Currently it is functioning on the Sales Order and Accounts Receivable screens.
Team Alpha built an item class visibility solution by customer. The basis for this solution was to give end-users an easier way to restrict items sold by customer. Our research shows that some end-users have a hard time setting up Restriction Groups, so we wanted to have a solution that would give a user-friendly way to restrict item classes by customer.
Team Nu created AcuMan, an Acumatica instant messaging app for an organization instance built with Machine Learning capabilities.
And finally, Team Eta built an integration between Raspberry Pi with Windows IoT into Acumatica for tracking temperature information linked to an Inventory Item. Product owners will receive mobile notifications when the temperature is outside a defined range.
Like last year's solutions, these incredible cloud ERP software solutions will bring further functionality to Acumatica's cloud xRP platform and increased value to our end-users.
Acumatica Hackathon 2020 deemed the best yet
Acumatica CEO Jon Roskill described Acumatica Summit 2020 as our best yet. Hackathon participants said the same thing about Acumatica Hackathon 2020, even those who attended for the first time. Acumatica Developer MVP and Acumatica's Developer of the Year Yuriy Zaletskyy, Kensium Solutions,Inc. is one of them.
"I enjoyed it very much," he said. "I enjoyed the developing part, and I also enjoyed the communication part. I got priceless ideas from members of my team."
Nicole Ronchetti, Sr. Technical Consultant, DSD Business Systems, also attended for the first time. "This was both my first time at Acumatica Summit and the Hackathon. Acumatica Summit was just amazing for me. There was so much more content and innovation than what I've seen over the years with other publishers. Our clients who attended were also amazed at how much Acumatica is putting into R & D and the continual development of the platform. For businesses that are coming off of platforms that were somewhat stagnant for years and to see that Acumatica is always innovating, this only reassured their recent software decision. They know that as their business grows, so will Acumatica."
For Yuri Dorovskikh, IT Manager, OFS International LLC, his second Acumatica Hackathon was "quite amazing" and that includes the advance preparation. "That's the most challenging part—figuring out what you want to do/improve during Hackathon. The most interesting part to me is working with your team to determine what project will bring the most value to the community. It brings together different people from different backgrounds and companies, exploring the limits of the system and how far it can go."
And Brian Stevens, Developer, Setech Supply Chain Solutions, LLC, another two-year Hackathon veteran, says he's "star struck" when he walks into a room of the world's finest Acumatica developers.
"The combined knowledge in the room spills over into amazing projects and great friendship with people eager to help you succeed with Acumatica. Last year as a new developer, I received insight and guidance that shortened my learning curve dramatically, and the contacts I made continued to support me over stackoverflow as well as email. This year was equally beneficial for making new friends in the Acumatica community and growing my skill set.
"To me, the Hackathon 'IS' the Summit. If the Acumatica Summit is like standing on the sidelines to watch the game, the Hackathon is like actually playing the game. If you want to get to know the real superstars of Acumatica development, interact with key members of the Acumatica leadership team, or just step up your own development skills, the Hackathon is 'THE' place to be," he says.
Open invitation for Acumatica Hackathon 2021
The chance to compete and collaborate with their peers during the Acumatica Hackathon is a major draw for the Acumatica community. Every year, they work and play hard, starting 2 PM on Saturday and ending on Sunday at 3 PM when judging begins. Lots of food, laughter, and development fill the time, and participants enjoy every minute.
If that sounds like a 'hack of a good time' to you, join us for Acumatica Hackathon 2021! Until then, I hope you'll connect with the developer community through our Acumatica Developer Network (ADN) and that you'll connect with our experts, if you have any questions about our cloud-based ERP solution.