You know it's time to upgrade your construction accounting software when the words you use to describe it include hard-to-use, growth-limiting, and inefficient. That's why Hartzell Construction went looking for modern cloud construction software and chose Acumatica Construction Edition.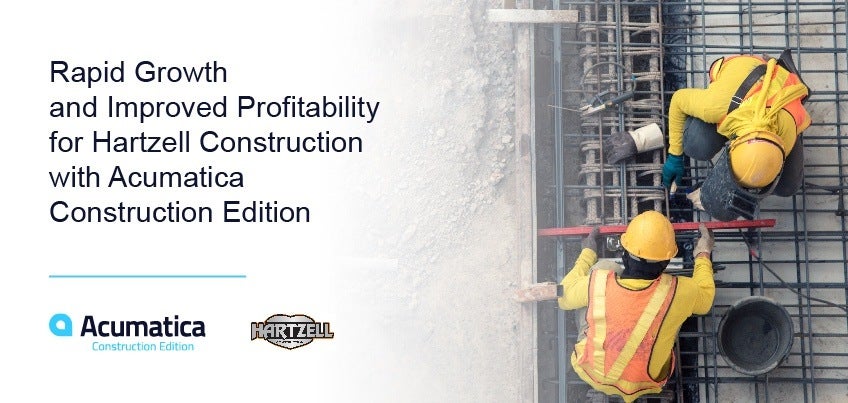 When you provide the gamut of construction services—from commercial remodeling, residential, and local and federal government projects to new construction, windows, and plumbing—you have need of construction accounting software that can handle the resulting complex accounting, estimating, and project management duties. This was the situation Hartzell Construction was in, so Owner and CEO Anderson Pinto decided to embrace a relative newcomer to the construction ERP space, Acumatica Construction Edition.
"When I looked at Acumatica Construction Edition for the first time, I saw how easy it was to use," Anderson says in the company's success story. "I truly believed Acumatica would be good to partner with after seeing the innovative technology Acumatica is bringing to help modernize the industry."
Transforming construction company requires modern construction ERP
Hartzell Construction has undergone some major transformations since being founded in 1948 by Wilbur Hartzell as a South Florida-based roof cleaning company.
The company added roof paint manufacturing in the 50s, then expanded its offerings to residential and commercial painting, weatherproofing, and specialty coating. When Anderson joined the company, he helped launch Hartzell Construction and the company's high-rise restoration business, adding their commercial remodeling and maintenance division, municipality remodeling, and a window company. This year, Hartzell Plumbing is set to launch along with plans to develop new homes, duplexes, and apartments.
Anderson has a clear vision for how to continue transforming the company. "The vision is to take a company that used to be a handyman company, a smaller construction company, into one of the major leading companies in the South Florida area."
And his vision is already coming true. The company is growing, and Anderson anticipates hitting $15 million this year. Unfortunately, their back-office system was unable to keep up with their phenomenal growth. They were using QuickBooks, but what they required was accounting software designed for construction companies. He selected ProContractor—something he considers a mistake.
"Owning a company, you're going to make mistakes," he says. "But how you balance it is what will make you successful."
His balance was to seek out a new, user-friendly solution. With the help of Alliance Solutions Group, he found the right solution with Acumatica cloud ERP and Acumatica Construction Edition.
Exchanging frustrating software for modern cloud construction software
Before finding Acumatica Construction Edition, Anderson hired Reinaldo Mesquita to be the point man for ProContractor. Reinaldo got the software up and running, but nothing could hide the many issues the company continually faced with this outdated, frustrating solution.
What exactly was wrong with it?
The list of issues includes the legacy system's lack of insight, reports, and data they needed for expansion. Anderson says it required multiple steps to produce a simple change order, ran only on-premises, forced them to create a manual vendor and subcontractor approval process, and charged them based on a per-user license.
In addition, employees in the field had to return to headquarters to access information and process paperwork, the Finance team was constantly asked to run reports, and the paper trail led to an entire room filled with files and paper.
"There were too many steps and too many hiccups," Anderson says. "I needed a system that my accounting department, which is the heart of the company, could utilize. I also needed a system that could communicate with my scheduling and estimating departments. I was looking for a complete system; I couldn't find exactly what I wanted until we came across Acumatica."
Hartzell Construction implemented Acumatica Construction Edition and the following modules: CRM, Financials, Project Management, Inventory, Intercompany, Distribution, Field Services, and Outlook integration.
The benefits were almost instantaneous. They enjoyed:
Multiple users on the system at the same time without extra cost
Seamless integration and connectivity for a real-time view of the entire business—at any time and from anywhere
Automated subcontractor approval process, job cost reporting, and inventory
Improved data availability at their fingertips, including material arrival timelines, invoice approvals, and actual project expenses
Increased communication and efficiency
Ease of use, including their search capabilities (a big deal for Reinaldo)
A 60-to-70 percent reduction in paperwork
Acumatica's open API and seamless third-party integrations, such as with Procore, Smartsheet, and ProEst
Stella Carneiro, Hartzell Construction's Controller, is a fan of Acumatica. "[With Acumatica], we can catch things before they are red lined and fix issues ahead of time."
She says they've been able to increase gross margins by 10 percent due to the decrease in the number of unprofitable projects and another 10 percent due to better controlled inventory. "Before inventory tracking was minimal, so we'd end up purchasing something twice or hold inventory for something we were not going to use. Today, inventory is much better controlled, and that's money aren't going to lose anymore."
Acumatica helps Hartzell Construction boost growth and profitability
Saying good-bye to their legacy software was easy, as was the implementing of their new cloud construction software. And Anderson has been pleased with the customer support he's received from Acumatica.
"We're very impressed with the response we receive when a problem has come up," he says. "They really go after the issue and take care of it."
The company plans to continue the growth and profitability they've already experienced with Acumatica and Acumatica Construction Edition, including adding customer and vendor portals to provide further access to project information.
There's even more to their Acumatica experience, and you can check out the company's success story for further details. You're also invited to contact our team for any questions about our cloud ERP software or for a demonstration.
"I highly recommend Acumatica to the construction industry," Anderson says. "To be able to go into a system and have a vision of the entire company, not only your finance department but every department, and understand how a project is moving—that's just amazing."