At Acumatica Summit 2018, our CEO described Acumatica as being a disruptive force in the ERP world. A new TEC article assesses what that looks like and how well we're doing. We think you might be interested in the findings.
Technology Evaluation Centers (TEC) – an advisory firm that independently analyzes and compares business software solutions – has published a new article, Acumatica Summit 2018: A "Rambunctious Teen" Cloud ERP Vendor Shaking Up the ERP Establishment?, which we're making available to you today. It not only recaps Acumatica's progress in 2017, Acumatica Summit 2018, and our recent cloud ERP enhancements, it also lays out the reasons why Acumatica has been able to disrupt the status quo in the cloud ERP world.
"Many established mid-market ERP software vendors (which are belatedly developing their own cloud ERP software solutions) have quietly told us that they are watching (and perhaps fearing) Acumatica much more than, say, Plex Systems, Sage Intacct, Rootstock, and other cloud ERP startups," writes author PJ Jakovljevic.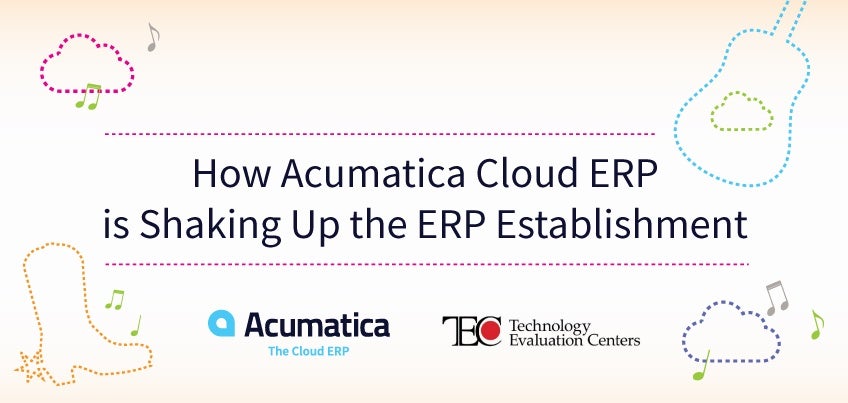 Acumatica CEO at Acumatica Summit 2018: "We like being disruptive"
The idea of being disruptive is nothing new to Acumatica. From the very beginning, our core team of developers designed our platform using modern, cloud-based technology. As an open and flexible platform, it was created to integrate with multiple business applications. We added key modules, such as Distribution, CRM, Manufacturing, Project Accounting, to our then financials-only package (Acumatica's current Financial Management suite) increasing functionality and encouraging amazing growth.
"We've now attained five consecutive years as the fastest growing cloud ERP company in the world," says CEO Jon Roskill in a recent press release.
Jakovljevic acknowledges our platform as one factor in our success, "…Acumatica was architected from the start as a platform, not just a bunch of application programming interfaces."
Unlike our competitors then (and our competitors now), our foundation in the cloud allows our platform and ERP applications to adapt to our customers' business management needs. We also believe we stand out and succeed because we offer a unique pricing model and are 100% channel-driven.
But CEO Jon Roskill says Acumatica is just getting started. He told over 1,100 customers and partners at Acumatica Summit 2018 that our ten years in business is a short amount of time in the ERP world (you can listen to Jon's Monday and Tuesday keynotes for yourself), and that we're the "rambunctious teenager in the room" making changes in how things are done.
For example, Acumatica is leading the charge for the adoption of Open API standards in the cloud ERP industry. We also released Acumatica 2018 R1 enhancing usability and data insight capabilities.
If you download TEC's article, Jakovljevic goes in-depth on these improvements and recaps Acumatica's year in 2017, pointing out that we've reached 4000 customers, have over 400 global partners (made up of ISVs, OEMs, and VARs), and achieved 144% revenue growth. He notes that we process over 100 million ERP transactions per month while maintaining 97% overall satisfaction with our support services. You'll also read about our use of innovative technology, such as blockchain, machine learning, the Internet of Things (IoT), RFID, voice UI (Alexa for Business Integration), and more, to help our customers' solve real-world problems.
Finally, Jakovljevic delves into our new Construction Edition, designed for modern construction companies. "It is a true cloud solution that includes the aforementioned Open API 2.0 standards for creating and maintaining multi-cloud interfaces such as field operations project management with Procore and Hyphen Solutions Supply Pro Billing, payroll with Criterion, visual scheduling with SmartSheet, productivity tools with Microsoft Office 365, electronic signatures with DocuSign and Adobe, and further integrations."
He also notes, "Acumatica seems to have a big advantage in this space because of the already strong distribution, CRM, and FSM capabilities, all of which are fully integrated."
What does TEC say about Acumatica's future?
TEC's fact-based assessment points to bright days ahead.
"Gone are the days of Acumatica chasing after defectors from its competitors' ecosystems – the vendor is now in a position to field partner solicitations and be more selective," Jakovljevic says. "Acumatica has managed to become a complete SMB platform for extended ERP – the key advantage for the vendor comes from being a platform-by-design."
We hope you'll read Acumatica Summit 2018: A "Rambunctious Teen" Cloud ERP Vendor Shaking Up the ERP Establishment? to see what else Jakovljevic has to say.
Our goal is to continue being a company that constantly improves our cloud ERP platform and products, is at the forefront of technological advances, and helps our community of customers and partners grow. If you'd like to join us and benefit from our true cloud ERP platform and products, give us a call – we're excited to work with you!
And, before you go, it's not too early to think about joining us at Acumatica Summit 2019 in Houston, Texas, January 27-February 1, 2019. Acumatica Summit is about coming together as a community, looking back at the last year, recognizing everyone's accomplishments, and celebrating all that we have collectively achieved. Then, we look to the future and what it will hold for all things Cloud ERP.
We hope to see you there!