Acumatica is focused on continuous innovation throughout all stages of a product's lifecycle. Our customers have already provided insightful feedback on how we can improve our new Acumatica Construction Edition. The result? Exciting functionality improvements in our soon-to-be launched release, Acumatica 2018 R2.
 If you're an Acumatica customer, you've chosen true (vs fake) construction accounting software and have come to expect continuous product upgrades that are delivered seamlessly. This includes enhancements to our newest additions, such as our recently released Acumatica Construction Edition. If you haven't come on board with Acumatica, know that when you do, you'll be able to take advantage of product updates without a long and painful upgrade process.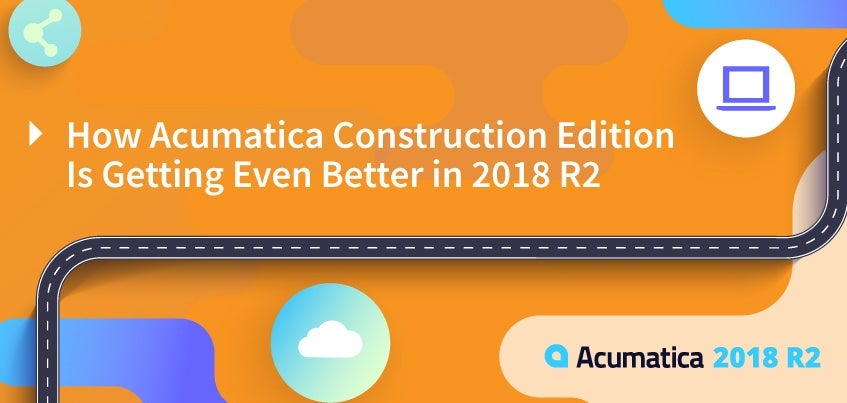 Although we deliver enhancements all year long, we also typically offer two major releases per year. Acumatica 2018 R2, to be released in September includes several improvements to our cross-industry, industry-specific, and platform functionality. But the overarching goal for all our changes is to enhance the user experience.
As mentioned, these enhancements apply to customers of Acumatica Construction Edition. Although we only just released this new edition in early 2018, we're not resting on our laurels. On the contrary, we started gathering customer feedback and identifying ways to get better as soon as the first implementations of Construction Edition went live. You'll see the results of this process in R2.
So, what exactly can you expect in Acumatica Construction Edition 2018 R2? We'll share that in a moment, but first, we want to invite you to join us at our Acumatica 2018 R2 Launch Day Event in Boston on Wednesday, September 12, 2018. Attendees will get a firsthand look at all 2018 R2 upgrades, and the half-day schedule features a Special Event focused on Acumatica Construction Edition and includes a demonstration.
Can't make it that day? We've got you covered with our Acumatica Launch Event Series taking place in cities across the U.S. throughout October. These locations will follow the same agenda as the initial launch day event.
Acumatica Construction Edition enhancements
We've designed our Construction Edition enhancements to better meet the needs of general contractors, homebuilders, subcontractors, and land developers. More specifically, this new release offers upgrades to construction project management and compliance functionality.
Procore Integration
The new interface includes enhancements for managing field operations with Procore through real-time access. With this integration, users can easily access information that is synchronized across both Acumatica and Procore, such as customer, vendor, project, cost codes and more.
RFI and Project Issue Enhancements
If you're a contractor or subcontractor, RFIs are the lifeblood of your information gathering activities throughout all stages of a project. You rely on them to help you clarify design drawings, specifications, standards, and contracts.
In 2018 R2, Acumatica Construction Edition delivers a lifecycle management capability for requests, notifications, tracking, and automatic email linking. This functionality is accessible from your team's phones, tablets, and PCs, which will be a boon to teams in the field.
If you've struggled with the consistency of your RFI process or just want to save time, this new edition can help you there, too. You can use 2018 R2 to automate elements of the RFI process. For example, you can use the system to assign RFIs to individuals and work groups, and to notify people of RFI changes.
Of course, not every project requires a formal RFI. In those cases, you can tap into Construction Edition's new project issue management capability. This feature can help you save time and money and reduce risks by allowing various project personnel to address issues and questions immediately. With construction management apps (such as provided by Acumatica Construction Edition), all your team members can document, communicate, and manage issues on phones, tablets, and computers.
As you work, the system will track issue progress and help you communicate resolutions. Your whole team maintains visibility into the issue resolution process and can review issues to improve handling of future projects.
 Payroll Enhancements
For Job Costing, we're releasing labor cost rates and project labor cost accounting for integration with payroll.
Labor Cost Rates: Define costs by employee, labor item, project, project task, and rate type. Expands cost flexibility, simplifies time entry and improves visibility, particularly for construction prevailing wage and union requirements.
Project labor cost accounting integrated with payroll: Expand integration with payroll and HRM systems with projects, tasks, cost codes and standard and actual costs. The new Contract-Based API Supports complex project needs, e.g. for multiple construction projects and unions.
Project Quotes
New project quotes (convert opportunity to project) simplify project sales and pricing by supporting complex quote processes from which a project can be created.
Project quotes (convert Opportunity to project): Create quotes, update them, link them to CRM and track versions. When approved, create projects and provide billing details. Simplify project sales and pricing by supporting complex quote processes resulting in improved project control and management.
Usability Enhancements
When you're a fast-growing contractor business, projects are moving quickly; it's important for you to continually monitor complex forms such as lien waivers. Completing these forms accurately is a key part of maintaining appropriate vendor compliance.
In 2018 R2, Acumatica Construction Edition is construction accounting software that delivers automatic processing of many compliance tasks. For example, when you issue a check, Construction Edition can link it to the lien waiver on the bill and pre-fill the amount. This new feature can help simplify your material management and payment processes.
Our latest release also offers usability enhancements to processes such as stored material management and Work in Progress (WIP). For example, you can include stored materials on your pro forma and/or AIA Contract documents. You can also use import and export scenarios to allow project personnel to update cost to complete, percentage of completion, and cost at completion via Excel©. These scenarios help streamline your WIP process while improving the timeliness and accuracy of your information.
The right construction accounting software for you
As mentioned earlier, current Acumatica Construction Edition customers will be able to benefit from these enhancements simply by logging in. If you're not yet a customer, you can request your custom demo today. We also have several resources we think will help you choose the right contractor software for your business, including a Construction Management ERP Evaluation Checklist to compare your construction accounting software options easily and a free whitepaper, Key Performance Indicators for Construction, that explains how the right contractor software should provide the KPIs you need to define and monitor the health of your construction firm.
And don't forget, our Launch Day Event is quickly approaching. Register for it right away so you won't miss the chance to not only witness our Acumatica 2018 R2 enhancements—with a special emphasis on Acumatica Construction Edition—in person but also have the chance to ask questions, enjoy hands-on demonstrations, and network with your peers. If that day doesn't work, register for one of the cities/dates included in our Acumatica Launch Event Series to get the same experience closer to home. Either way, we hope to see you there.
Finally, as you're registering for these events, we want to remind you that Acumatica Summit 2019 is coming January 27-February 1, 2019 in Houston, Texas. Why not register for the cloud ERP event of the year right now and anticipate a week of learning, networking, and fun? You won't regret it.
For any questions about Acumatica 2018 R2, Acumatica Construction Edition, or any of our upcoming events, please contact our team at any time.