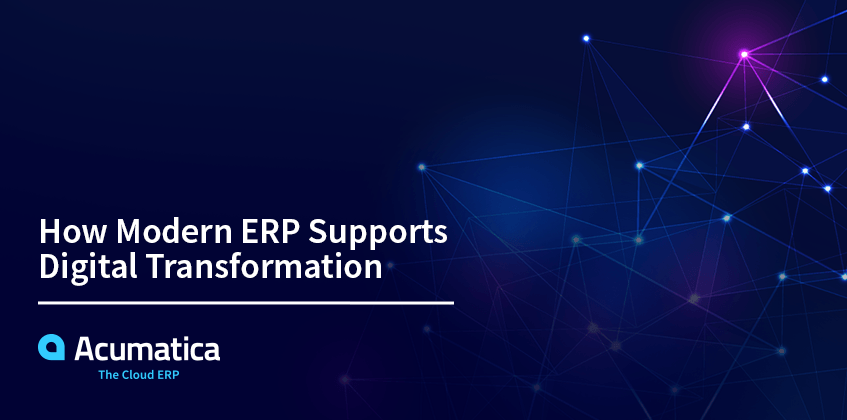 In simple terms, "digital transformation" is the process of transforming a disconnected business into a connected business, replacing automated, manual processes with modern technology in the process. It can be characterized by a modern ERP solution, which integrates with many other business systems in order to generate value, optimize return on investment and provide a competitive advantage. The interplay of the ERP platform, ERP features/functions and the Internet play a huge role.
In contrast to the constraints—and personnel operating costs—associated with closed, client-server-based ERP and QuickBooks, Acumatica distinguishes itself. As the Cloud ERP solution, it offers event driven business logic and system-wide web services to support system integrations, culminating in superior price and performance manifested in the bottom line.
A Real-World Example at Work
Consider the real-world example of multiple systems integrating with Acumatica Cloud ERP in the diagram below. It highlights eight business systems integrated with and centered around Acumatica Cloud ERP (1). The successive numbered business systems illustrate digital transformation with commentary on its multiple benefits.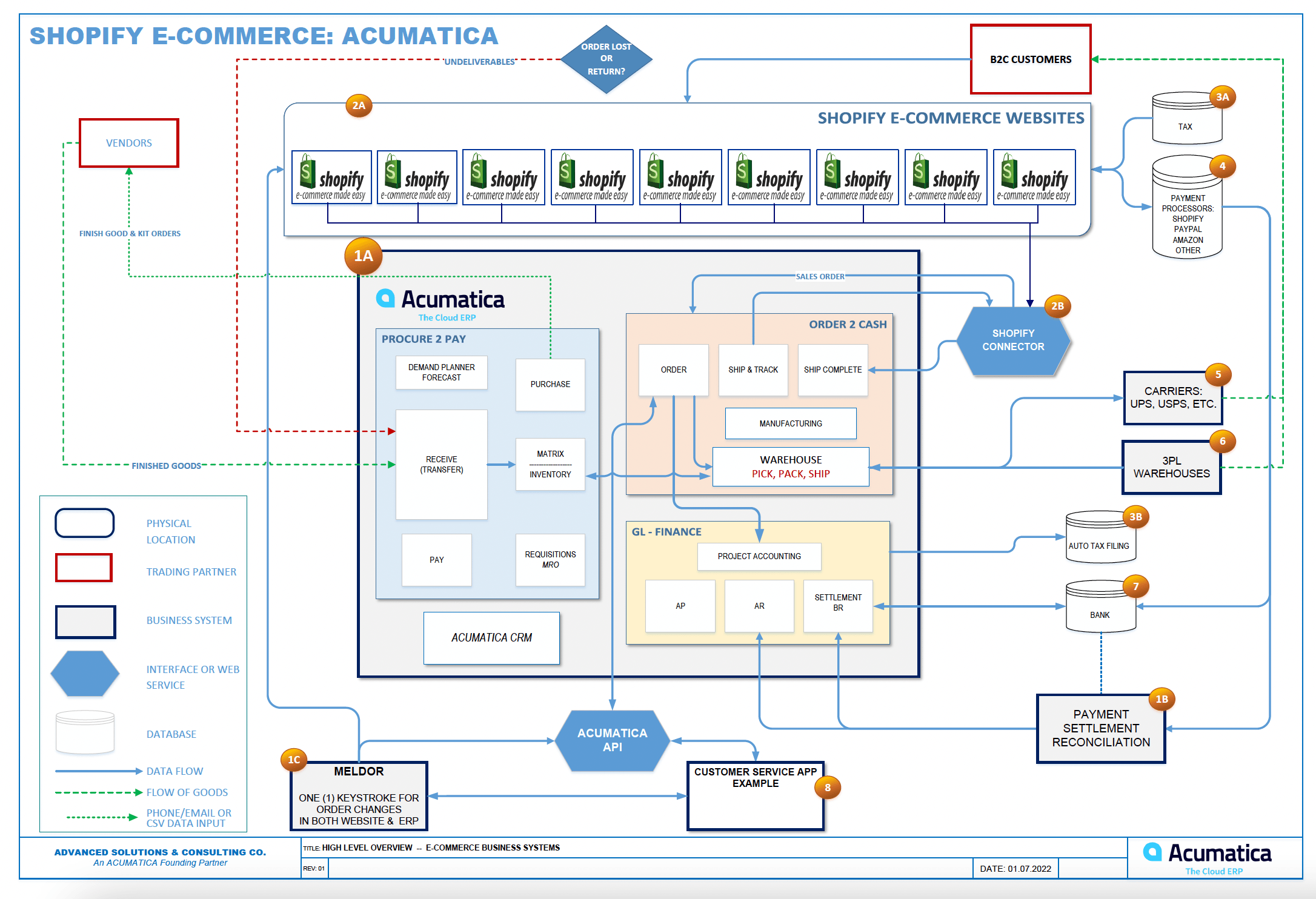 Acumatica's cloud-based ERP solution incorporates four traditional ERP business processes. These processes include procure-to-pay, order-to-cash, customer relationship management and financials (for accounting and reporting functions that simultaneously associate debits & credits to these transactions). The seven remaining business systems feed these ERP processes.
In addition to web services, Acumatica incorporates a monitoring, automation and workflow engine that dramatically improves user productivity. Mundane tasks like issuing invoices and reports may be automated, tasks like a support ticket or request for quote automatically assigned, and dashboards designed to automatically track key performance indicators and to-dos. Net is less personnel cost because Acumatica performs heretofore manual functions.
In the illustration, Acumatica's order-to-cash function is integrated to multiple Shopify websites (2). Customer data, orders and all data describing the items they purchase are bi-synchronously integrated between the web sites and ERP. Personnel costs required to maintain consistency between the programs are eliminated, and the buyer experience is enhanced as system generated communication, like tracking numbers, are timely and automatic. (Note: Acumatica also supports omni-channel integration with web sites like BigCommerce and Magento, plus storefronts like eBay, Amazon, "big box" and other sites.)
Dozens of states collect sales tax associated with internet sales (3). Because the task is so daunting, most website platforms automatically apply tax to sales. However, those taxes must be reported. That requires personnel or intelligent ERP that communicates with tax database providers and that also assures tax value consistency when associating orders in websites with their counterparts in ERP. With Acumatica, taxes captured at point of sale are reconciled with tax capture at point of shipment/invoice.  This reconciliation reduces ongoing personnel costs required to correct inconsistencies and reduces time-consuming audit functions.
Typically, website orders are paid by credit card or other payment merchants—think PayPal, Braintree, Shopify Payments, Amazon and many others. (4) These merchants process credit fees in their own business systems before subsequently depositing monies in the seller's bank, combining dozens, hundreds, thousands of orders with a single deposit. Acumatica "reads" these deposits and auto-matches them to corresponding orders in the ERP system, providing fully automated accounting of associated fees. Compared to the costly tedium of manual matching, this is a tremendous productivity improvement buffeting digital transformation. Plus, management has on-demand access to the cost of credit and realistic updates to cash on-hand and cash flow.
Physical orders are processed per Acumatica warehouse management functions with shipping fees captured from carrier databases (5). Or, for virtual distributors who utilize third party fulfillment services, physical orders and shipping fees are managed via intelligent integration that connects Acumatica's inventory and order management systems to the warehouse management software used by the 3PL's (6).
Whether the order is shipped from an in-house warehouse or a 3PL, cost savings are realized. Personnel do not have to look up shipping fees. Shipping costs are automatically assigned to the cost of goods sold. Ship tracking data is uploaded back through Acumatica to the websites, closing the order cycle while providing vital information to the buyer and reducing customer service fees.
Automated Bank Reconciliation closes the accounting loop with the business system (7). Acumatica integrates bank statement downloads and automatically matches bank deposits with their counterparts in Acumatica. Month-end close time is reduced, and accountants can focus on higher value added tasks.
Often, customer service and support personnel (8) working with a Commerce Base customer support platform, such as HelpScout or Zendesk, must access both the website and the ERP solution. This is time consuming and error prone (e.g., order numbers get confused, credits are misapplied, etc.). Acumatica's web services solve for this with a customization called "Meldor" that links HelpScout, Shopify and Acumatica, providing single keystroke capability within HelpScout for cancellations, returns, address corrections and more, simultaneously triggering corresponding transactions in the three software systems.
Once again, productivity is dramatically improved for customer service representatives and other employees in operations, warehousing and accounting. This is yet another digital transformation productivity enhancer.
Supporting Digital Transformation
Acumatica supports digital transformation in many other ways. For example, Acumatica supports automated work order generation for assembly operations where items are configured on the seller's website. With Acumatica eCommerce ERP, websites "know" inventory levels. Acumatica also "knows" that all orders entered into the website have been received, or that all orders sent to a 3PL for fulfillment or picked up by a carrier have been processed.
Similarly, Acumatica tracks supply chain activities with fulfillment agencies; if an order is missing, Acumatica "knows." These tracking systems use color-coded dashboards (e.g., red = problems) as well as automated notifications to task lists in Acumatica (via emails that can be sent to a smart phone) for easy access and navigation. Acumatica can also provide valuable stocking information to trusted vendors. This augments warehouse fulfillment and associated manufacturing production.
Other integrations include expense management with input from smart phones and auto AP systems where OCR reads incoming email and auto posts payables information. These capabilities and integrations enhance businesses' omnichannel commerce efforts.
At Advanced Solutions & Consulting Co. (ASC), we believe Acumatica is a rock-solid foundation for digital transformation. Indeed, the sky is the limit. With our 23-year record of successful business system implementations and as a founding Acumatica Value Added Reseller (VAR) and Independent Software Vendor (ISV), ASC can help businesses digitally transform with Acumatica's award-winning Cloud ERP solution.
Contact our team today.