Obtaining organizational buy-in for your ERP implementation is an essential component for success. Without the support of your employees, the time, money, and effort you put into your ERP software selection may be wasted. How do you get buy-in? Acumatica's Sean Chatterjee has some ideas.
 Artificial Intelligence and its ability to solve business problems is a hot topic right now, and the human element is seemingly taking a back seat. However, for companies planning an ERP implementation, the human element in the form of employee support is key to its success.
Today, I'll explore the importance of organizational buy-in and how to get it.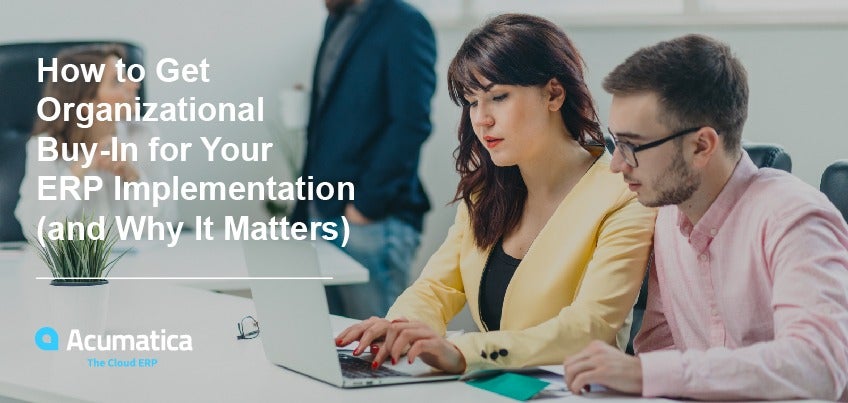 Organizational buy-in matters
Before I discuss why organizational buy-in is vital, I want to point out another critical area of support—that of the leadership team. In a recent post, I share the reasons why leadership buy-in is necessary, including expenditure sign-off, a champion, manpower, and staff support—all things provided by the executive branch of the business. Without the leadership team's full support, an ERP implementation won't see the light of day.
For the purposes of today's discussion, we'll assume you've convinced your leadership team that implementing a modern, flexible, and mobile cloud ERP solution holds tremendous value. You jump into the ERP research and ERP evaluation process and find the perfect cloud ERP solution, make your ERP selection, and begin prepping for the ERP implementation.
But you have a niggling suspicion that you've missed a step—and you would be correct. The missing step is gaining organizational buy-in. Just as you convinced the leadership team, you'll now need to convince your team members that new technology will benefit them and the company. Unfortunately, many employees may feel the disruption to their daily activities and workflows by the implementing and learning of an ERP system (one that may or may not make them more efficient) isn't the right decision.
It's in your company's best interest to address these concerns immediately. Organizational buy-in (or the lack thereof) can make or break your ERP implementation. If employees refuse to use the new system or only use it half-heartedly, your company cannot reap the rewards brought by automating your business management processes.
How to get organizational buy-in
As you contemplate getting organizational buy-in, here's some good news: Millennials are taking over the labor force, and they're influencing technological advancements.
How's this good news?
Depending on your company/industry, you may already be experiencing this demographic shift within your ranks. If so, convincing Millennials to adopt a modern, cloud ERP solution won't be difficult. They're "digital natives"' and expect their workplace technology to have the same digital capabilities as their personal devices.
However, if you have a mixed workforce who has yet to embrace the benefits of advanced technology, this is what you can do:
1. Communicate the plan to implement a modern cloud ERP right away
The benefits of a cloud-based ERP may be unclear to your employees who have been making do with your legacy system for years. They may feel this change is unnecessary, disruptive to their way of doing things, and even slightly offensive—perceiving that their efforts haven't been up to par.
The best time to address their concerns (and possible feelings of resentment) is before the ERP implementation occurs—maybe even during the ERP software selection process itself. Giving employees a heads up that a new business management system is in the works will give them time to digest the news, ask questions, and adjust to change.
The bonus benefit of communicating this information early is that employees can share their thoughts on the features they'd like to see and use in a new cloud ERP solution. Their feedback is invaluable; you'll have a clear picture of what things will help make their jobs more streamlined and easier, thus encouraging support for the implementation.
2. Communicate the features and benefits clearly
As mentioned earlier, Millennial expectations differ from those of other generations. They're used to flexible, easy-to-use, insightful, and collaborative technology in their personal lives and see no reason to lower their expectations in the professional space. Because of this, they'll likely understand and applaud the ERP implementation, even with the inevitable challenges that arise.
For non-Millennials, communicating the features and the resulting benefits before (and during) the ERP implementation will help grease the wheels, so to speak. These features, if you choose the right cloud ERP, include:
Mobility
User-friendly UI
Robust analytics
Instant communication
Single source of truth
And more
Cloud ERP systems are designed to be learned intuitively, and the benefits include increased efficiency, scalability, and profitability. These benefits provide job security and new opportunities as the business expands.
3. Communicate leadership support
Attaining organizational buy-in without push back is always the goal and providing advance notice of the system change and outlining the benefits will help. Even so, resistance can occur. Reinforcing the fact that the executive team fully supports this major investment can facilitate faster acquiescence. Knowing that the entire organization—from the top down—will be using the same system can instill confidence, patience, and acceptance regarding the ERP implementation.
It's still imperative, of course, that the leadership team continues communicating its support throughout the implementation process.
Organizational buy-in essential to ERP implementation success
Organizational buy-in is a vital component of a successful ERP implementation. The steps to getting buy-in include recognizing the huge role your end-users' satisfaction plays in ERP implementations. Their satisfaction requires selecting an ERP system with high usability; this ease-of-use eliminates the need for workarounds and avoidance of the system. Additionally, communicating the plan and the subsequent benefits before you even start the process—and continuing to do so throughout—will skyrocket the adoption rate.
See if Acumatica's modern cloud ERP solution—which provides a complete real-time view of your business using mobile technology and a full suite of integrated business management applications—is right for you and your organization. Contact our team for a demonstration or to ask any questions you may have about gaining buy-in from all levels of your organization or about the many benefits of implementing cloud ERP software.