So, let's say you're starting a new business from scratch. Good for you! There's often a perceived notion that you now get the opportunity, since you're a brand new business, to setup your business systems from ground zero. We're way better off than our competitors, you think to yourself, who are struggling with integration issues between their on-premises and Cloud systems. I have a newsflash for you: very, very few new businesses actually start their systems completely from scratch (only about 2%, actually). The truth of the matter is a variety of your systems are pre-existing and are built on-premises or in the Cloud, creating migration and interoperability issues right out the gate.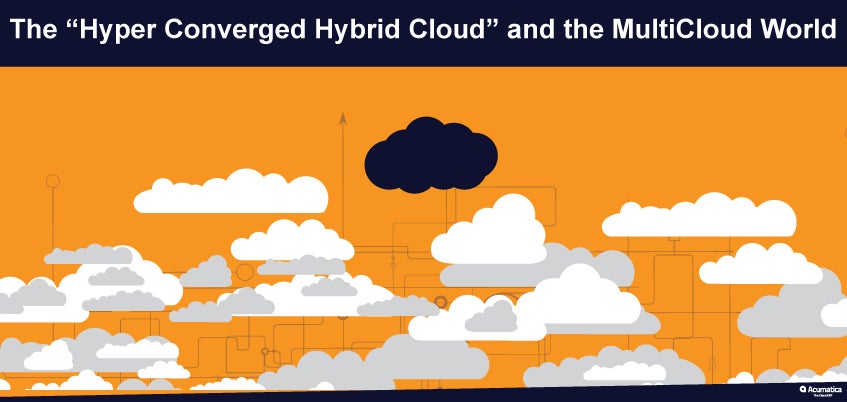 I don't say this to be a downer, but to be a realist. If a new business owner can setup their systems with this knowledge, they will be setting themselves up for success right from the beginning, as they will make informed decisions on how to connect their hybrid Cloud world. I spoke to this in my recent blog post on setting your business up for success in a multicloud cloud world. Licensing is another key component of the multicloud world, which my colleague, Sean Chatterjee, discusses here.
All of this brings me to my favorite buzzword of the month: the hyper converged hybrid cloud. This is just a fancy new word for telling the old hybrid story.
Planning for Adaptability
As I've already laid out, most new businesses begin with a hybrid systems model. They are trying to setup their systems to integrate between public and private Cloud tools, as well as any on-premises solutions they're using. The new multicloud world can add to the confusion, as most new businesses take advantage of the wide array of Cloud apps and tools available today. For example, you setup your collaboration system on Office 365, and decide to use Zenefits for HR. Making the two speak and work together, though, is often a nightmare.
To solve this, what your new business needs at its core is an adaptable platform that can speak to and between your on-premises, public Cloud, and private Cloud systems, as well as the larger multicloud world. This platform solves the nightmare created by the hyper converged hybrid cloud world your business begins in. To be adaptable literally means to be able to adjust oneself readily to different conditions. This very definition is one of the key pillars upon which we built the Acumatica system. We knew that businesses, new and old, would continue to struggle with a hybrid world, so we created a platform that can answer and solve this massive issue.
Planning for Interoperability
Even though other ERP providers are producing new versions of Cloud solutions that are trying to look like ours, Acumatica is the only platform available today that can go back and forth from on-premises to the Cloud. This is critical for new businesses (and well-established ones) who are getting their business systems figured out. Nothing else works as seamlessly as our platform does—and that's the adaptable core that transforms the old hybrid story into one with a happy ending.
So, whether you're in the enviable position of the 2% of new businesses who are able to start with a completely clean slate, or you're needing to migrate some on-premises data into the cloud, Acumatica is a hybrid cloud solution that will meet your needs, regardless.
Want to find out more about this? Get in touch with our team here, or, better yet, register for Acumatica Summit 2017, where you'll discover how to navigate your business in a multicloud world. I'll be giving the keynote address and will be sharing further thoughts about multicloud and how we are planning for a hyper converged hybrid future. I look forward to seeing you there!