Acumatica cloud ERP customer Interaction Associates successfully went 100% remote, and their Director of Business Operations has some tips on how you can do it, too.
No one could have predicted a 2020 pandemic or the complete societal shutdown that has resulted. Chris Williams didn't, but he's thankful that Interaction Associates (IA) became a 100% remote company about two years ago. While businesses around the world are scrambling to get their workforce mobile, Chris says IA is experiencing business continuity, and Acumatica's cloud ERP solution is helping them do it.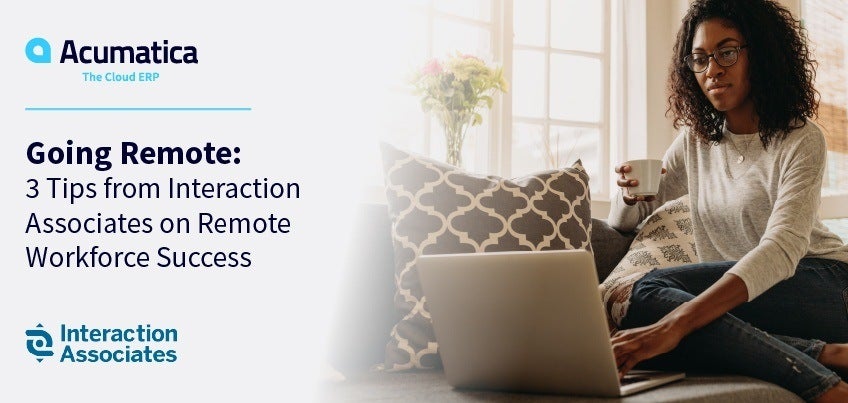 Why Interaction Associates went remote
IA is a boutique leadership development company. According to Chris, they predominantly focus on teaching and training enterprise clients (like Dell Technologies & GE) techniques that will help them work better together and facilitate more effective, strategic meetings.
"It's all about giving adult workers and learners a common set of tools, skills, and ultimately a shared language so that people can accelerate how they make decisions and how they achieve their business objectives," he says. "We do a lot of training workshops and focus in the leadership development space. We also do a lot of work focused on building effective meeting cultures."
The company has 20 full time employees and a network of about 50 additional individuals they use to augment during surge periods. Their staff is located in all U.S. time zones. Shifting to a distributed workforce made sense for several reasons.
First, because their consultants often are either on-site or online when providing training, learning, or coaching, "an office for us as a small business was not adding a ton of value to our clients."
The second reason has to do with one of their core values: professional excellence. He explains. "This value really stems from the idea that you should always be continuously reviewing your operational processes, your workflow processes, your financial acumen, and your financial results. Really looking at that and assessing how can we make this more efficient? How can we make our business more effective?"
Having an office in the Boston seaport district proved to be difficult for people to get to and wasn't efficient or effective, so they decided to move to virtual, believing their employees would be more productive and happier.
And third, they're not constrained geographically and can now acquire talent anywhere in the world.
Why they chose Acumatica cloud ERP 
IA's previous system was a legacy Sage product that had been heavily customized and was running off an on-premises server for many years. Eventually, IA moved to an outsourced company to manage their financials, which used Sage Intacct.
"We were using the system to do project accounting and serve as our AP/AR and general ledger system," Chris says. "While the system had the functionality we needed, the process was cumbersome, retrieving actionable business data/reporting was extremely difficult, and the inability to upgrade versions and move to the cloud versus on-premises was a major hindrance to our business strategy to move from a physical to a more cloud/virtual organization."
He continues, "The main reason we chose Acumatica is the power of the Project Accounting module and the flexibility it offered. Specifically, Acumatica's time and expense integration with Project Accounting and mobile app is excellent. Acumatica provides a single source to see all data, and we have the flexibility to match the complexity of our client business and invoicing requirements."
They also, like many Acumatica customers, felt Acumatica's unlimited user licensing model was helpful, specifically because they have a large group of outside 1099 contractors who may utilize the expense module but aren't necessarily needing access to the solution each week.
Expert advice on going remote
As a completely distributed workforce, Chris has some great tips for organizations that are shifting to a remote environment (whether due to Covid-19 or in general).
He says it's not easy, especially with the current culture of most leaders physically checking in with employees at their desks, in their offices, or in a conference room. People will need to learn to adapt, he says, including leaders who must gauge how well their employees are doing when they're not with them.
He had a lot of expert advice, so I narrowed it down to the top three.
1. Clarify responsibilities
"For organizations to work remotely, even if it's just a temporary standpoint, the level of clarity around roles and responsibilities has to be crystal clear," he says. "The employee must know what's expected of them inside and out."
This involves being extremely specific. For example, if a leader's expectations for their marketing associate is to pull social media statistics, then he or she must drill down into which social media platform(s), how often should they pull the report, what's the format of the report, etc.
"Getting really specific is really important because there's some habits and routines that people have to develop, and it's up to the people leader to really set those routines and expectations. If they don't, it's a little bit like the Wild West," he says.
2. Run effective virtual meetings
This is one of the underlying skills IA teaches their clients and one they practice themselves. Remote companies need to set meetings for a certain day and time every week, establishing a routine for every team member. But it can't be just any kind of meeting. It must be effective.
"Most people when they arrive at a meeting have a laundry list of topics they want to talk about. But that in itself is not enough to really have an effective meeting," Chris explains. "For our clients, we teach them a tool called 'Desired Outcomes.'"
Simply put, a desired outcome completes the statement: "By the end of this meeting, we will have… ." For example, by the end of this meeting we will have an agreement on how we're going to reduce our budget by 10%. It's not focusing on a topic but on the outcome, and according to Chris, this is the most powerful takeaway for their clients. It shifts the entire meeting frame to outcomes versus topic or activity.
3. Connect/communicate with the right people at the right time and focus on the three dimensions of success
With entire teams and organizations now working from home, Chris says they need to learn how to connect and communicate from a distance. Phone bridges and meeting platforms (Chris is a fan of Zoom and WebEx) are the primary ways to do so, but team leaders must also evaluate how to structure schedules, factoring in different challenges and constraints, such as spouses and children.
It's also important that meetings have the right people in the conversation. "Make sure the people in your conversation itself are the people that should be there," he says.
Team leaders must also be intentional about the meetings, not focusing just on results but on what Chris calls the three dimensions of success: Results, Process, and Relationships. Did we get the business objective? Was the process clear and replicable? And in getting the results and designing the process, do the people still like working with each other at the end of the day?
"It can't be all about one dimension," Chris says.
More from Interaction Associates
Interaction Associates has been around since 1969. You can learn more about IA's groundbreaking collaborative process, The Interaction Method™, for yourself, as well as how to stay connected when working remotely, have better online meetings, crack the collaboration code, and build relationships with coworkers in different geographical locations. And their latest blog on the challenges and opportunities of remote work may prove especially helpful.
As to their Acumatica experience, Chris says, "Acumatica has been really transformative for our business. It's causing us to understand key metrics and financial results quicker. Because it's cloud based, it enables us to scale when we have a sudden burst of business."
He also says, "If you're looking for a cloud-based solution that is flexible for your current and future business needs, I would highly recommend considering Acumatica."
If you'd like to consider Acumatica as a way to become a successful, connected business, contact our team today. We'll be happy to answer questions and set up a demonstration.