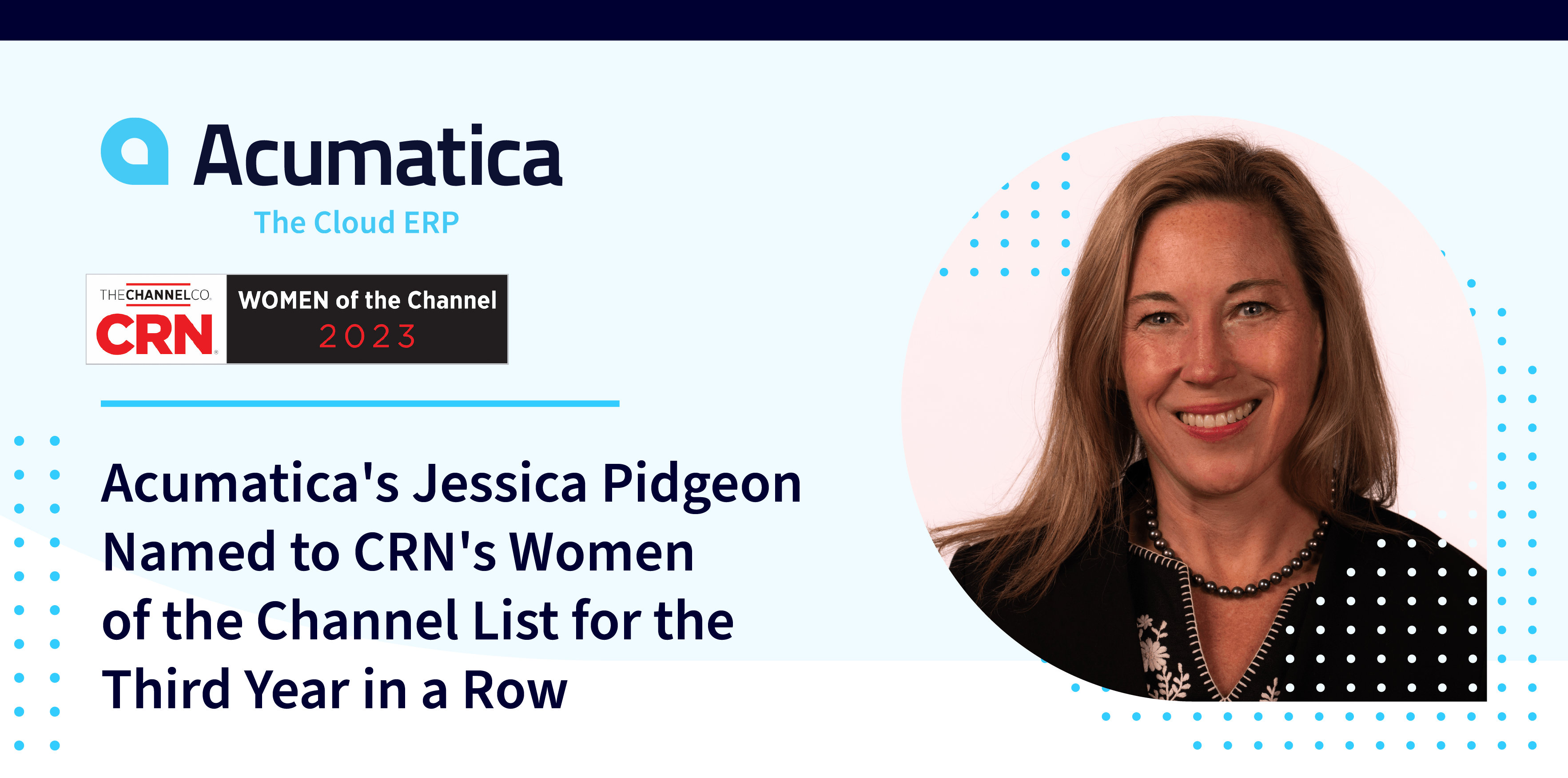 In February, CRN®, a brand of The Channel Company, announced its 2023 Channel Chiefs list, which included Acumatica's new channel chief, CJ Boguszewski. Now, CRN's 2023 Women of the Channel List has been released, and Jessica Pidgeon, Acumatica's Partner Programs Manager, is one of the over 1,500 deserving honorees! This is a prestigious recognition awarded to women from IT vendors, distributors, and solution providers, whose expertise and vision have positively impacted the technology industry and enabled partner and customer success.
"We are ecstatic to announce this year's honorees and shine a light on these women for their significant achievements, knowing that what they've accomplished has paved the way for continued success within the IT channel," says Blaine Raddon, CEO of The Channel Company. "The channel is stronger because of them, and we look forward to seeing what they do next."
Jessica's History, Channel Philosophy, and Thoughts on Acumatica's Success
Before joining Acumatica, Jessica lived and worked abroad for eight years. After returning to the United States, she pursued her postgraduate passions of organizational behavior, processes, and programs in the technology sector. Jessica has been working in the IT channel for ten years. As the enablement, operations, and programs manager for various software vendors, she has honed her skills and expanded her understanding and appreciation of partner community reinforcing her  belief that a collaborative human approach to technology creates a thriving channel ecosystem.
"I prioritize treating others with respect, dignity, and compassion without passing judgment," she says. "I appreciate honesty and transparency."
Jessica has used these qualities to advance Acumatica's channel business. For example, in 2022, she managed the launch of our Services Partner program, which empowered Acumatica's channel to align with the specific personal missions and goals of channel participants. Through this program, Services Partners can lean into their strengths, solidify engagement, and expand the overall channel ecosystem.
Jessica played a major role in improving Acumatica's Industry Edition authorization process, and she helped simplify Acumatica's channel program by streamlining processes, educational resources, and inquiry response methods to reduce administrative costs. She also led the charge to simplify the 2023 margin model, creating even greater efficiency for both Acumatica and its partners.
Says Jessica, "There is nothing Acumatica does in a vacuum. The company staunchly believes that transparent communication with partners and an open forum to receive partner feedback is critical to executing effective, new strategies."
Among these effective, new strategies is Jessica's work to enhance partner relationships with programmatic changes, such as "further developing the existing referral program to increase synergies in the process and provide more benefit to all parties involved." For Jessica, this referral program will help "referring parties build capital to invest in establishing a team or becoming a partner or reseller."
As to what she believes will be the key to success for Acumatica's channel partners, Jessica says, "The success of Acumatica's channel partners in 2023 will depend on partners' ability to continue aligning with Acumatica's industries. The more ingrained partners become in Acumatica's key industries (e.g., construction, manufacturing, distribution, retail/commerce, etc.), the better equipped they'll be to speak the language of the customer."
She adds, "Partners that understand the unique needs of customers across key industries will experience new sales leads, which yields an ever-growing customer base. Partners must continue delivering value to the customer to increase win rates and continue to grow with Acumatica."
What's Next for Jessica and Acumatica
Jessica is passionate about offering straightforward business practices, processes, and policies to Acumatica VARs, so they can superbly serve their—and Acumatica's—customers. This makes her a perfect fit for CRN's 2023 Women of the Channel List, and it is a big part of why CRN has recognized her with this award for three years in a row.
Acumatica is fortunate to benefit from Jessica's knowledge and passion, which also extends to supporting women who have fallen victim to domestic abuse. She plans to write a book and become a motivational speaker, working to break barriers and stigmas surrounding domestic abuse victims and their ability to succeed in the workplace.
With help from remarkable team members like Jessica, we will continue enhancing our award-winning cloud ERP product, building a culture of inclusivity and gender equality, and developing processes and programs to empower women in tech. We'll also continue pursuing customer and partner success, prioritizing partner collaboration, and actively participating in the channel community.
Congratulations to Jessica for being included in CRN's 2023 Women of the Channel List! We're excited to watch and support her as she achieves her professional and personal goals.
Contact our team today to learn more about the Acumatica Partner Program, becoming an Acumatica partner, and experiencing our award-winning cloud ERP software.