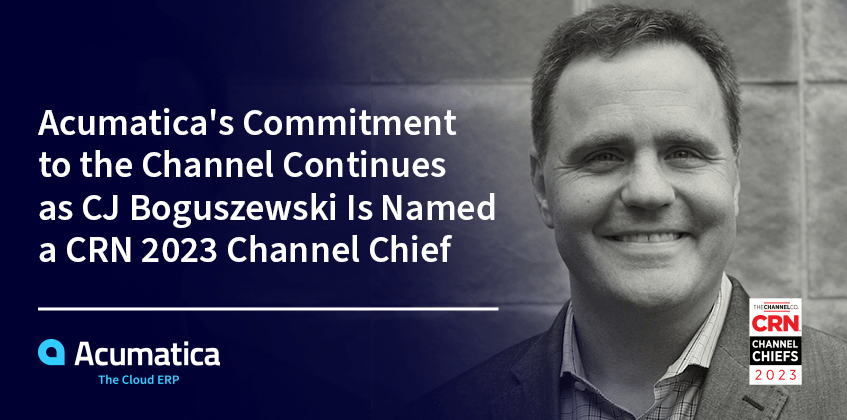 We are excited to share that CJ Boguszewski, Acumatica's VP of Partner Strategy & Programs, has recently been recognized by CRN®, a brand of The Channel Company, on its 2023 Channel Chiefs List. It's an honor bestowed upon a small, select group of channel chiefs who stand out as leaders amongst top IT executives by offering unfailing support and proven strategies to their channel partners.
A Well-Deserved Honor
CJ joined Acumatica in April 2022, and in that short time, he has taken ownership of our Value-Added Reseller (VAR) partner program, strengthening our already robust incentive, certification, recruitment, enablement, and activation offerings we provide as a channel-driven company. As CRO Sanket Akerkar noted in the press release welcoming CJ to the team, "CJ has the channel-centric approach and experience that aligns with our mission and vision."
This approach comes from his experience leading three IPOs and seven acquisitions for businesses within the technology industry. Based on CRN's editorial staff's criteria for their Channel Chief honorees (e.g., professional achievements, standing in the industry, dedication to the channel partner community, and strategies for driving channel growth and innovation), CJ's inclusion on its 2023 Channel Chiefs List is fully merited.
"Once again, this year's list gives well-deserved recognition to the IT Channel Chiefs who are dedicated to driving the channel agenda and advocating for the development of strong channel partnerships," said Blaine Raddon, CEO of The Channel Company. "Under their exceptional leadership, influence, and innovation, the IT channel vendor community continues to deliver solutions and services that meet the rapidly evolving needs of their solution provider partners and their customers."
Expanding Acumatica Partner and Customer Success
With CJ at the helm of our 5-star Acumatica Partner Program, we anticipate our international network of VARs to continue expanding, both in their depth of cloud ERP knowledge and in their ability to serve Acumatica customers with the expertise and dedication we're committed to providing. In fact, K2 Enterprises acknowledged our commitment to partner channel excellence by naming us one of their 21st Annual K2 Quality Awards winners for their Reseller Channel category—an honor we've enjoyed for more than four years in a row.
After receiving the award from K2 Enterprises, CJ said:
Partners are vital to our mission to help small and mid-sized companies thrive in today's competitive markets. K2 Enterprises has consistently recognized our partners' hard work and dedication, and this reflects the critical role our partner ecosystem plays in delivering value for our customers and making Acumatica the fastest-growing cloud ERP company on the market.
Jessica Pidgeon, senior partner programs manager at Acumatica, has also been recognized for her work within the channel by CRN's Women of the Channel List (2021 and 2022). She explains further how Acumatica encourages partnership success: "By offering straightforward business practices, processes, and policies to Acumatica VARs, they have what they need to serve our mutual customers. And when our customers are served well, they're happy, which, in turn, makes our partners—and us—happy."
As we continue to evolve our industry-best ecosystem, CJ, Jessica, and the Acumatica partnership team are focused on building a community of partners that deliver value and help customers thrive and grow. To learn more about Acumatica, our cloud ERP software, or how to become an Acumatica VAR, please contact our team today. We offer a no-compete partnership that delivers the tools, training, and resources our VARs can use to delight their customers.
Congratulations again to CJ for being named to CRN's 2023 Channel Chiefs List!