Lifeway Mobility took an important step in reaching its goal of becoming the leading national supplier of mobility equipment: Implementing Acumatica cloud ERP.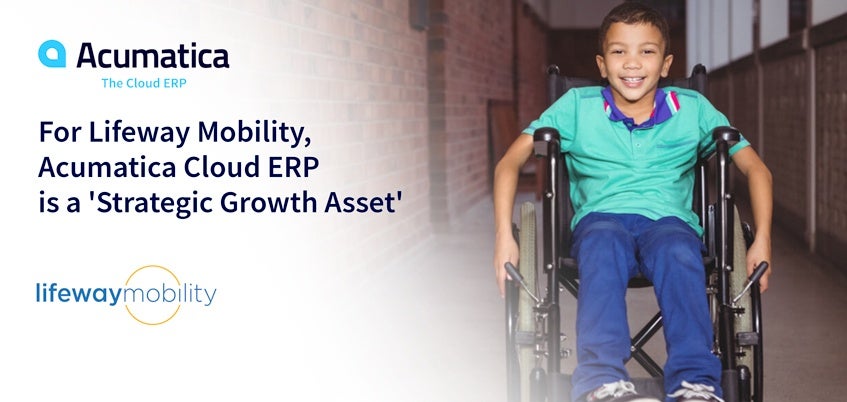 Who knew that selling healthcare mobility products (e.g., ramps, stairlifts, wheelchair lifts, ceiling lifts, transfer aids, bath safety solutions) while acquiring fragmented mom-and-pop operational suppliers and solidifying them as one, the comprehensive business would pay off? The founders of Lifeway Mobility did. However, their success led to a complex problem—one that could only be fixed by a modern, cloud ERP solution.
Acumatica Cloud ERP to the rescue
Lifeway Mobility was born in 2015, and since then, the company has augmented operations in Connecticut and Rhode Island, with acquisitions in Illinois, Indiana, Massachusetts, and Minnesota. Their mission is not to sell products but to meet the needs of their customers by providing recommendations that "improve mobility, comfort, independence, and quality of life."
The company grew as they focused on meeting their mission, but they encountered an obstacle. "Because our offices were established through acquisition, each one came with a legacy set of tools, software, operating platforms, process, and procedures. This made it a real struggle and incredibly complex to get consolidated statements and reporting," says Bryan Mullen, SVP Shared Services in the company's customer success story.
Six software packages plus no ERP system does not a cohesive, insightful business make. The Lifeway Mobility team knew they needed cloud-based business management software to take them to the next level, so they contemplated their options and chose Oracle NetSuite.
Wait, what? Where does Acumatica's cloud ERP software fit in?
As it turns out, George Mackiewicz, owner of CAL Business Solutions, rescued them by suggesting they review Acumatica hours before they signed on the dotted line with NetSuite. They took his advice, and Acumatica's pricing model, mobility, and scalability convinced them that Acumatica cloud ERP was the solution for them. The quick and professional implementation that followed confirmed they had made the right decision.
"Having run large operations, and as CIO at a Fortune 50 company in the past, I've implemented a tremendous amount of technology over the years," Bryan says. "None of them have been as smooth as Acumatica."
Through the combined efforts of the Lifeway Mobility leadership team, CAL Business Solutions, and Acumatica, they had their six offices up and running on Acumatica's Distribution Edition, Financial Management, Customer Management, and Field Service Edition modules (as well as third-party application Rental Order Processing: Information Integration Group) within one year. Even better, Lifeway Mobility's Chicago branch and Minneapolis office were both able to roll out the system during the pandemic.
Bryan says, "We are all working remotely, not being on site and being able to implement a new solution during this time is a testament to the way this can be done. All the training, data migration, and post-launch support was done entirely remotely."
Meeting high expectations with Acumatica Cloud ERP
You can imagine that such a fast, successful implementation in six different locations led the Lifeway Mobility team to have high expectations of the benefits they would experience using Acumatica's cloud-based ERP solution. They did, and the expectations were met.
The company:
Consolidates data from disparate systems with a click of a button: "The implementation of Acumatica allows us to look at our metrics on a day-to-day, real-time basis. We can see what our operational impacts are which allows us to make better decisions during this chaotic time. None of that was possible with our prior systems."
Keeps field employees safe and connected through Acumatica's mobile application: "We're not spending time looking for documents or making phone calls, or, heaven forbid, installing something that does not meet customer expectations. Everything is at their fingertips, and that's been a huge benefit. Hours of work on a weekly basis have been avoided, resulting in more time with the customer providing a better customer experience."
Provides employee-specific financial and operational dashboards: "They can see trends, see how their actions impact our business overall and understand why the senior leadership team is making the decisions they are, especially during this pandemic."
Securely maintains customer data: "We are very confident that the data we maintain on behalf of customers is secure. Each of our seven locations has a zero IT footprint. We rely on the security structure managed by Acumatica and AWS to keep our data safe."
The benefits of implementing Acumatica have been felt and appreciated company-wide. They've also impacted Life Mobility's future.
Doubling the company with Acumatica Cloud ERP
Before Acumatica and the pandemic, the combination of Lifeway Mobility's strong pipeline, financial backing, organic growth, and acquisitions gave them the confidence they could double their size. With Acumatica, they still plan on reaching that goal.
"Acumatica is enabling our growth through the implementation process. We are able to bring a new organization onboard, share with them our tools, and have them integrated within 30-to-60 days of closing a deal, which is phenomenal," Bryan says.
Their customer success story provides further insight into why Bryan says he couldn't do his job if he didn't have the Acumatica platform, and our team is available to answer any questions about becoming an Acumatica customer or to set up a demonstration.