Running your financial, CRM, field service, order, and inventory management needs on a legacy ERP system is not a great idea. M3 Technology Group realized this and decided to implement Acumatica cloud ERP. While their people and expertise have grown the company, Acumatica is the foundation the company plans to rely upon for maintaining—and furthering—their dramatic growth.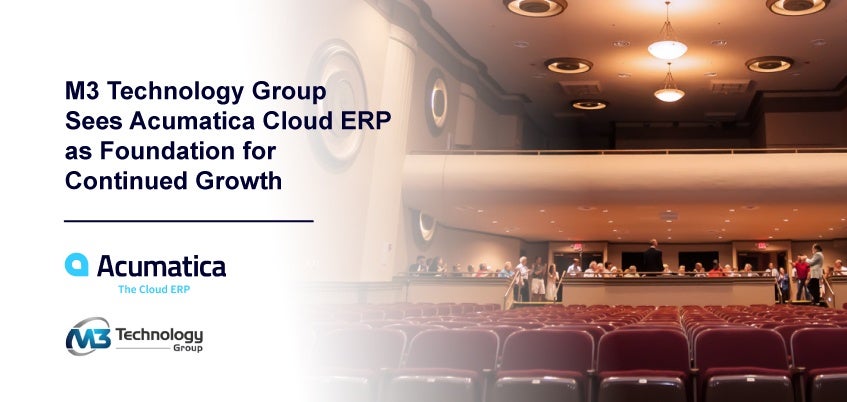 If you think it's impossible to wax poetic about a cloud ERP solution, think again. M3 Technology Group—a company that designs, builds, and installs audiovisual and videoconferencing systems for a myriad of industries—can't say enough about their customer experience with Acumatica. ERP Developer and former COO Kelly Burns correlates it to what users expect from Apple and Starbucks.
"I drink a lot of coffee and love the way I'm treated at Starbucks. It's the same with walking into an Apple store—you almost feel like you walked into Heaven—and everyone wants to help you right way. To me, those are two of the highest customer experiences you can have, and Acumatica is right up there," he says in M3 Technology Group's success story.
Acumatica cloud ERP: "no competition"
M3 Technology Group's previous Everest Software solution was very slow and required manual processes, and the company also operated on several different platforms—all things a technology company that believes in outstanding customer service and technical support couldn't tolerate. With four Tennessee branches (Nashville HQ, Knoxville, Huntsville, and Memphis), the company needed to upgrade to a cloud ERP system capable of managing their growing company's financial, customer, project, and field service needs. After evaluating Acumatica against NetSuite, Sage, and SAP, Acumatica was the clear winner.
"Once we started pricing things, no competition," Kelly says. "Acumatica was on the rise while the others felt like they were fading away."
They implemented Acumatica in 2012. Their applications include Acumatica Distribution Edition with Advanced Financial Management, Order Management & Inventory Control; Acumatica Project Accounting; and Acumatica Field Service Edition. They're also adding Acumatica Customer Management this year.
"We came out of the gate billing bigger orders. Everyone is busier, but we're covering the work with the same people," Kelly says. "We aren't stressed or working overtime, yet we're doing way more in sales and transactions through Acumatica."
Phillip Cordell, VP of Technical Operations, and Will Pettus, Service Manager, join Kelly in praising Acumatica's cloud ERP solution and service.
Growing with Acumatica's cloud ERP solution and support
Let's look at how Acumatica's field service management software, order management software, and inventory management software have helped M3 Technology Group grow:
In the first two years of using Acumatica, the company's revenues rose 60% (and they didn't need to add finance team members to do it)
They added 20 new users to Acumatica in 2017 after acquiring a national video conferencing service company and didn't have to pay per-user licensing fees (due to Acumatica's unique pricing model)
Their field support services exploded with the growing popularity of distance learning programs and nationwide operations (field support services now contribute about 25% of the company's revenues)
M3 Technology Group has enjoyed "rock solid" performance via the notifications available with Acumatica. In their prior system, notifications to the credit department and controller of new customer accounts was spotty. With a three-tiered tax structure in Tennessee, they require tax-exempt certifications and the correct tax before sending quotes to the customer. They no longer worry everything is working properly.
Additionally, when they upgraded to Acumatica's latest versions, the company gained incredible insight into project expenses on a daily basis. Kelly says, "Now we can see progressive job profit and loss on a daily basis rather than at the end of a project when it's too late to make adjustments."
Praise for Acumatica cloud ERP
The benefits M3 Technology Group have experienced since implementing Acumatica cloud ERP are almost too numerous to list. From ease-of-use (including the user interface and adding new users), field-level security, and superior search capabilities to custom dashboards and reporting, Acumatica's open API interface (they have easily implemented Avalara, Microsoft's Power BI, APS Payment Solutions and Velixo), and mobility (field service agents can access up-to-date info, modify tickets, and update info on the go), M3 Technology Group is 100% satisfied with Acumatica cloud ERP.
"I would absolutely recommend Acumatica to businesses not just in our industry but really in any industry. It enables us to track time and materials, expenses, generate accurate costing and analysis of where our projects come out at," says Phillip. "Really, the cloud-based functionality means our employees are able to conduct their business anytime, anywhere."
Kelly also highly recommends Acumatica. "I envy anyone starting on an R18 or later version. Acumatica is going to "wow" them. I can't imagine coming from any other ERP and being dissatisfied with Acumatica."
As you've seen, heard, and read, loving your cloud ERP solution is possible. If you're in the market for financial management software, field service management software, CRM software, order management software, inventory management software (or any kind of cloud ERP software, for that matter), then contact Acumatica's team to learn more about Acumatica cloud ERP. You can also set up a demonstration to see it up close and personal.
"We're confident Acumatica can take us into the future, grow with us, and still maintain all the data we're going to flood it with," Kelly says. "Employees, users—we're not afraid of the system not being able to take us there. To me, Acumatica has the capabilities and all the functionality we need. We're just scratching the surface."