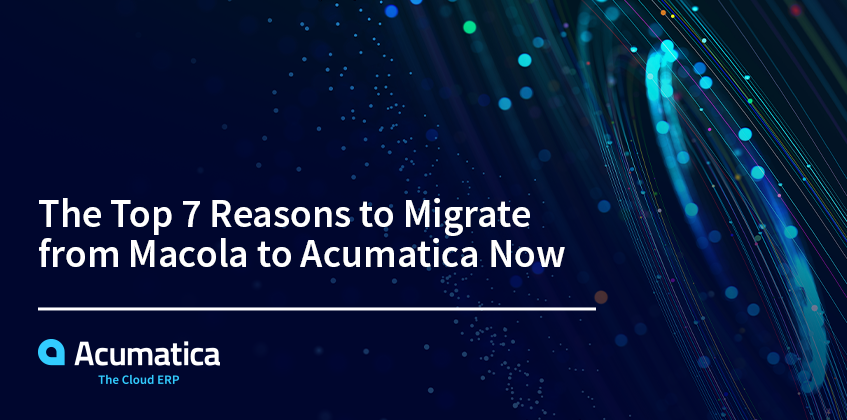 Thousands of SMBs rely on ECi's manufacturing and distribution ERP system, Macola®. Many have done so for decades. Considering how much a new ERP implementation costs (since a basic Google search reveals estimates ranging from $75,000 to $750,000—or more), their loyalty is understandable.
But that loyalty may be costing them. Inflation is at the highest it's been for over 40 years, while fears of a recession and the continued supply chain disruptions are creating an economic crisis that SMBs are struggling to overcome. In an article for FEI, Acumatica CEO John Case acknowledges the financial burdens SMBs are carrying and advises them to adopt "new strategies, processes, and technologies."
Case writes: "Technology helps businesses navigate inflationary pressures by increasing efficiency, reducing redundancy, and enabling them to accomplish more with fewer resources."
The technology he references is intelligent business management systems. Many of Macola's customers have recognized that Macola's aging ERP product (more on that in a moment) is not what they need and have already migrated to modern solutions. Flo-Tec—a company that manufactures non-woven media for the air and liquid filtration markets—is a perfect example. Flo-Tec ran on Macola for years, and according to Wesley Yarnell, Director of Marketing, "[Macola] couldn't adapt. They couldn't change. Nothing could be done remotely."
After Wesley apprised his dad, owner and president Tim Yarnell, of his concerns, and after they learned that Algorithm was no longer supporting Macola, the Flo-Tec team reviewed its ERP options. Ultimately, they made the decision to switch from Macola to Acumatica.
Why SMBs Should Move from Macola to Acumatica
Macola's ERP product has been around since the 1970s. The company has been bought and sold several times by different VC firms, including the Dutch firm Exact. Macola was acquired by ECi in 2018, but the system still uses Exact's Synergy and Globe products for some of its CRM, document management, and accounting functionalities. Macola is available in three versions (Macola Progression, Macola ES, and Macola 10), and it provides BOM, routing, MRP, inventory management, order entry, and EDI capabilities, as well as support for payroll, project accounting, and portals.
On paper, Macola sounds like a wise ERP choice for manufacturers and distributors, but there are many reasons why Macola customers, like Flo-Tec, are making the switch to Acumatica. We'll talk about seven of those reasons here.
1. Not a "True-Cloud" Solution
Macola runs on legacy client-server architecture. Though it's marketed as a cloud ERP product, it has been retrofitted with cloud capabilities using additional software applications. So, while it may be hosted in the cloud, it is not truly cloud-native. Not being a "true-cloud" product limits Macola's ability to deliver a true-cloud experience to its customers—something Flo-Tec saw firsthand.
Acumatica provides full-functionality access via the internet and a standard browser. No additional software needs to be installed on any device.
2. Unfriendly Mobility Practices
Though Macola 10 has a mobile app, it's not available for all of Macola's modules. This directly contrasts with Acumatica's true mobility. Users can access the entire Acumatica suite on any internet-enabled device and can expect that the information will be optimized to fit every page and every screen—something Macola does not do.
When the pandemic hit, the Flo-Tec team was extremely grateful for this "anywhere, anytime access" to their business solution. In their own words: "Without Acumatica, it would have been such a mess trying to get all these people into the office physically."
3. Leverages Legacy Technology
Macola has been around for decades, and its technology stack—which consists of older computer architecture and development tools—is concerning and reflects its age. The fact that portions of ECi-owned Macola 10 and Macola ES are still based on Exact's Synergy and Globe products is even more disconcerting. Exact continues to update these products independently, but their enhancements do not affect Macola's product. Indeed, Macola continues to lag in its upgrading efforts, and its dashboards and reporting tools are challenging to configure and use.
In contrast, Acumatica rests on a modern platform that uses current web technologies and development tools. It invests 75% of its budget into R&D, which puts the focus on innovations and allows Acumatica to enhance its flexible and user-friendly solution via two releases every year.
For Wesley Yarnell, switching from Macola to Acumatica was an easy decision, especially when he was able to transfer his proprietary and low-code database systems—something he created to counteract Macola's lack of usability—directly into Acumatica's modern, cloud-based ERP solution.
4. Provides Limited APIs
APIs allow different applications to communicate and interface with each other. Macola does not function with modern APIs, and it relies on an interface written by Exact. In other words, Macola's APIs have restricted functionality and are not built for the cloud. Relying on limited—and limiting—APIs means IT teams have to work harder than necessary to keep the APIs updated and usable.
Acumatica's open APIs, which operate with a universal language, give users access to multiple software services. Acumatica's customers enjoy seamless integrations and do not depend on developers to constantly monitor and manage their APIs.
5. Challenging Customization
Macola can be customized, but the modifications are done using Visual Basic for Applications (VBA). Users can only customize so much in the product.
Not so with Acumatica.
Acumatica is highly configurable, using industry-standard C# and .NET. It offers low-code/no-code capabilities so that customers can tailor the solution to their unique needs. As Wesley Yarnell explains, "I feel like I'm at a point now where I'm almost like an in-house Acumatica developer, and I know that's crazy because I don't know how to code or anything. The ability that any of my employees can come to me and say, 'Hey, I want to see this on a daily basis; I want this email to me or to a certain customer,' I now can literally make that happen in minutes for them."
6. No Deployment Flexibility
Deployment flexibility is fast becoming a must for SMBs in today's ever-changing marketplace. For instance, should a business be in a low-connectivity location, it may need to implement its ERP system as an on-premises solution. But, if connectivity is established or restored, the SMB should have the ability to quickly deploy in the cloud, either through a public cloud (such as Amazon Web Services) or a private cloud (hosted as the SMB chooses).
This deployment flexibility is not just possible with Acumatica. It's one of the rights afforded to Acumatica customers through the Acumatica Customer Bill of Rights. Unfortunately, Macola customers do not have the same rights, nor the same capabilities.
7. Higher Economic Impact
A system's total costs are calculated by adding up the costs of the system over a five-year period. The expenses include the purchase price, implementation fees, and ongoing infrastructure/training requirements. However, there are often additional costs, such as when ERP providers charge for each user added to the system—something Macola does.
Acumatica, however, offers consumption-based pricing. SMBs can scale unheeded, knowing they can add unlimited users and will only be charged for the resources they actually use, not the number of users in the system. This growth-enhancing benefit also improves the lifetime value of the ERP solution.
As Wesley Yarnell says: "Acumatica pays for itself."
Now is the Time to Become an Acumatica Customer
For businesses that have implemented Macola, now is the time to become an Acumatica customer. The longer this decision is delayed, the more you will pay in Macola's per-user charges and exorbitant maintenance fees for limited enhancements. Macola also runs on aging hardware and operating systems, which opens businesses to potentially severe security concerns.
Conversely, Acumatica:
Allows unlimited users.
Provides twice-yearly updates.
Offers access to business data whenever, from wherever, on any web-enabled device.
Promises a safe, secure environment for customers' data.
And Acumatica puts customer needs and innovation at the top of the priority list.
Here at Algorithm, we have extensive experience helping customers successfully migrate from Macola to Acumatica, so the analysis we've just given you is firmly grounded in thorough, hands-on knowledge. To learn more about Acumatica and why companies like yours are choosing its award-winning cloud ERP software over Macola, get in touch with the Acumatica team today.