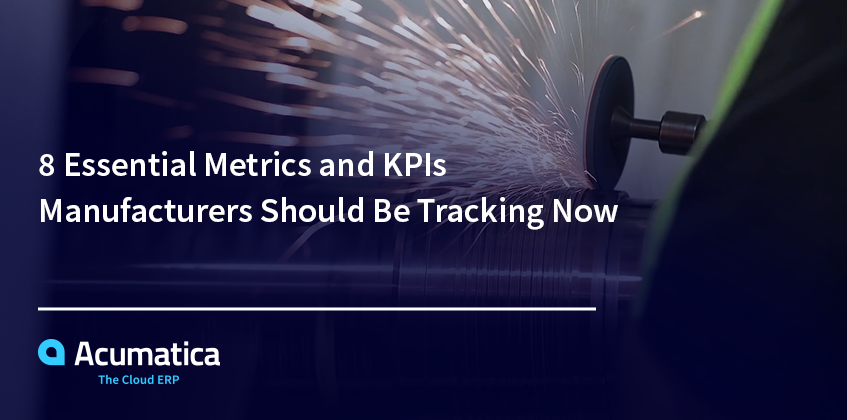 As a manufacturer in today's marketplace, speed, efficiency, and quality are ongoing goals. Unfortunately, savvy competitors, a supply chain in disarray, an unfriendly economy, and other manufacturing issues (e.g., talent shortages and global unrest) are seemingly unending stumbling blocks to achieving them. But there is some good news: manufacturers who track essential manufacturing metrics and key performance indicators (KPIs) are more likely to reach their goals than those who do not.
In today's article, we'll explain what manufacturing metrics and KPIs for manufacturing are and why they're so important for realizing success in today's unstable marketplace.
Defining and Explaining the Importance of Manufacturing Metrics and KPIs
Manufacturing metrics and KPIs help manufacturers measure the performance of their business processes and workflows as well as the overall performance of an organization. The data provided by the KPIs provides specific insights they can use to improve operations, which includes increased efficiency and a reduction in costs.
When you decide to establish KPIs, the first step is setting objectives for the KPIs. For example, do you want to increase revenue, and engage employees? Or do you want to identify new products and additional revenue streams? Once you determine your goals, the KPIs should directly correlate with them, and, according to an Indeed article, the KPIs must be specific, measurable, achievable, relevant, and timebound as well as be evaluated regularly and be adjustable.
This is what the Indeed authors call a "SMARTER framework," and it ensures that you're getting accurate and timely data and helps you avoid common metric mistakes. A good example of a metric mistake is focusing on lagging indicators rather than leading indicators.
Lagging indicators look at what has happened while leading indicators look at what may happen. While lagging indicators provide insights into past challenges and can help you not make the same mistake twice, it's critically important you understand potential problems before they occur, providing you with an opportunity to avert potentially large, expensive disasters.
Key KPIs for Manufacturing
One manufacturing company that has appeared to have mastered the art of achieving organizational goals is Toyota Group. As the top manufacturing company in the world, Toyota is credited with creating a production system that eliminates waste while quickly and efficiently producing a quality product. The system is called the Toyota Production System (TPS) and is also known as a "lean manufacturing system" or a "Just-in-Time (JIT) system."
Per Toyota's website, TPS "has evolved through many years of trial and error to improve efficiency based on the Just-in-Time concept" and was "established based on many years of continuous improvements, with the objective of making the vehicles ordered by customers in the quickest and most efficient way, in order to deliver the vehicle as swiftly as possible."
Though not specifically noted by Toyota, it can be assumed that the company has set clear, concise goals and business metrics to monitor and assess how well it's achieving those goals. As to which metrics you should be tracking, there are differing opinions, but the following eight KPIs are essential for every manufacturer.
Throughput: Measuring how long it takes a manufacturer to produce a product.
Work in Process: Determining how efficient a manufacturer is in producing a finished product over a specific time period.
Standard Operating Efficiency: Looking at the expense of producing a product in a certain time frame.
Production Volume: Comparing the number of units manufactured in a period of time and comparing it against similar timeframes.
Production Costs: Monitoring the cost of manufacturing (e.g., materials, labor, energy, rent, etc.) to inform manufacturers of costly areas.
On-Time Delivery: Calculating how many products are delivered on time in comparison to the total volume of delivered products to discover how well customer demand is being met.
First Time Right: Manufacturing products correctly the first time and every time is the goal, but when it doesn't happen, manufacturers can see where issues are occurring.
Revenue Per Employee: Evaluating the amount of money an employee makes for a manufacturer to assess each employee's productivity and efficiency.
Measuring KPIs for Manufacturing with Acumatica Cloud ERP
Knowing the importance of manufacturing metrics and KPIs for manufacturing, establishing KPIs within the SMARTER framework, and getting the KPI data are key steps to becoming a lean, profitable business. However, translating the KPI data into strategic, actionable decisions is vital, and it requires the assistance of sophisticated technology, such as Acumatica's award-winning cloud ERP solution.
From the beginning, Acumatica was purpose built for the cloud. Ali Jani, Acumatica's Chief Product Officer, joined the team in 2009 and says he immediately recognized that the founding team members were using what he calls "fresh" technologies. "That was a major differentiator; the technology was really picked up at the right time, not technology of decades ago."
Jani is right, and our advanced cloud ERP software enables you to meet constantly changing requirements head on, including the need to track essential manufacturing metrics and KPIs as a way to enhance performance and profitability. In fact, Acumatica's Playbook, "Manufacturing Metrics Made Easy," notes that the most difficult aspect of tracking metrics and KPIs is presenting the information in a meaningful way, and explain how Acumatica helps simplify the process:
Modern cloud ERP applications like Acumatica provide manufacturers with a foundation to combine data from multiple systems with configurable inquiries, tailored reports, actionable role-based dashboards, and dimensional data analysis to ensure data integrity and timeliness. In addition, create custom workflows to manage actions across business units and departments to facilitate change throughout the organization.
With Acumatica, you and all manufacturers have the features and functionalities necessary for tracking and utilizing your unique metrics and KPIs, including:
Automated data collection to improve data accuracy.
Artificial intelligence and machine learning to streamline business processes.
Real-time dashboards with actionable reports and customized inquiries.
Push notifications for alerting of potential issues.
These and additional Acumatica ERP capabilities provide you with the ability to set, measure, monitor, and analyze your KPI data that can help bring about a strong, productive future.
Says customer Bill Ferrin, Director of Information Technology at Portacool LLC, "The only way to survive and be successful in this market is to have visibility into the KPIs to drive manufacturing, maintain profitability, drive customer satisfaction and quality. We couldn't have done that without Acumatica."
Learn more about tracking key manufacturing metrics and KPIs with Acumatica by contacting our experts today.