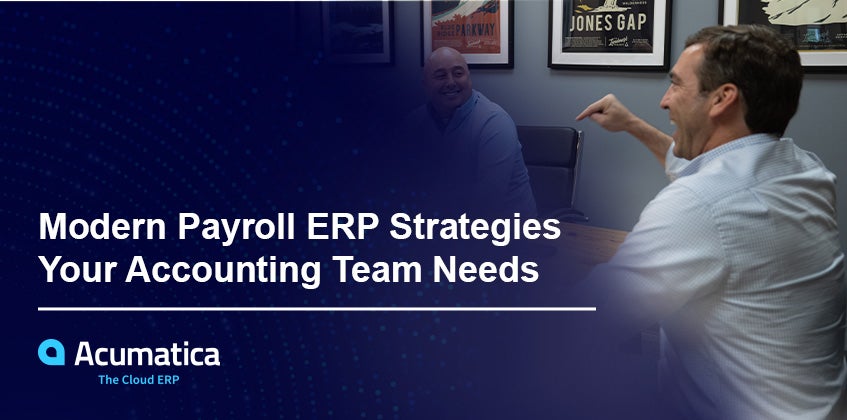 Whether your small or medium-sized business (SMB) employs two or 200 people, payroll is a complex and time-consuming administrative task. Your accounting team has to gather employees' information, track their time, calculate their pay, withhold taxes, and adjust accounts as necessary. These responsibilities are both constant and constantly shifting—evolving as employees come and go and as tax requirements change.
Managing the complex payroll process requires an effective payroll solution. Some SMBs trust their payroll needs to outside service providers, while others rely on in-house technology. But there's also a third option: payroll management software integrated with a cloud-based Enterprise Resource Planning (ERP) solution.
What Are the Benefits of Integrating Payroll Management Software with a Cloud ERP Solution?
Before we talk about payroll ERP strategies and how you can apply them with modern payroll management software, we should first talk about the main term here: ERP. "ERP" stands for "enterprise resource planning," and a cloud-based ERP solution—or cloud ERP—is a central repository for business-wide data. This data, which is accessible from anywhere and at any time, is synchronized and shared in real time with every department, ensuring that everyone is working with identical and accurate information.
When payroll management software is integrated into a comprehensive cloud ERP system, your accounting team members are handed all the updated, accurate data they need. They also enjoy automated and streamlined payroll processes, which increases their efficiency and saves a significant amount of time—time they can use for more business-growing endeavors.
These time efficiencies alone would be reward enough for investing in payroll functionality within an ERP solution, but there are even more benefits.
Resource/Labor Management
As businesses around the world suffer from a severe labor shortage, they're struggling to keep their doors open with fewer employees. You may be experiencing these labor shortages yourself, but the good news is that ERP-based payroll management software offers a single platform and dashboard from which you can manage all your labor resource needs. You and your accounting team will have a bird's eye view of how many employees are available for projects, action items, and tasks, and you'll be able to easily monitor and adjust resource allocations as your needs and availability change.
Employee Payroll
For employees, receiving a timely—and correct—paycheck is critical, but it's just as important for your business. Payment or deduction errors mean your team has to stop, backtrack, and fix the issue, causing delays, additional work, and employee dissatisfaction. Managing each employee's pay, time off, and insurance with automated payroll ERP processes ensures needed accuracy. It also reduces manual, repetitive tasks, which increases your team's productivity.
Access Team Portfolios Securely
Employee records include personal addresses, contact info, identity documents, and more. It's up to you to keep this sensitive information safe from malicious actors. The right payroll ERP strategies, implemented with modern payroll management software, provide critical security features but allow you to easily access employee records as needed.
What to Look for in ERP-Based Payroll Management Software
There are a number of payroll software options available. The challenge is determining which one will address your industry-specific needs. As you carefully evaluate each option, make sure you look for the following must-have features.
Tax Management: In the U.S., there are varying federal, state, and local taxes. Taxes are even more varied for SMBs that operate across different countries. Remaining compliant with governmental regulations and extensive payroll laws requires effort, but ERP-based payroll management software should be able to help you streamline and automate tax filing procedures and provide tax updates without manual downloads.
Salary/Wage and Benefits Management and Administration: Tracking salaries, wages, and benefits is almost as challenging as managing taxes. But modern, ERP-based payroll management software should make salary, wage, and benefit information available in one connected solution, and the information should be right at your fingertips—whenever you need it, wherever you are.
Operational Expenditure Management: Operational expenditure (or Opex) is how much money your business spends every day to maintain operations. This includes the amount you pay your employees. So you can manage costs effectively, your new ERP solution should gather all your Opex information into one, quick to access, easy to understand repository.
Reporting and Analytics: The right payroll ERP strategies make it possible to report on and analyze payroll data for smart, fast decision-making. The cloud ERP solution you choose should provide user-friendly inquiry screens and streamlined, out-of-the-box reporting functionalities.
How Acumatica Can Help
Built on a future-proof platform, Acumatica has been the world's fastest growing cloud ERP company for over six years. It delivers a full suite of integrated business management applications, including an in-house payroll solution: Acumatica Payroll.
Acumatica Payroll removes the risk of having to trust outside payroll service providers, and, if you choose a cloud-based license, it also eliminates the costs of maintaining internal, payroll-dedicated hardware. Acumatica's cloud ERP system can help you control costs, manage valuable employee information, and seamlessly process payroll with access to detailed GL and project data. According to Divya Ganesh (Acumatica's Director of Product Marketing), Acumatica Payroll eliminates many payroll pain points, such as duplicate data entry, disconnected systems, and complex timekeeping.
She says:
You're able to pay employees by check or direct deposit; automatically pull time entry data entered into Acumatica Employee Portal into the payroll system; manage tax filings; and stay in compliance with government regulations. Moreover, you can process payroll from anywhere, at any time.
To learn more about Acumatica Payroll's many features and benefits, contact our team of experts. We'll be happy to answer any questions or to schedule a demonstration.
If you're not sure you're ready to implement modern payroll ERP strategies with a solution like Acumatica, then download a free copy of our eBook, "Is Your Current Payroll Solution Meeting Your Business Needs?" It's a quick and informative read on the advantages of using ERP-based payroll management software.