Cloud ERP personalization. What does it mean and why does it matter for you as an SMB? Acumatica's Director of Product Marketing explains.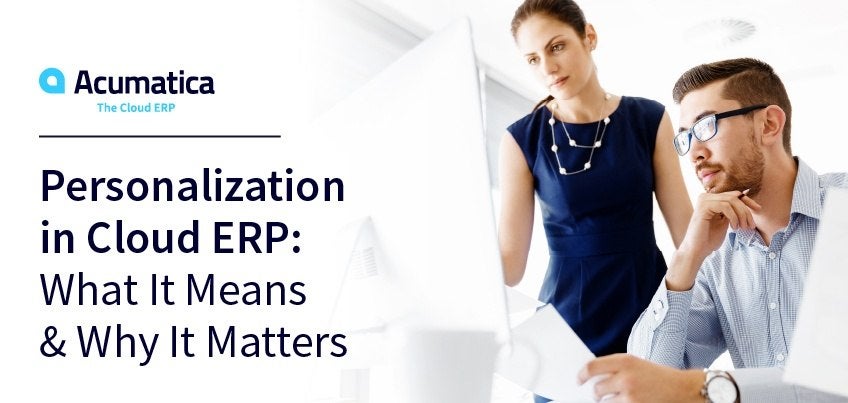 When describing technology priorities, Acumatica cloud ERP uses three pillars: User Experience, Automation, and Personalization, in that order. The Acumatica executive team, walked Acumatica Summit 2020 attendees through this "technology priority trifecta" during the Day 2 Keynote, and today, we'll look at cloud ERP personalization—what it means for you as a small to midsize business (SMB) and why it matters in the context of your success.
The evolution of cloud ERP personalization
Looking back, the evolution of personalization began with 'configuration'. The configuration is a necessary action before you begin using the system. You must configure the language, currency, time zone, etc. needed for your particular environment.
The next step in evolution is 'customization'. I'm probably not alone in thinking customization is a dirty word in the cloud ERP space, and decision-makers fear custom code, development delays, issues with upgrades, and more. While not a requirement (like configuration),  customization of your cloud ERP solution is a way SMBs can increase their cloud ERP usability based on their specific business management processes and needs. This includes integrating with third-party applications (think Smartsheet and Adobe Sign), which extends their functionality even further.
Following closely on the heels of customization is the age of cloud ERP personalization.
During the Day Two Keynote, Acumatica CTO Mike Chtchelkonogov defined personalization as "adjusting the software right for the customer's needs, making it work for the customer the best way so they don't even know it exists." This seamless personalization is visible in our most recent release, Acumatica 2020 R1. And the process by which it occurs is through what we call a "low code or no-code" principle.
Low code, no-code personalization allows users such as yourself to affect change within your cloud ERP solution. No programmer or developer needed. Without writing a single line of code, you can:
Modify tab order and visibility
Define field valid values
Import data faster and easier
Add side panels to data screens to speed data entry
The result? Tailoring Acumatica cloud ERP to your precise, unique business requirements.

Personalization is all about relevancy (and it matters)
Personalization takes configuration and customization a step further. It's all about relevancy—what's meaningful to you as an SMB, including the reports, KPIs, charts, and more that will help your business succeed. And you can make the solution yours without relying on an army of developers.
With Acumatica's cloud-based ERP, you have cloud ERP personalization capabilities. Need a dashboard? Build one. Want to dynamically define field valid values? Do it.
That's what Dan Wilkins, President of Bell and Company, a family-run industrial and marine supply distributor, did after they chose Acumatica over Infor and SAP. "You're able to do a lot of it yourself. You don't need a networking background, and you don't need programming knowledge."
The low code, no-code personalization meant they made Acumatica's cloud ERP software work for them rather than adapting their workflows to make it work for the software. This was exactly what the company needed to grow their business.
"You often hear about the complexity of ERP systems," Dan says in the company's customer success video. "With Acumatica, I think we got the full capability of an ERP with the simplicity that allows not only me but our whole sales force to take advantage of the system."
Acumatica has been hailed as the standard setter for usability. For four years in a row, Acumatica has held the position as Leader and the vendor with the highest usability (represented by mobility, flexibility, and user adoption) out of 22 leading vendors (see Nucleus Research's ERP Technology Value Matrix 2019).
And Acumatica has been called a Leader, Champion, and a very popular cloud ERP choice by actual users. You can read their reviews for yourself.
If you're ready to implement a solution that leads in both cloud ERP usability and cloud ERP personalization (which means you have the power to mold your cloud ERP application to fit your specifications rather than the other way around), then you'll want to contact our team today. Having a tailored, scalable system matters and is fast becoming a requirement for long-term success.