Acumatica cloud ERP catches up with Power Storage Solutions, an essential company during the COVID-19 pandemic, as well as for hundreds of thousands of Texans left in the dark during a major storm.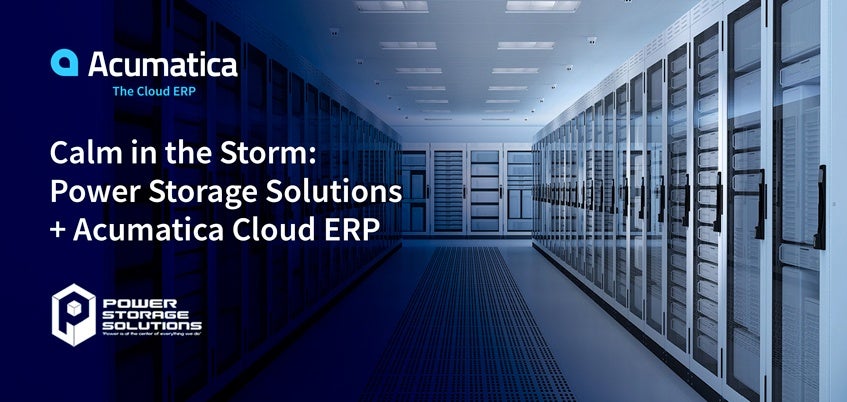 A little over two years ago, Power Storage Solutions was one of the Acumatica Cloud ERP 2019 Customer Award winners. Their fast, 60-day implementation and amazing team effort helped secure their spot as Acumatica's Customer of the Year.
A lot has happened since then, including the COVID-19 pandemic and Winter Storm Uri. We checked in with VP of Operations Derrick Elledge to see how Power Storage Solutions has been able to remain calm and power through the multiple crises with Acumatica's help.
First, who is Power Storage Solutions?
Power Storage Solutions offers DC-power back-up systems, which they install and service for Data Centers, Telecommunications, Utilities, and Petrochemical companies.  They're located in Dallas, Houston, Detroit, and Lake Mary, Florida.
Before finding out about Acumatica's cloud ERP software from consulting firm Client's First, the company was suffering from multi-platform fatigue. "We had these five best-in-class systems anybody would be glad to operate but integrating those together was a nightmare. When we found Acumatica, we believed we found the one solution," Derrick says.
They were right.
"Acumatica offered a full quote-to-cash cycle overlaid on top of our accounting system," Derrick says. "Acumatica offered a service package, purchasing, inventory, a Client Relationship Management (CRM), quoting cycles, manages projects and manages sales orders—all right there in one Operating System."
After implementing Acumatica Financial Management, Acumatica Customer Management, and Acumatica Intercompany Accounting (and adding Acumatica Service Management later), the company logged some impressive stats:
Billed $1.7 million straight out of Acumatica in the first month
Saved anywhere from $40,000 to $50,000 a month by eliminating wasted time/revenue getting information from disconnected systems
Reduced month-end close by more than 15 days
Reduced project feedback loop from 8 weeks to 1, improving scheduling, quoting, and gross profits
They also improved their communication, which helped them make data-driven decisions, increased efficiency with seamless software integration and customized dashboards, and gained a single license for multiple employees to use the same system.
Says Derrick in the company's customer success story, "In 60 days, we went from nothing in Acumatica to launching a $24 million company with 20,000 parts, 5,000 customers and having sales orders, projects, inventory, payables, receivables, and going live Dec. 1. It's astronomical when you look at what we did and how Acumatica's cloud ERP system supports us."
This support has held them in good stead during a pandemic and a major storm.
Navigating COVID-19 with Acumatica cloud ERP
Power Storage Solutions was deemed an essential business during the COVID-19 crisis. Derrick spoke with Jon Reed of digonomica in a recent article about what they've been up to.
"We've been running hard ever since it started, keeping things up and running in our business. We ensure that you have electricity, you have Internet. You have cell phones; you have power to hospitals," he says. "We are the backbone of that critical infrastructure…Making sure the grid is stabilized, right? Making sure the 911 systems were up and running and backed up as well. All those types of things that people don't think about as a frontline worker—we enable those frontline workers to work, and then if the power goes out, we make sure that the back up is ready and running."
Because they had implemented Acumatica's mobile cloud ERP solution, they had no issues shifting their onsite office team into a remote workforce. However, they faced the challenge of ensuring that their offsite technicians were able to stay safe and healthy while traveling to multiple sites and through multiple states during a pandemic.
Derrick and the Power Storage Solutions team knew they needed to revise their safety policies and to figure out a way to track their offsite technicians as a protection for them—and for their customers. Derrick reached out to Acumatica, and he was rewarded in a matter of weeks with an integrated health and wellness tracker called Acumatica Surveys. The swift response was possible thanks to the efforts of a team of Acumatica MVPs and Acumatica developers that collaborated remotely with Microsoft Teams and GitHub.
In a nutshell, Acumatica Surveys allows businesses to survey their employees' wellness daily, obtaining their health-related status, reporting/tracking any adverse situations, and helping combat the spread of the coronavirus. The survey application uses the Acumatica Mobile app, which means survey recipients can respond quickly from the field.
"Within two clicks we could tell exactly where our employees had been and what they'd been working on," Derrick says. "We did have a couple of COVID cases, which is hard not to do, but one of the things we were able to do very quickly was back trace where our team had been, get in touch with customers, help them asses their risk, and help make sure that our team and our customers were safe."
In addition to the new survey capabilities, Derrick says having a comprehensive cloud ERP solution has helped them manage their whole business more efficiently, providing a better view of where they're going. It has helped them answer the questions of what expenses to cut if business slows down, or conversely, what extra resources they need if business picks up. They also added more salespeople and launched a couple of new products they believe will help out in the future.
"I think we're very, very fortunate and very lucky to be where we're at with everything that's going on," Derrick says.
Check out Power Storage Solutions new video testimonial for more details.
Power Storage Solutions: Calm in the storm
In February, Winter Storm Uri slammed Texas, causing havoc for residents, which included power outages and telecommunication breakdowns. As a company that provides power back-up services for utility companies as well as other essential businesses, Power Storage Solutions was in the thick of it and their efforts paid off.
"Looking at the all the utilities that we service, none of the DC power or the switch gear systems that we maintain and work on went down during that time period," Derrick says.
The company is required to keep the utilities they service compliant with North American Electric Reliability Corporation (NERC) and Federal Energy Regulatory Commission (FERC) regulations, and Derrick says Acumatica was the backbone of the operation. "With Acumatica we knew when each sites major and minor PMs were going to be scheduled, and the Technicians knew exactly what they had to do. The Techs went in there, and if they found anything out of compliance, the information was readily available for the service manager to review, which then was passed to the salesperson who communicates back to our customer. Power Storage Solutions and the customer would get their issues corrected on the very next PM cycle."
Into the future with Acumatica cloud ERP
Derrick and the Power Storage Solutions team are looking forward to continuing to provide their valued customers with efficient power systems that help their businesses operate smoothly. They're also looking forward to implementing Acumatica's latest release, Acumatica 2021 R1.
"We're going to make the jump to 2021 R1, though this is against our policy. We like to stay one version behind, but what we saw in the demo, there's a lot of great stuff that's going to be impactful in managing our business," Derrick says.
The demo he is referring to was part of the Acumatica 2021 R1 Virtual Launch Event, which he was able to watch while traveling by plane. He says the CRM functionality improvements, which include users being able to scan business cards with their mobile device camera and automatically creating contacts within the CRM module as well as tracking contacts on sales orders, increases the usability for the company's sales team.
He also notes that the enhancements to AP automation and dashboards will help them continue growing their current customer base and increase their new customer acquisitions.
"I always preach that business is business. It doesn't matter whether I'm selling DC power and services or I'm selling coffee and tea. The business flow and the accounting are very similar and how you conduct business with customers. When Acumatica comes out with automatic dashboards that meet 99% of what a business user needs, we know there's a good chance that it will cover what we at Power Storage Solutions also need. It's exciting because it makes everybody's job easier."
Usability is a high priority for Acumatica, and we love hearing a valued Acumatica customer share their story about how they're able to succeed with our cloud ERP software—even, or especially, in unforeseen circumstances.
To learn more about Acumatica and our cloud ERP solution, including Acumatica's field service management software, CRM software, and financial management software, contact our team today.