Is there ever a good time to operate your company with six different systems? The founder of Power Storage Solutions doesn't think so. That's why he went looking for one powerful solution and discovered Acumatica cloud ERP.
So many systems, so little efficiency. Derrick Elledge, one of the owners of Power Storage Solutions, didn't say these exact words but close to it when describing his previous company's cloud ERP woes.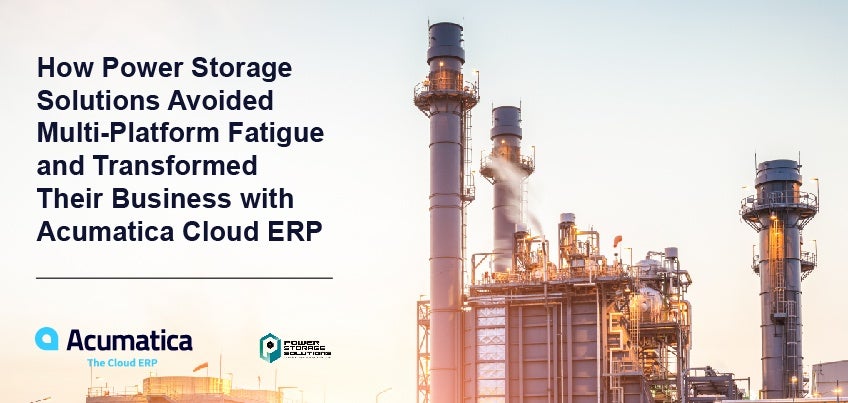 "We had CRM with Salesforce, quoting managed through Salesforce CPQ, time managed through Workday, expenses managed through Concur, inventory and service management through Davisware; it all sat on an Oracle E1 platform. We had six different operating systems we had to deal with at Interstate. Then we had to try to have them all communicate together," Derrick says in the company's customer success story.
Imagine the time, expense, and headaches involved in making separate systems cohesive. Thankfully, Acumatica's financial management software, CRM software, and field service management software provide a one-stop-shop cloud ERP solution.
Acumatica cloud ERP: Numbers don't lie
When Interstate Batteries spun off three divisions to focus on its automotive division, Derrick, along with Terry Cummings and Steve Baker, made the winning bid to buy Interstate Batteries' power storage division, Interstate PowerCare, in 2018. Now Power Storage Solutions, the company operates in Dallas, Houston, Detroit, and Florida and offers DC-power backup systems for Data Centers, Telecommunications, Utilities, and Petrochemical companies. They expertly install and service their power solutions.
Because of their experience with Interstate Batteries, the Power Storage team knew they wanted an all-in-one operating system with a strong accounting foundation, the ability to seamlessly layer other critical functions on top of it, and access anytime, anywhere. According to Derrick, they didn't think such a system existed, and after comparing Oracle NetSuite, QuickBooks, Sage, and Microsoft Dynamics, they were convinced…until they were introduced to Acumatica cloud ERP by consulting firm and Acumatica VAR Client's First.
"We were shocked to find that system out there," Derrick says.
In terms of affordability, mobility, and functionality, Acumatica was a fabulous fit. "What really threw us over the top with Acumatica is that it offered a full quote-to-cash cycle and it overlaid on top of our accounting system. Acumatica offered a service package, purchasing, inventory, a Client Relationship Management (CRM), quoting cycles, manages projects and manages sales orders—all right there in one Operating System."
They implemented Acumatica Financial Management, Acumatica Customer Management, and Acumatica Intercompany Accounting, going live in 60 days. In addition to experiencing a lightning fast implementation, the company logged some impressive stats.
For example, Acumatica's ERP implementation took two people, three consultants, and about $200,000. In comparison, when Salesforce launched at Interstate Batteries, it took nine months, $1.5 million, and 15 people to get running. When Power Storage's controller, Ryan Penton, switched his prior mid-sized company to NetSuite, it took six months, 20 people, and approximately $500,000.
Impressive, but the numbers don't stop there.
"Once we launched, it was amazing," he says. "During the first month we billed $1.7 million straight out of Acumatica and closed the month in 45 days. In January, it only took 30 days to close, February 15 days, and March was 5 days."
Derrick also believes Power Storage has saved anywhere from $40,000 to $50,000 a month by eliminating wasted time and revenue trying to get information out of disconnected systems. The numbers don't lie, and neither do these key benefits of implementing Acumatica's comprehensive cloud ERP solution:
Improved communication allowing PWRSS to make better, data-driven decisions
Reduced project feedback loop from 8 weeks to 1, improving scheduling, quoting, and gross profits
Reduced month-end close by more than 15 days
Increased efficiency with seamless software integration and customized dashboards
Gained a single license for multiple employees to use the same system
And more
"In 60 days, we went from nothing in Acumatica to launching a $24 million company with 20,000 parts, 5,000 customers and having sales orders, projects, inventory, payables, receivables, and going live Dec. 1," Derrick says. "It's astronomical when you look at what we did and how Acumatica's cloud ERP system supports us."
Power Storage is also planning to implement Acumatica Field Service Edition and anticipates better communication, streamlined scheduling, and increased efficiency.
Acumatica cloud ERP: comprehensive solution
From improved communication to creating customized dashboards that can be accessed company-wide (and so much more), Acumatica provides Power Storage with the tools and resources they need to succeed.
Derrick highly recommends Acumatica cloud ERP as an all-inclusive solution. "Nothing I've seen out there will do as much as Acumatica will do. Acumatica might not have the best in class in any one function, but it is above class in so many functions. Offering everything all in one system is more powerful than having disparate, best-in-class applications."
He also says if he ever contemplates going back to a "best-in-class strategy" using a combination of such solutions as Concur, Workday, and Salesforce, he'd no longer be welcome at his company. "I'm not overselling the importance of it. People underestimate how important it is to have one system you can modify to what you want to do compared to having piecemeal programs that do one thing special."
Power Storage's customer success story provides even more details into the many benefits of implementing Acumatica's cloud ERP software. If you'd like to speak with someone about taking Acumatica for a spin, contact our team today and request a demonstration.
Derrick is glad he did. "I can now see a clear picture of the business for the first time. It's hard now to even remember all the steps we had to go through before Acumatica just to get a view of what was going on in our business, and I wouldn't want to go back for anything."