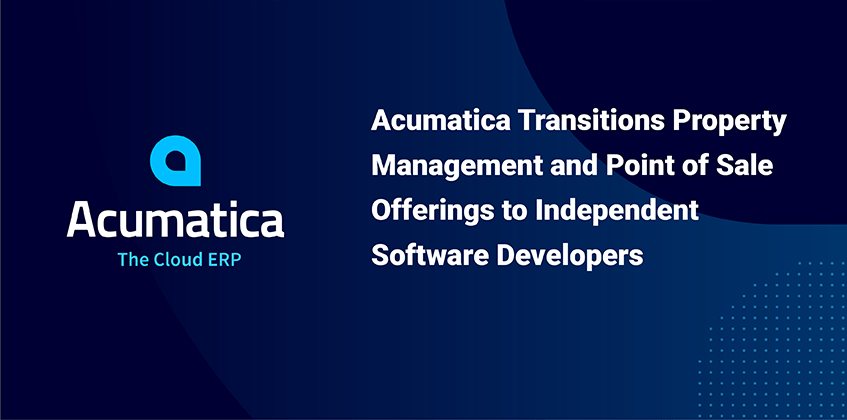 In our unending quest to deliver the latest features and most valuable capabilities to our customers, Acumatica pursues three distinct paths:
We develop the technology ourselves, relying on Acumatica's outstanding team of developers, who continue to push the envelope of innovation for cloud business solutions.
We acquire the intellectual property (IP) and the talent to address specific customer needs in key areas.
We partner with some of the best independent software vendors (ISVs) to provide specialized functionalities that are broadly available and easily accessible.
Sometimes, these three paths converge, and we find that combining smart investments, creative engineering, and strategic partnerships is in the best interest of our customers. Our approach to two of our popular software solutions provides a good example of a situation in which merging paths makes  sense.
Today, Acumatica is announcing that we are transitioning our property management and point of sale solutions our ISV partners Sprinterra and Heuristyc, respectively. Together with these partners, we will continue to offer the best property management and point of sale solutions on the market.
Technology plays a crucial role in modern property management: providing advanced data analytics capabilities, streamlining management processes, and facilitating real-time communication—all of which are central to success in the fast-paced world of real estate. With this in mind, Acumatica has broadened its relationship with Spinterra Technologies to accelerate improvements to our property management solution, which will now be called Acumatica Property Management Powered by Sprinterra. This transition will enable Acumatica and Sprinterra to strengthen our collective property management market position and deliver enhanced value to customers through superior software.
The strategic decision to partner with Sprinterra reflects Acumatica's commitment to the construction and real estate markets, as we focus resources on accelerating innovation, designing technological advancements, and driving future growth opportunities for businesses in these sectors.
Building from this, Acumatica has also transitioned its point-of-sale product, AcuPOS, to developer ISV Heuristyc. AcuPOS was originally an ISV solution, which Acumatica purchased from IIG in 2020. Recent years have changed how retailers do business, and customer expectations for fast, accurate, omnichannel buying experiences have skyrocketed. Point of sale systems are the foundation of modern sales—connecting all storefronts, customer data, order information, and more in one central location. Shifting our point-of-sale product to Heuristyc is a manifestation of Acumatica's focus on delivering superior retail solutions that will define the future of omnichannel commerce. As with our property management solution, AcuPOS will now be called Acumatica Point of Sale (AcuPOS) Powered by Heuristyc.
We've worked closely with Sprinterra and Heuristyc to make sure these development transitions are seamless, and we will continue collaborating with them and designing the roadmaps for both products. The property management and POS offerings are Fulfilled by Acumatica (FbA) solutions and will be available via the Acumatica Marketplace.
Through our vibrant Community of customers and partners, we are better able to understand the needs of today's businesses and efficiently deliver capabilities and innovations that fill those needs. As always, we will continue exploring strategic, creative ways to provide the most comprehensive business management solutions to today's growing companies through internal development, strategic acquisition, or smart partnerships—and, when necessary, all three.