Acumatica Construction Edition has received a number of new features and improvements in Acumatica 2019 R2, and contractors can expect increased project management functionality.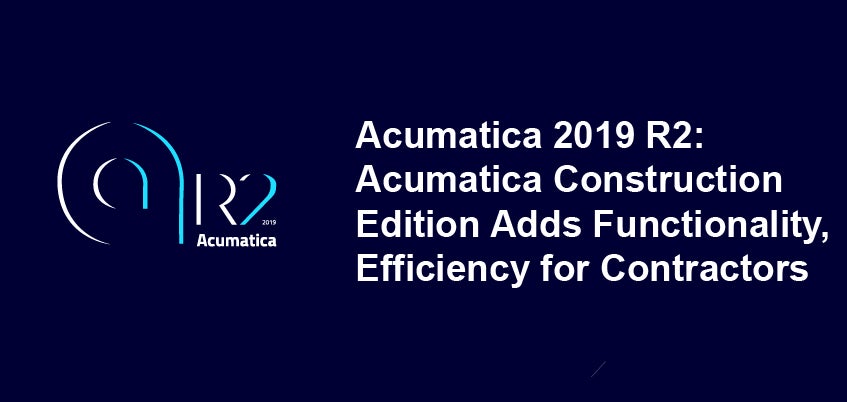 Acumatica 2019 R2, Acumatica's latest release, is now generally available to the Acumatica community. More than 100 community-driven improvements and features have been added to our cloud-based ERP solution, and the Acumatica community can learn about them firsthand during the Acumatica 2019 R2 Launch Event Series, taking place in cities across the U.S.
Ali Jani, Chief Product Officer, Acumatica, says in the Acumatica 2019 R2 press release, "Having best-in-class business and industry functionality is a core priority for us. And 2019 R2 brings significant advances across the product line."
These significant advances will be felt by the construction industry, with Acumatica Construction Edition receiving its fair share of cloud ERP enhancements and upgrades.
Acumatica 2019 R2 construction enhancements
Acumatica Construction Edition 2019 R2 enables contractors to benefit from the continued expansion of project management functionality by introducing Daily Field Reports, line-level accounts receivable retainage, and updates to existing and new reports. Additional features include credit card expense tracking and lien waiver automation.
Now a Project Manager's workflow is greatly streamlined when using the Acumatica Outlook Add-In in tandem with the new 2019 R2 Project Management enhancements.
Here is an example how this works: When a subcontractor sends an email about a Project Issue, the Project Manager can create the issue right from Outlook where it then flows into Acumatica Construction Edition. Within Acumatica, the Project Manager can review the issue, determine the schedule and cost impact, and with the new Daily Field Report, track the subcontractor's activity. With the new Change Request feature, the project issue converts to a change request and once approved, converted to a Change Order.
This is part of the new Two Tier Change Management capabilities. The Change Order automatically pulls in the requested changes, which saves time from having to create the Change Order from scratch. Now the cost, revenue and commitment tabs are automatically populated, and the Change Order goes through the approval process.   Once the Change Order is approved, the project is instantaneously updated.
Highlights of the release are available in Acumatica Cloud ERP Software Version, 2019 R2 Overview, but following is an in-depth, feature-by-feature look at the newest version of Acumatica's construction accounting software.
I. Financials
Company Credit Card Expense Receipts and Expense claims: Now contractors can use corporate credit cards on the Expense Claim and Expense Receipt forms.  This helps finance to categorize and track expenses, including expenses from employees using a corporate credit card for construction project expenses.
II. Compliance
Lien Waiver Automation: New lien waiver capabilities assist contractors with the monitoring and generation of lien waivers to avoid accidentally paying a vendor without release of the lien.  This includes warnings and stop payment features and a more streamlined lien waiver generation workflow process.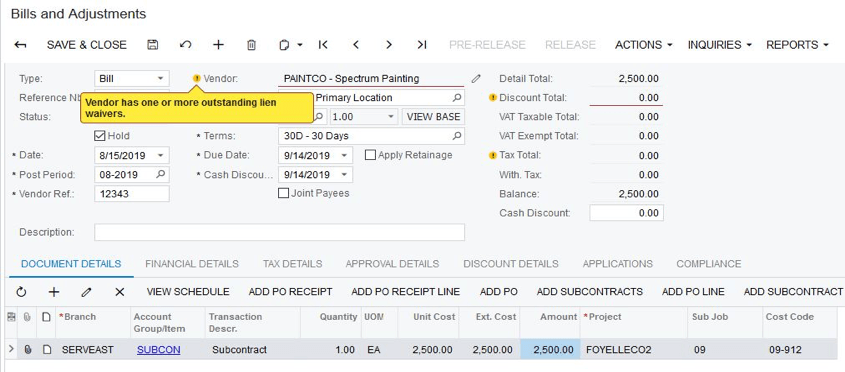 Warnings and stop payment features avoid accidentally paying a vendor
III. Construction Project Management
Detailed Retainage Tracking: This new feature allows users to track retainage at the line level on AR Invoices. Users can designate how much they want to release per project (project, task, cost code, and cost type).  This expands the current invoice level capabilities.
Daily Field Reports: To help make sure everyone is looking at the same information and that information has been transferred from the field to the office accurately, Daily Field Reporting (DFR) has been added.  With the 2019 R2 release, Daily Reports will be comprised of several key components:  Time Collection, Subcontractor Updates, Job Site Visitors, Issue and Change Request tracking, along with Job Site weather updates.  These new capabilities will be followed by: Photo Logs, Change Orders, Material Receipts, Progress Updates, Equipment Usage, and Expense tracking.

Streamlines field management with digital access to employee jobsite and productivity
information

Easily enter time and activity eliminating double entry

Simply manage vendor activity on the job site

Straightforward logging of issues that arise at the job site 
Change Requests: Provides the ability to notify the owner/customer with a change in scope. As the change could potentially impact existing cost and/or revenue budgets, Change Requests will allow users to track additions, deletions, or revisions to the project.  Multiple requests can be selected for inclusion on the formal change order, providing two-tier change management.  With ties to Project Issue and Request for Information entries, users have visibility into related activities.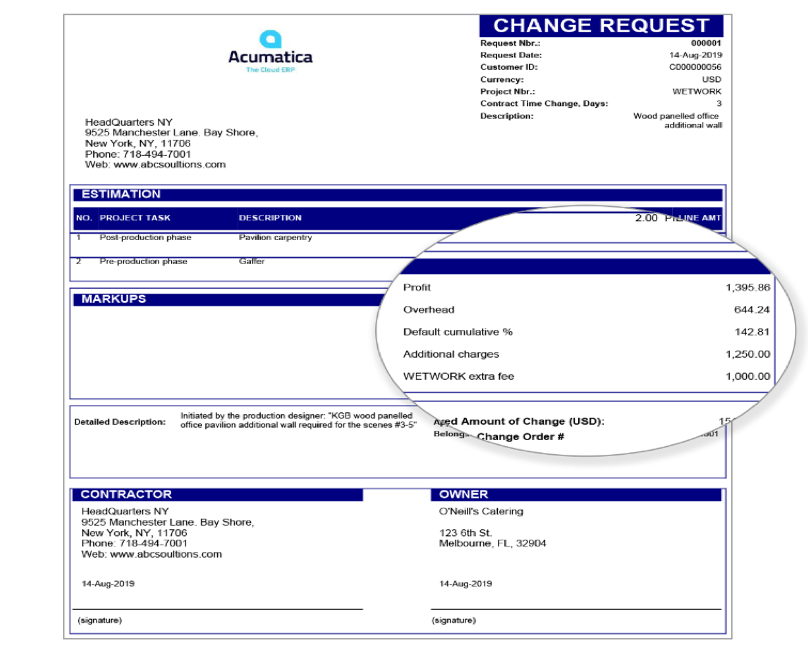 Reduce profit fade by proactively managing owner change requests
IV. Reports
Construction Bonding: A new Project Bonding (Profitability) Report has been added, increasing the information available to share with outside parties, as well as providing internal visibility.  The report will provide Earned Revenue, Billed to Date, Unbilled Contract Amounts, as well as Cost Incurred to Date, Calculated Cost at Completion, Current Period Costs/Billings, as well as prior year Billings and Costs.
Reports 
Project Budget Forecast: A Project Budget Forecast by Month Report has been added to print information entered within Project Budget Forecast. Users specify an ending date, which is used to determine the prior six periods, and "beginning balance" dates.  The report will print Original, Revised and Actual budgeted amounts (e.g. Quantity, Amount) for each period, totaling the category and subtotaling each period by Project Task.  In addition, a Summary and Detail version is available.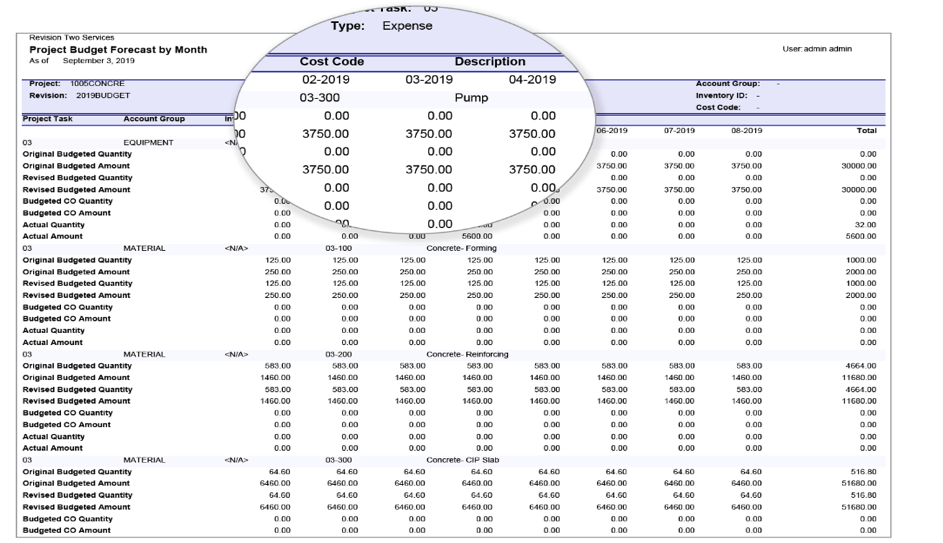 At-a-glance forecasted revenue and costs by month 
Transaction History Reports: Customer and Vendor Transaction History Reports are added to provide visibility into invoices, payments, adjustment, and other related activity.  For date ranges entered, users can view detail or summary information, with additional filtering for specific customers/vendors/projects.
Project Cost Transaction History Report: This new report provides actual cost information based on project, account group, cost code, and cost types.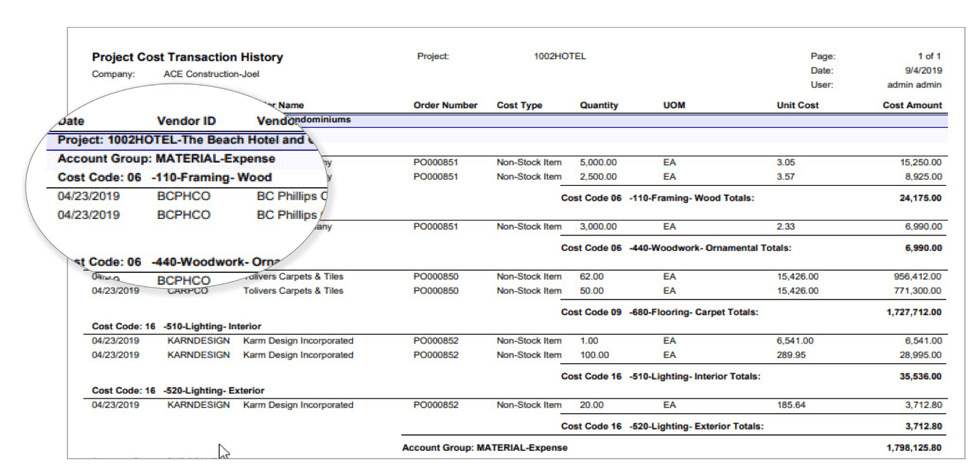 Visibility into cost transactions to confirm billings vs costs

Customer and Vendor Transaction History Reports: This new Invoice History report shows customer/vendor invoices posted within a specified date range.  The reports have a summary and detailed version. The summary report shows one line per invoice. The detailed report groups and subtotals transactions by invoice. It shows one line per posting date and transaction type. Transaction types include invoice entry, invoice adjustment, receipts/payments, and voids.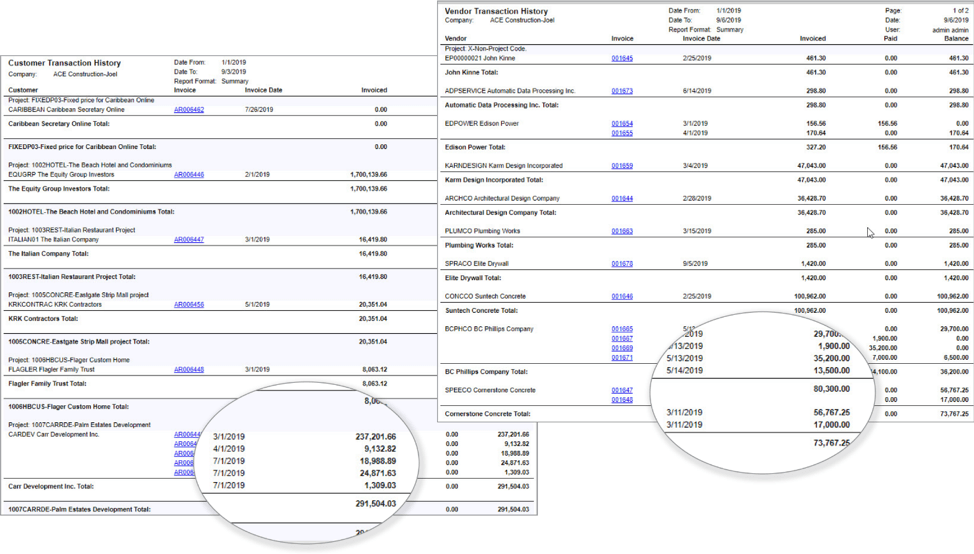 Quickly view customer and vendor activity to better manage cash flow
Acumatica 2019 R2 delivers exciting features for the construction industry
We hope this detailed review of the improvements and new features to Acumatica Construction Edition for 2019 R2 has you excited to try them out. If you have questions about these updates, then we invite you to register for one of the Acumatica 2019 R2 Launch Event Series' roadshow events and hear directly from the Acumatica team that implemented the ideas and requests of Acumatica users. It's the perfect opportunity to ask questions and to see the release in action before you upgrade your software.
Another opportunity to learn more about Acumatica 2019 R2 is Acumatica Summit 2020 in Las Vegas, Nevada, January 26-31, 2020. Our week-long, cloud ERP event gives attendees the insights and knowledge (through expert-led trainings, numerous networking events, and inspiring speakers) they need to move their business to the next level.
Contact us with any questions about Acumatica's cloud ERP software or to request a demonstration.