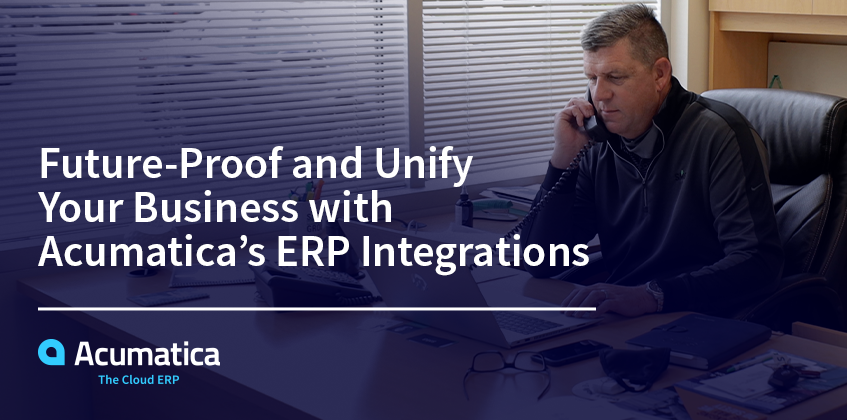 Thrive as a Modern Business with Rapid ERP Integrations
The modern business defies definition. It can be a single entity with a few employees in one place, or it can be a multi-entity organization with thousands of employees stationed around the world. It can sell products, services, or products and services. And it can offer its products and/or services in person, online, or both.
Obviously, modern businesses are unique. But, no matter what they sell, how many employees they oversee, or where they're located, they have one thing in common. All modern businesses need a future-proof, unifying technology solution to help them navigate today's digital economy—a solution offering interoperability with other critical applications.
One solution that meets these needs—and more—is Acumatica.
Acumatica's Embedded Capabilities and Industry Editions
With Acumatica's cloud-based ERP system, open architecture, and interoperability with other software, businesses can become connected, growing enterprises—reaping the benefits of the system's embedded capabilities: accounting, advanced financials, sales, CRM, project management, reporting, and more. They can also benefit from Acumatica's powerful editions that cater to specific industries.
For example, Acumatica's Residential & Commercial Construction Software helps construction professionals manage their many projects. They can easily track employees, costs, tasks, and documents and efficiently collaborate with team members in the office or on the jobsite. All this is powered by Acumatica's flexible mobile platform, which gives users access to business-wide data, whenever, from wherever, on any web-enabled device.
Acumatica's cloud-based ERP system seamlessly connects people, processes, and technology.
Connect Diverse Systems with Native and Custom Integrable Software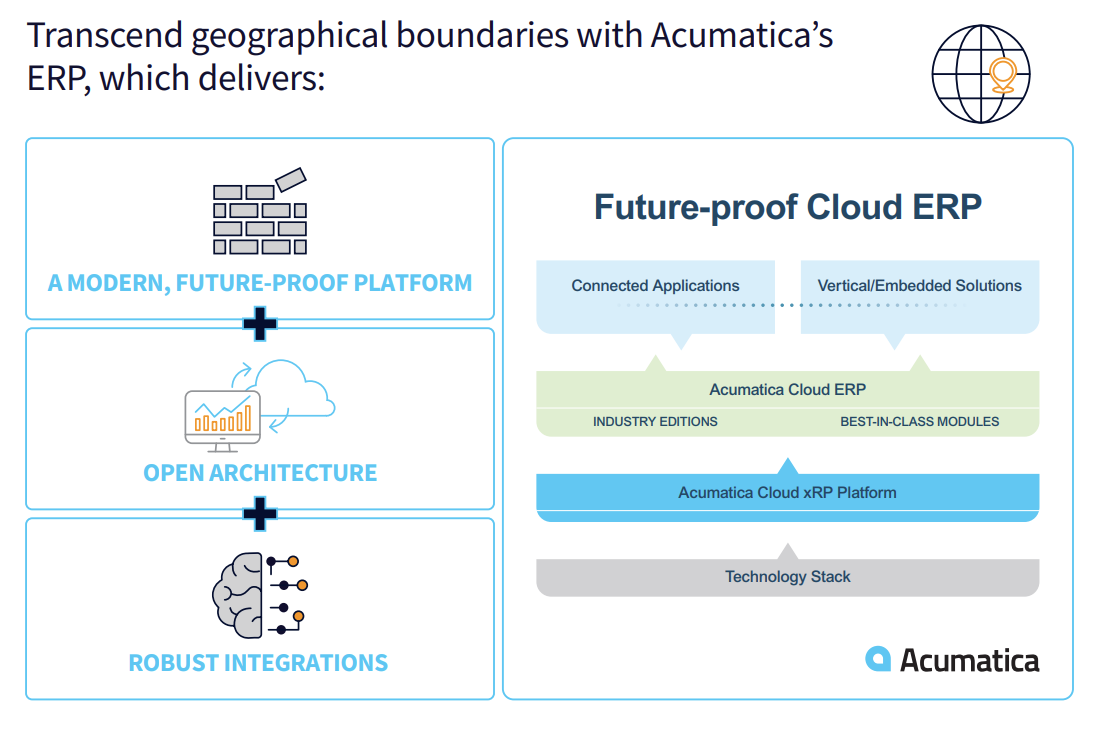 This seamless connectivity continues with Acumatica's open APIs, which allow users to integrate third-party applications into their Acumatica instances. These open APIs have a universal language that multiple programs can understand and access. As a member of the OpenAPI Initiative (OAI), Acumatica is committed to turning rapid integrations with critical business applications into low-code/no-code processes—increasing efficiency and reducing barriers to success, while eliminating hours of labor and the need for advanced developer expertise.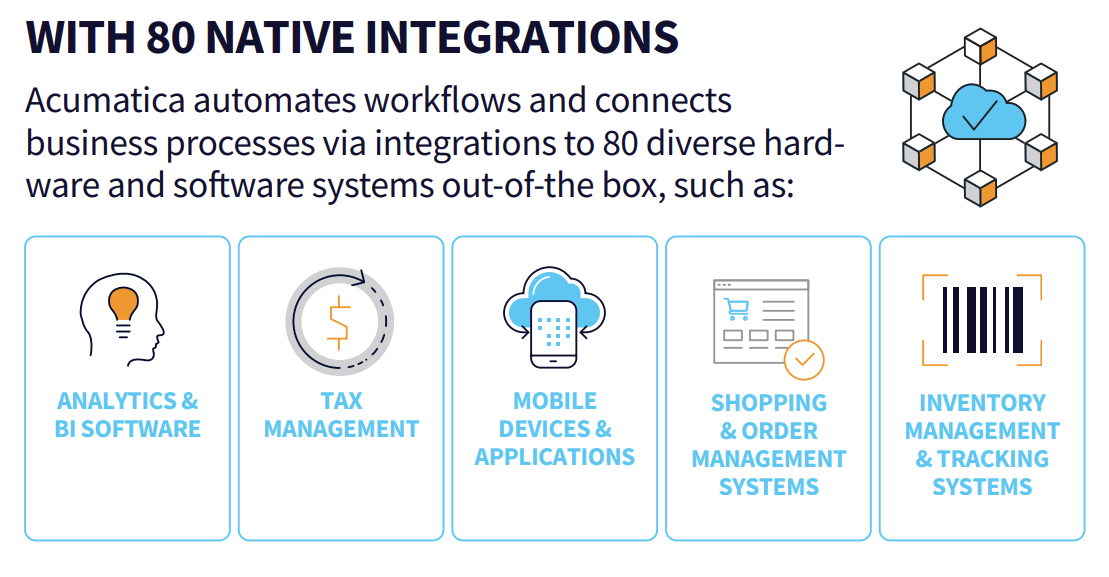 To further the open-source cause and simplify software integration procedures, Acumatica's ERP system is interoperable with 80 diverse hardware and software applications, right out of the box. These range from workflow to shipping and distribution, from location services to eCommerce, from payments to tax applications—and the list goes on.
Acumatica also offers additional interoperability with nearly 300 pre-built applications. These applications—all of which are tested and certified—are available in the Acumatica Marketplace.
How Acumatica Can Help
With flexible configurations, powerful automation, and open-source capabilities, Acumatica's cloud ERP system can be customized to fit any workflow or business process. It acts as an organization's heart by taking in, synchronizing, and dispersing the lifeblood of any business: real-time, accurate data. And because no single solution fits every need, Acumatica offers interoperability with diverse, integrable applications, allowing SMBs the freedom to operate as they want.
Elena Mheidze (CFO, Erickson International) says, "If you are a midsized business that desires to grow and has the need to unify your locations, Acumatica brings this amazing gain; it connects people. In today's world, we need communication, and Acumatica provides the ability to have information at your fingertips that's unified and delivered fast."
Contact us today, so we can answer any questions you may have about software integration and get you on the path to developing a future-proof, unified business.