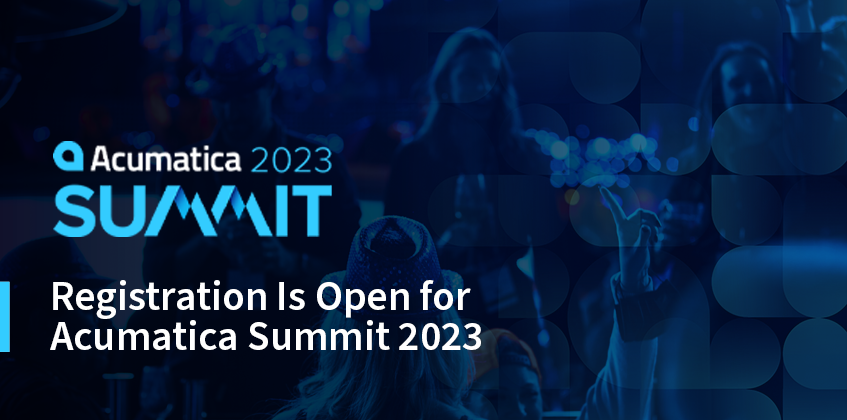 At Acumatica, we've been celebrating a few exciting happenings, such as our superb ranking in G2's Summer 2022 Mid-Market ERP Usability and Relationship Index Report, netting the highest core in each one—plus the Best Usability and Best Relationship Badges. We also just wrapped up Acumatica 2022 R2 Virtual Launch Event, which revealed the valuable updates to our award-winning cloud ERP platform. And today, we are officially opening registration for Acumatica Summit 2023!
But it's not the same event as last year, or the year before that. This year's Summit has some surprises, and I'll reveal them today.
Acumatica Summit 2023: Keeping What Works
Acumatica's annual Summit is what we call "ground zero" for the Acumatica community. It's the time and place where our customers, partners, developers, and industry analysts can be in the same place at the same time to collaborate, innovate, and accelerate their success in the cloud. The familial atmosphere and beautiful surroundings enhance the week-long event, and we look forward to it every year.
Here are the details for Acumatica Summit 2023:
When: Sunday, January 29 – Friday, February 3, 2023.
Where: Las Vegas, Nevada at the Wynn Las Vegas, a stunning five-star luxury resort.
Why: To grow your knowledge of Acumatica's cloud ERP software. As Todd Wells, Chief Marketing Officer, Acumatica, says, the Summit is our "seminal event" that provides "motivating keynote presentations, engaging networking opportunities, and a broad array of informative sessions, including product news, demos, and roadmaps." Our annual Summit also affords you an opportunity to establish personal and professional relationships with your peers and other community members.
At this point, you may be wondering what's different from last year. The fact is, we're still offering a superlative event that lasts over six days, provides 80+ sessions, and schedules outstanding social events for our anticipated 3000+ attendees.  Even with all of this, we have listened to our attendees' feedback, and we're making changes which we believe will increase the learning, networking, and enjoyment factor exponentially.
Acumatica Summit 2023: Always Improving
Without further ado, here are the changes you can expect for Acumatica Summit 2023:
Longer Sessions, Longer Breaks
Every year, we provide a multitude of sessions covering the A-to-Z of Acumatica's cloud ERP solution. Each session overflows with in-depth, industry-specific information, and attendees want more of it. So, we decided to reduce the number of sessions and increase the length of each one, which will allow attendees to have more time to learn and to ask questions. Additionally, because networking is such a critical aspect of the event, we're also lengthening break times to encourage further collaboration.
Expanding the Women in Tech Event
One of our most popular and well-attended events during Summit is the Women in Tech Luncheon. Amazing speakers, like JJ DiGeronimo, founder and president of Tech Savvy Women (TSW), have inspired hundreds of attendees to support equity in the workplace. At our 2022 event, JJ shared strategies that help women "elevate their relevance, meet their professional goals, and accelerate their success in the workplace."
To accommodate the growing interest in this event, we're expanding the luncheon to also include a reception/knowledge and networking session. Further details are forthcoming, and we're excited to provide additional opportunities for networking, mentorship, conversation, and more.
Growing the Acumatica Marketplace
Like the Women in Tech Luncheon, the Acumatica Marketplace is increasing in popularity. We had 100+ returning and new Acumatica ISVs for Summit 2022, and our 50,000 square feet of available space was completely sold out!
We're expecting even more exhibitors at Acumatica Summit 2023. They'll be showcasing 2023's newest, most innovative Acumatica-friendly products and technologies designed for the future of Cloud ERP.
But wait—there's more!
This year, we'll be adding a headshot booth, equipped with a professional makeup artist, so you can have a new business headshot taken for free. We're also setting up an interactive NASCAR exhibit, featuring Denny Hamlin's Acumatica car, which he was driving when he placed second in the recent NASCAR Hollywood Casino 400. You'll get to slip into the driver's seat yourself and experience what it's like to drive a real racecar. It's going to be a blast!
Acumatica Summit 2023: Better Than Ever
We're excited to start the new year off right with the Acumatica community. We anticipate much learning and fun to be had by all and believe the changes we've made will only make our annual cloud ERP event better than ever.
Additionally, it's also the perfect time for attendees to hear from Acumatica's new CEO, John Case. John will deliver the Day One Keynote address, providing a retrospective of his first year with Acumatica and revealing what he and the Acumatica team have in store for the year ahead, including a preview of our first release of the year, Acumatica 2023 R1.
Register today for Acumatica Summit 2023. You don't want to miss our cloud ERP-fueled event that builds on a tradition of excellence. For any questions about Summit, contact the event team at support@acumaticaevents.com. For any questions about our cloud ERP software, contact our team today.