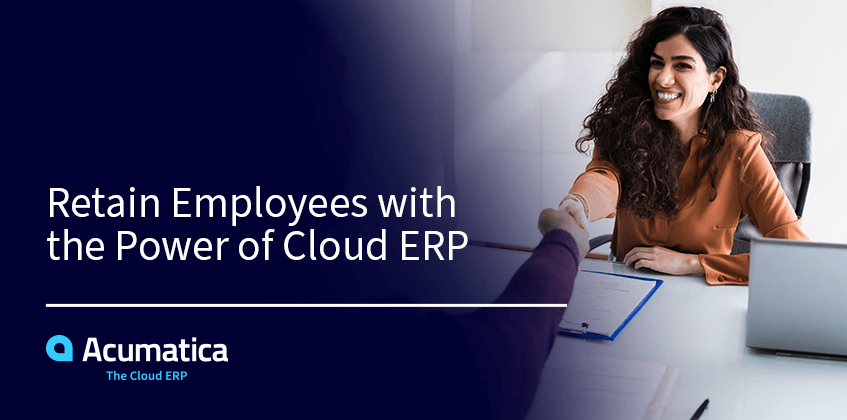 Employee retention has never been more relevant than it is right now. It's a topic about which I'm passionate as a 25-year Human Resources professional—21 of those yeas in the IT industry. Laurie McCabe, co-founder and partner at SMB Group, and I discussed this very important topic in a recent webinar, How to Retain Employees with the Power of Cloud.
Now available on-demand, the webinar was based on Laurie's article, "Eight Ways to Attract, and Keep, the New Live-to-Work Employee." In it, she discusses the mass exodus of employees starting in 2021 (appropriately dubbed the "Great Resignation"), and she notes some interesting stats from the U.S. Bureau of Labor Statistics:
"[In] August, 4.3 million people quit their jobs. In July, the number totaled 4 million; in June, 3.9 million. These unprecedented figures reflect a new reality: many people have tired of the frenetic 'live-to-work' paradigm dominant in American corporate culture and are increasingly leaving roles that don't meet their needs."
Obviously, these numbers and the changing mindset are concerning to every SMB across the globe. During the sold-out webinar, we discussed strategies that today's SMBs should consider implementing in order to stop the flood of employee departures.
Employee Retention Strategies and Where Cloud ERP Fits In
With the help of moderator Stacey Reitz, Acumatica Marketing Manager, Demand Gen, Laurie and I shared our thoughts on what makes what I call a "good employee experience." Below are the employee retention strategies along with our thoughts on each one.
1. Support flexibility
Laurie's take:
Flexibility is the number one ask of job seekers. Citing this study, Laurie notes that 82% of employees feel that a flexible job would increase their loyalty. The arrival of the pandemic added to this call for increased flexibility.
"In the wake of Covid 19, what we've all come to realize is that it made almost all of us require more flexibility, whether we had to take care of children, our own health, the health of family members, and just on and on," she says.
SMBs took action, with 73% of respondents to SMB Group's SMB Technology Directions for a Changing World Study offering remote work for at least some of their employees, in addition to hybrid in-person and at-home options. And approximately a third of these same businesses are recognizing the importance of finding employees who can do the job itself rather than requiring their adherence to a strict schedule.
Laurie explains that personalizing the flexibility strategy is important. "What works for me may not work for you." For example, she notes that one person may appreciate perks for commuting while someone else would benefit from childcare assistance, extra vacation, or tuition reimbursement.
SMB's research found that 90% or more of those surveyed found flexibility strategies to be extremely valuable in attracting and/or retaining employees.
My take:
Here at Acumatica, the definition of flexibility has changed. Prior to the pandemic, flexibility meant letting employees schedule doctor/dentist appointments when they wanted, as long as they delivered on their work. Then the pandemic hit.
We were tied to the in-person work model, and it became evident that remote work was a necessity. We had to get employees the equipment they needed, which varied based on which country they lived. I'm grateful because we operate in the cloud. If we were like many SMBs that were still operating with on-premises solutions versus a cloud ERP solution, we wouldn't have been able to move forward. As it was, we were able to ensure business continuity and got our staff online quickly and efficiently.
However, the human aspect was another thing altogether. For example, many employees had children at home going to online school. It created a whole different layer of flexibility need. We responded by having managers give employees more leeway, giving them the time they needed to adjust to the new requirements and challenges, which, like the equipment, varied based on the countries and their cultures.
I believe retaining employees begins with making the "human factor" a priority. It's crucial employees take care of themselves first, so they can then take care of their job responsibilities.
2. Empower people with modern technology
Laurie's take:
SMB Group research shows that there's "a higher percentage of employees that work either remotely only or work in a hybrid location than companies that only work ever in a company location or a commercial space." SMBs were forced to "turn on a dime" overnight to create or expand their remote—or hybrid—work alternatives. The adoption of modern technology, such as cloud ERP software, was a "mixed bag" for SMBs, according to Laurie. Some accelerated adoption, some did nothing, and some decelerated adoption.
"I think at the end of the day, the most important thing that we learned is that this link between investing and adopting more modern cloud-based solutions—these are the things that let people work more easily anytime, anywhere and collaborate more easily," she says. "[This] adoption of technology is paying off because in the study, we saw that the SMBs that said they were increasing adoption of more modern cloud-types of solutions, they were about more than one and a half times as likely to see their revenues going up than those who decelerated or made no changes."
My take:
We found that employees were missing the personal connection of in-person working. Additionally, solving problems during a hallway conversation and without scheduling a meeting was no longer possible. The answer for us was to employ Microsoft Teams. We had used it before the pandemic, but we had to adjust how we were using it. By doing so, we brought the human dimension back, increasing the engagement people crave.
Every business will need to adopt the technology that will work for them based on their specific needs, from the size of the business to how they want to enrich and engage their employees. No matter what, there has to be a change in "mental models." This change in thinking allows us to adapt to the new reality, and technology was a big factor in addressing unexpected and unprecedented challenges.
3. Nurture an engaging company culture
Laurie's take:
According to Laurie, there's an interesting phenomenon that occurs in many companies. When managers are asked how engaged their employees are, they say either "very" or "extremely" but employees, when asked the same question, often reply "somewhat" or "not very." Bridging the disconnect between senior management and employees results in better employee retention.
She stresses that employees need to feel connected and to know they're valued. They also need to know that their job matters. When they do, then SMBs will have happier employees. And happier employees translate into happier customers.
As Laurie points out, "Human capital is the most valuable capital."
My take:
I agree with Laurie. In our own research at Acumatica, we found that we needed to provide a program that periodically surveyed employees in real time to learn what they think about the company and their jobs. It's a program that we'll use moving forward as a way to stay focused on employee satisfaction.
In the meantime, we found that increasing Acumatica employee engagement will require us to focus on providing more development tools/training, working with our managers on connecting with employees, and understanding that we're now competing for employees around the world.
Every company will need to figure out the state of their own company using methods that will work for them, but every company will benefit from showing employees that they care about them as people, not just as employees. It's a huge value proposition.
Sign Up for the Employee Retention Webinar Today
Laurie and I talked about one more employee retention strategy during the webinar: building strength through diversity.
We had plenty to say on this strategy, as well as more on the other three. Sign up for the free, on-demand webinar today to hear our thoughts on employee retention, as well as to learn how webinar attendees responded to a real-time survey about which strategies their businesses were implementing or planning to implement and to find out our answers to questions posed by the attendees at the end of the event.
As Laurie writes in her article, "Employees are the most valuable asset in almost any company. So, while rethinking your workforce strategy isn't easy—it's imperative for business success."
Caring about each employee will go a long way in encouraging loyalty and engagement. Adopting technology, such as Acumatica's flexible, mobile cloud ERP solution does too.
To learn more, contact our team at any time.