Construction professionals seeking a modern, comprehensive, and mobile construction accounting solution should take a hard look at Acumatica Construction Edition. It's designed specifically for their needs, and we're demonstrating its capabilities live at several upcoming events.
Construction has greatly benefited from advances in technology. In the last few years, cloud-based, mobile construction accounting software, such as Acumatica Construction Edition, offers many advantages to construction firms wanting to stay ahead of the competition.
If you're looking to leap frog your competitors and are ready to research your options, then two important events coming very soon to Las Vegas will help: the World of Concrete 2019 (January 22-25) and the NAHB International Builders' Show (February 19-21). With thousands of attendees and exhibits, they're the largest construction industry shows in the world. We'll be at both shows exhibiting Acumatica Construction Edition and invite you to come see how our construction accounting software performs.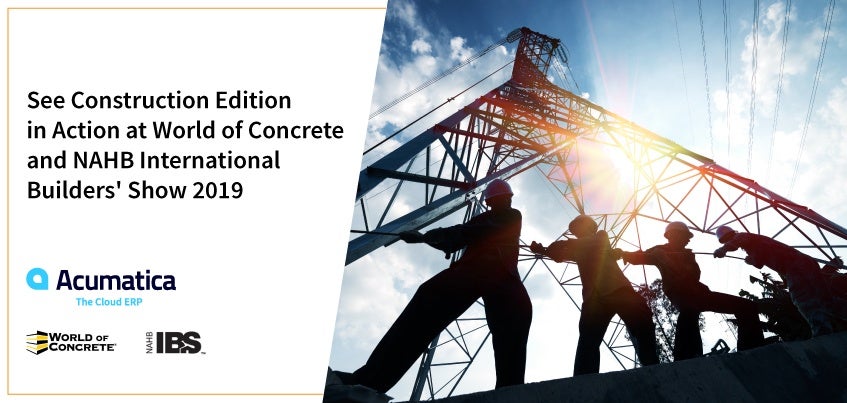 Why construction companies need modern construction software
If we continue with the idea that you're interested in taking on more profitable projects and beating the competition, then you more than likely rely on paper-based processes to handle your payroll, compliance, and more. You struggle with your lack of mobility (e.g. ability to instantly connect your field operations with your office system) and continually battle with inefficient document, project, and financial management.
Thankfully, this is a battle that has already been won.
Acumatica Construction Edition rests on three pillars: true cloud, real time, and high value. Our construction accounting software is the only true cloud option available and is built on an open platform that records and tracks all of the financial data related to a construction project, captures through a mobile device field data in real-time that seamlessly connects the field to office, and integrates with vital business applications, such as Smartsheet, Procore, Hyphen Solution, Microsoft Office 365, Adobe Sign, and DocuSign.
Acumatica Construction Edition (with Acumatica's Project Accounting) is easy-to-use construction cloud software and is a true end-to-end solution. With it, siloed data is a thing of the past; updated information is available anytime and from anywhere in configurable dashboards. You can manage your projects accurately and cost-effectively with online access for checking status or compliance needs, analyzing customer information with embedded Microsoft Excel and Power BI.
Here's a full list of Acumatica's true cloud construction ERP software features.
Financials
Accounts Payable and Accounts Receivable
General Ledger
Cash Management
Tax Management and Retainage
Job Cost Accounting
Labor time and cost accounting
Budget tracking
Change Order Management
Subcontract Management
Automated Project Billing and Invoicing
WIP Reporting
Lien and Compliance Tracking
Project Management
Document Management
RFIs and Project Issues
Project Quotes
Collaborative Workspace
Construction Reporting
Project Dashboard
Field Service and Inventory Management
Customer Relationship Management (CRM)
Customer Portal
And a construction mobile app
It's an end-to-end solution, fully meeting the complex needs of general contractors, homebuilders, subcontractors, and land developers.
"Just as we've done with our other industry solutions, we listened to the underserved customers of decades-old legacy software vendors and leveraged the power of the Acumatica cloud xRP Platform to design a modern, fully-featured cloud solution for the construction industry," says Acumatica CEO Jon Roskill.
See if Acumatica Construction Edition is right for you
While we're confident Acumatica Construction Edition will meet your construction needs, we understand that it's helpful to hear from those who have successfully implemented it.
This is what Bruce Young, President and Co-Founder of Curran Young Construction, had to say about our construction accounting software: "In Acumatica, it's easy to find a project and much faster to switch tasks than any other software I've used. Navigation is just a click of a button and information is now all in one place. I don't need to change applications to approve different items; everything is under one roof. Because of that, I'm less likely to have something fall through the cracks or drop the ball on something."
He also says, "Comparing other financial software and legacy construction tools to Acumatica is like comparing black to white. Learning Acumatica and being able to run with it in just a few weeks speaks volumes…Acumatica is easy to access, and its intuitive nature is awesome."
You can check out the company's full case study for more details, including how they gained 30% more time working with a single solution versus three disconnected applications.
See Acumatica Construction Edition in action at World of Concrete (Booth N1363) and at NAHB IBS (Booth SU1031). Find out for yourself how a 360-degree view of your business is possible while in your office or out, how you can increase productivity and make better decisions with fully integrated construction software, and so much more.
Can't make it to either event? It's not too late to join us at our quickly approaching Acumatica Summit 2019 (January 27-February 1, 2019 in Houston, Texas) where you can participate in our Acumatica Construction Edition training tracks and learn how to configure and use it for your specific needs.
Acumatica is the true cloud construction software provider. We hope you'll give us the opportunity to demonstrate the value you'll receive with Acumatica Construction Edition by attending any of these events.
Questions? Please feel free to contact our team at any time.