As you may have heard, this year's Acumatica Summit was a great event – our best ever! But what you may not have realized is that if you are a developer, building solutions on the Acumatica platform, this had become a "must see" event. We have been growing our developer community year after year and have provided some excellent content and events to show developers what a great platform we have.  In this post, I want to provide – those of you who unfortunately were not able to attend – a survey of the conference that would be of interest to developers. There was quite a bit of content presented which we captured that should be useful for anyone developing on our platform.

Summit Hackathon 2019
For the third year now we held our Hackathon, kicking off the Summit with developers leading the way, kicking off  Saturday afternoon until midnight and then reconvening Sunday morning at 10 am.

Unlike most Hackathon's, we give our developers a chance to get some sleep. We don't want to wear them out for the rest of the Summit of course. They prepare their demos/presentations for the judges and we chose the top three teams who distinguished themselves from their peers. We provided prizes for each member of the winning teams. In addition, the first-place team gets the opportunity to hold up high the Acumatica Network Hackathon Cup and have their names etched in perpetuity.
This year's top dog was Team Eta, who built a solution to improve the Acumatica University training experience. The classes' documents can be extensive, and there's no real feedback telling you if you're doing things correctly.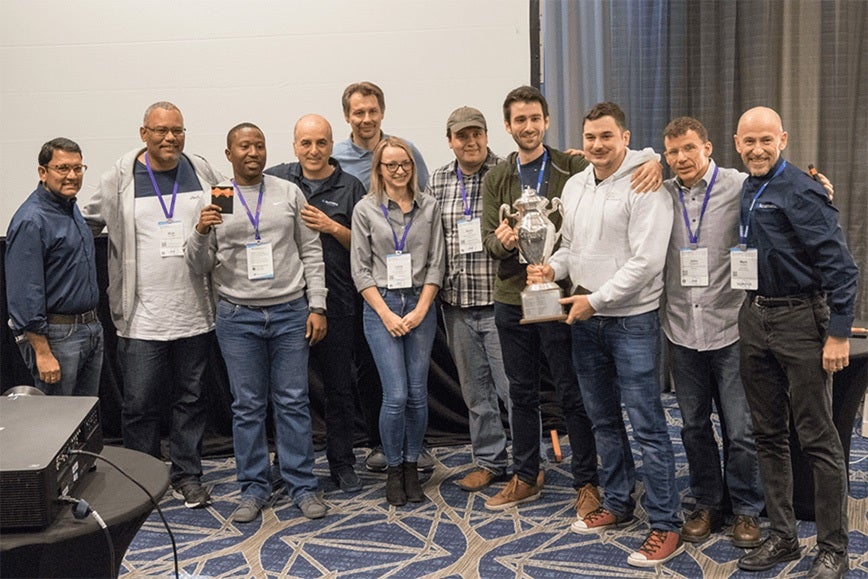 They created a Chrome plugin that allows the user to choose a class exercise and get redirected to the right screen in Acumatica. They integrated the intro.js framework, which guides the user by highlighting the fields to edit. Once the exercise is done, the user can validate the results. If the validation fails, it is possible to revert to a clean website state to restart the exercise. After successfully completing an exercise, the employee record is updated on the user's real Acumatica server to display his or her progress on certifications.
Here's a recording of the winning team's presentation that we filmed in one of our two Lightning Sessions in our Developer Track.
Across the board, participants have really appreciated the opportunity to participate in these hackathons – where they get to network, learn, and hone their Acumatica developer skills.  Not only that, they get to work directly with many of our internal developers from our engineering teams around the world.  You just can't get that kind of experience elsewhere.
One of the participants had this observation regarding the Hackathon:
This is my second time back. There were more participants and diversity with brilliant ideas across the board, the community is really growing. It was great to meet and collaborate with a new team and have fun. This year, the solutions were more practical and effective. They were trying to solve the problems they're seeing. – Harsha Sarjapur, CEO – InfoSourcing
For a complete recap of the Hackathon see my previous post here.
Developer MVP Awards
In the past couple of years, we have been distinguishing between MVP developers and others, such as consultants, support personnel, and executives who have who have been key drivers in the community at large, promoting the Acumatica platform.  The Developer MVP Program has a discreet set of requirements such as publishing guest blog posts, answering a set number of questions on our Stackoverflow forum, where developers can ask questions and get answers from experienced developer community members inside and out of our company, Acumatica.
Some of our Developer MVPs posing for pictures at our awards ceremony with Jon Roskill, Ali Jani, Ajoy Krishnamoorthy, and Mark Franks.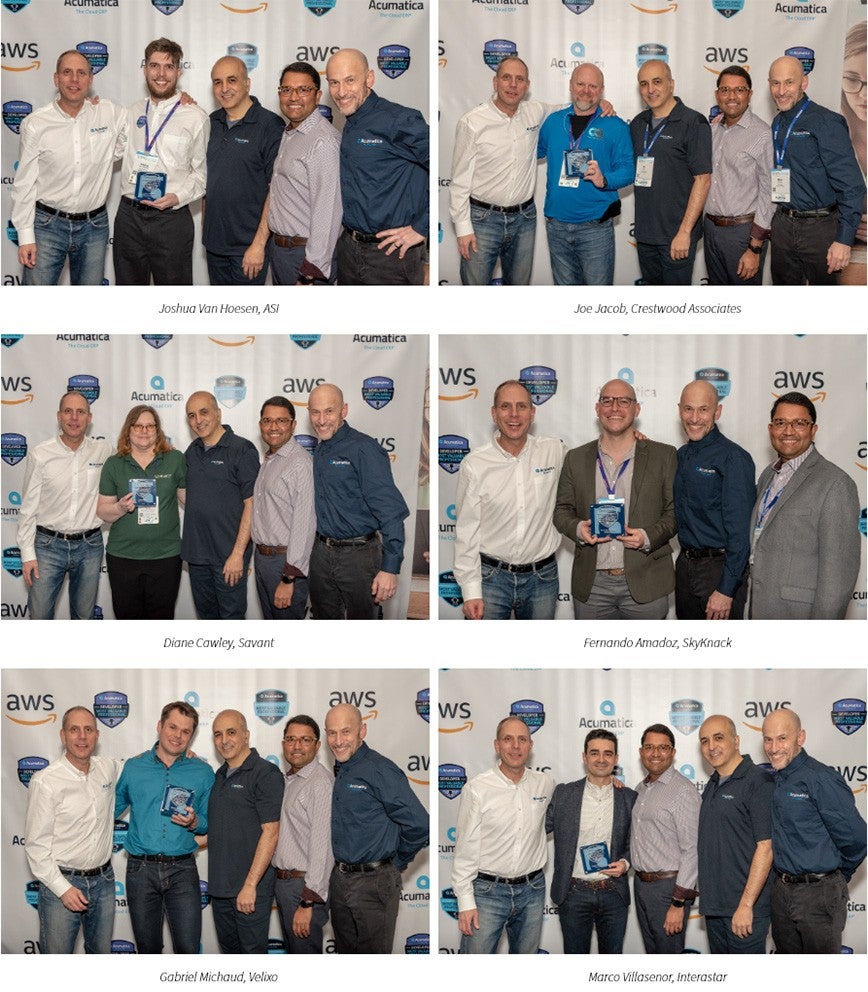 We have 14 developer MVP in our program today and are looking to grow our MVP Developer community this year.  If you are passionate about developing on the Acumatica platform and wish to contribute to our developer community, please email me. I would love to have a conversation with you.
Summit 2019 Keynote
In the day two Keynote Session, Ajoy Krishnamoorthy, VP, Platform & Technology talked about how we leverage the investments made by other technology companies (e.g. Microsoft, Amazon, Google Cloud, and more) within the Acumatica product set. And Ajoy made an exciting announcement: The Acumatica Cloud ERP Connector for Microsoft Flow is now available! It allows employees, without the assistance of developers, to create and automate workflows and tasks across applications and services, sync files, get notifications, collect data, and more.
"We're excited about technology, but more importantly, we're excited about applying those technologies to pragmatic solutions," Ajoy said.  He then switched to Acumatica's investment in AI and Machine learning. Referencing Jessica's demonstration yesterday on ML use in Acumatica's help system, he said, "From a user standpoint, nothing changes but the system automatically gives them insights based on all the data and presents the right set of actionable items."
With Jessica's help, Ajoy demonstrated another Machine Learning capability possible through Google Cloud Vision Product Search. Just by taking a picture of her cowboy boots with his smartphone camera, he was able to look up both that boot and similar ones with ease. Manufacturing and field service users will find this particularly helpful when searching for parts or components.
Developer General Session
This was the first year we had a General Session just for developers.  In the session, Ajoy Krishnamoorthy and one of our founders & CTO, Mike Chtchelkonogov kicked off our second annual developer track.  Ajoy updated the audience on our developer community activities, while Mike provided an update to our developer roadmap.  Additionally, we awarded our first ever DOY – developer of the year recipient, Brendan Hennelly from JAAS Systems.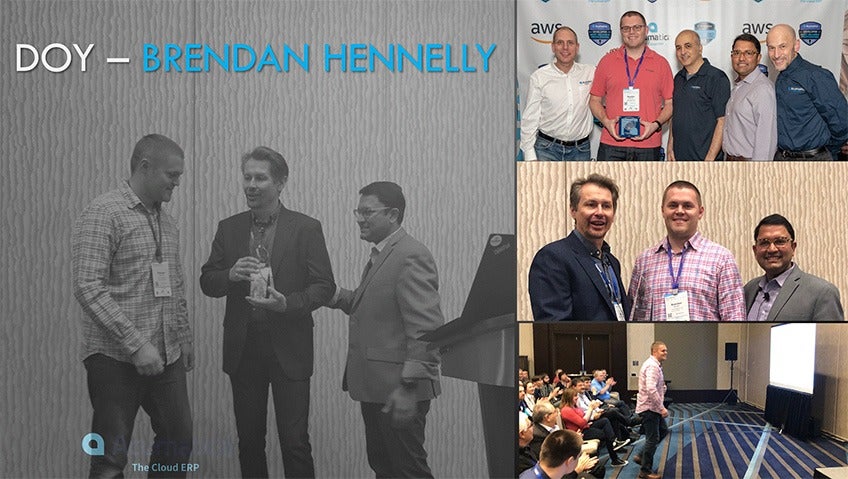 Brendan has been contributing to our developer community for years and the last couple years has really  distinguished himself among his peer developer MVPs.  His contributions on our Stackoverflow forum has bee phenomenal.  He answered 82 questions this past year far outperforming all other MVPs and has made many other contributions throughout the year.  This is the first year of the DOY award and we expect the competition to be heated.
Developer Track
This is our second year in having a dedicated developer track. We continue to push ourselves to offer fresh new content useful to developers new to the platform and for advanced developers. We offer a couple foundations sessions on our Framework and Web Services along with short quick-hitting sessions on a variety of developer topics.  We also offer some rather advanced sessions on best practices, tips & tricks and in-depth focus on specific challenges and how experienced developers overcame these.  We drew from a different sources – developers inside and outside the company – including some of our developer MVPs.
Here are the sessions we offered this year.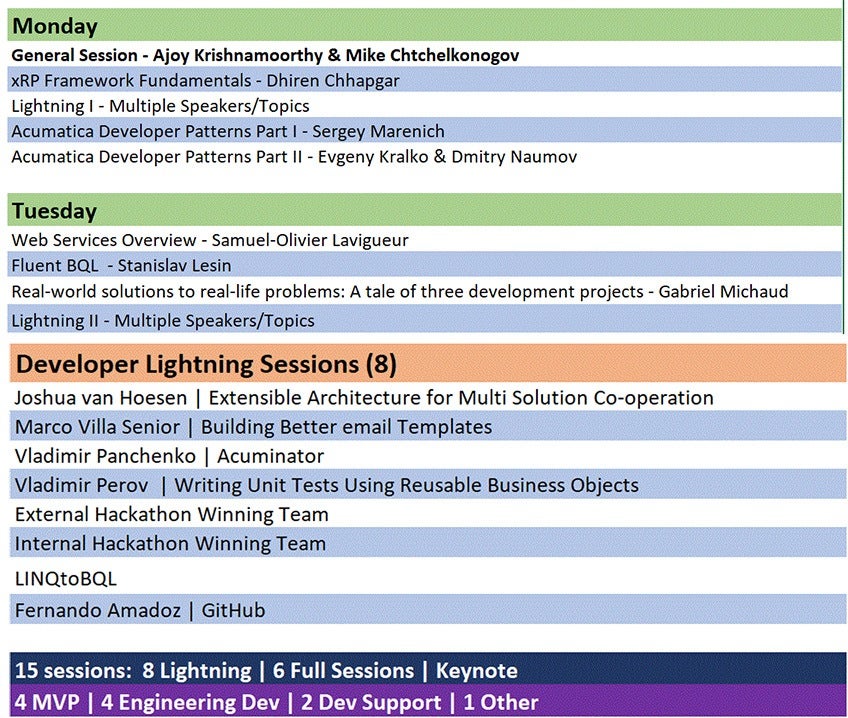 We'll make many of these sessions available in the next few weeks and announce their availability in subsequent posts.  However, I will publish one session that was given by Stanislav Lesin – Fluent Business Query Language.  I did a post on this subject a few weeks ago which you can read here.
Developer Focused Videos
One of the things we have done in our Summits past is to get video testimonials from our developer community.  This year we not only had developers from our developer community provide commentary, but this year we also added some of our Acumatica Executive developer leadership and rank and file developers & engineers provide some perspective.  I'll be publishing these videos in the course of the next month.  But here's a preview of what you can expect to see from Ajoy and Joshua below.
Final Thoughts
I've been lucky to be part of the last three Acumatica Summits and have seen tremendous growth in our customer, partner, and developer base. As someone who is passionate about developers and how Acumatica's architecture and developer framework is highly tuned for developers to thrive, it's very rewarding to work with a developer community unlike any I have been associated with in my long career.  From our executives to our rank and file developers, we are dedicated to our developer community and continue to push ourselves to engage deeply with our developer community.  Though events like the Acumatica Summit, we are able to deliver great content and activities for developers.
In just a few months, we will be halfway through 2019 and Summit 2029 won't be far away.  If you missed out this year, we have another great event coming up where you can join us from the comfort of your own offices without any travel.  Our 3rd annual Virtual Developer Conference will be in mid-June, where you will have an opportunity to attend and get updates on our developer roadmap as well as consume new content in a number of our sessions spread over the course of two half-days.  I'm excited to start work on the planning of the virtual conference and hope to see many of you there.
One last thing to share with you – a great quote from one of our partners, Nexvue who has been working with the 2018 Customer of the Year, Fabuwood Cabinetry, reaffirmed and validated one of the key attributes that separate us from our competitors and drive home my thoughts above. In a recent Diginomica article, Dan Schwartz of Nexvue said,
From the beginning, Acumatica's platform appealed to Fabuwood's developers: One of the turning points was they had the development team and took a room, and we got into the underpinnings of the Acumatica framework… A couple of developers, their faces kind of lit up when they figured out what we were doing with the Acumatica framework. I think that was one of the big moments. — Dan Schwartz, CEO Nexvue
To read more, see the Diginomica article – Speed as a competitive edge – how Fabuwood Cabinetry uses modern ERP as a data platform by Jon Reed (February 19, 2019).