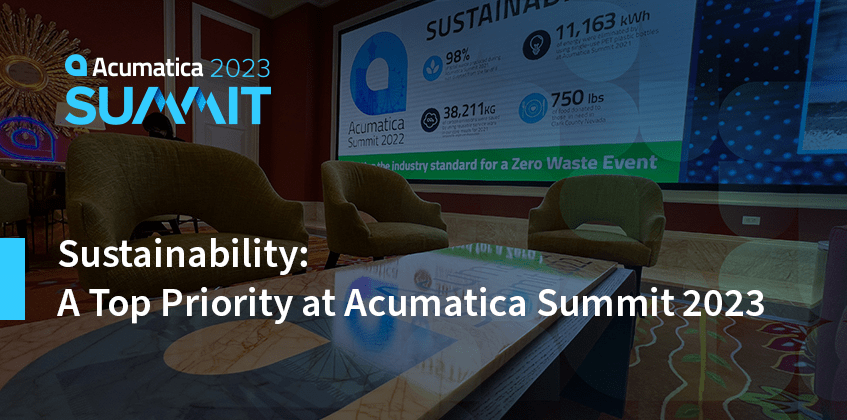 At Acumatica, sustainability is a passion. We strive to protect the natural environment and make the world a better, more inclusive place. And we are committed to taking meaningful sustainability strides while creating value for our global and local communities. The annual Acumatica Summit is among our biggest value creation efforts each year.
Acumatica Summit 2023 (January 29 – February 3, 2023) promises record-high attendance, which is a great testament to the growth and progress of the company, our product, the Acumatica Marketplace, and the Acumatica Community. But record-high attendance also spells increased challenges for keeping Summit a sustainable event. So, for Summit 2023, we'll be taking our sustainability efforts to the next level.
Women in Tech
People tend to equate "sustainability" with "environmental friendliness"—to the point of using the terms interchangeably. But sustainable business practices actually have two focal points: the environment and the people living in it.
Acumatica is wholeheartedly dedicated to promoting diversity, equity, and inclusion (DEI) initiatives. We're working to shape the technology industry into a cornerstone of equitable opportunity, and our Women in Tech Community is a huge part of making that happen.
At Acumatica Summit 2023, we will again be hosting our annual Women in Technology Luncheon, which is growing rapidly. In 2022, the luncheon drew a record-breaking 250 attendees, and we expect at least 400 attendees for this year's event: "How to Be Heard, Be Seen, and Be Relevant."
This engaging session will be hosted by leadership and career confidence coach Nada Lena Nasserdeen—the founder and CEO of Rise Up For You and the #1 bestselling author of Rise Up For You: Closing the Gap Between You and Your Potential. She'll be showing attendees how to stand out in today's tech industry and how to build their confidence, presence, and leadership in sustainable, effective ways.
Nada Lena's presentation will be immediately followed by our new Women in Tech Networking Workshop and Reception. This will be an exciting, extended opportunity for luncheon attendees to network, converse, and mentor one another. But the conversations started here don't have to end when Summit draws to a close. This networking can continue year-round in our recently launched Women in Tech Forum—a dedicated mentorship space where Acumatica's female professionals can learn, support one another, and grow within the tech community.
Environmental Initiatives
For large events like Acumatica Summit 2023, keeping the process environmentally sustainable requires careful planning and execution. In April 2022, Acumatica was awarded the EcoVadis silver medal for our sustainability management and performance efforts across four pillars: the environment, labor and human rights, sustainable procurement, and ethics. We'll be applying these same award-winning techniques at Summit to:
Buy carbon offset credits for all attendee travel.
Set up virtual attendance options, which saved 376,420 kg CO2e during Summit 2022.
Recover and donate unused event food. Since 2021, Acumatica and Wynn have worked together to donate 1,450 pounds of event food to those in need.
Provide event water stations and aluminum/glass beverage container alternatives to eliminate single-use plastic bottles.
Offer reusable and renewable service ware, which saved 33,112 kg CO2e in 2022.
Implement recycling, composting, and donation plans to keep event materials out of landfills. Since 2020, Acumatica and Wynn have successfully diverted 39,498 pounds of Summit materials away from landfills.
Account for our general contractor's move-in and move-out waste disposal.
Use TerraCycle Zero Waste™ boxes to collect hard-to-recycle event materials, like badges and lanyards.
Collect water and energy consumption data from Wynn to analyze how we can further reduce usage in the future.
We want to leave Las Vegas knowing that we have not just reduced waste but also benefited the community. For Summit move-in and move-out, we'll be seeking local labor and suppliers, and our Made in USA attendee gifts will support our national economy while reducing the strain on disrupted supply chains.
Building a Sustainable Future
To date, our Summit initiatives have made a positive impact on our Community's environmental footprint, while helping us meet—and exceed—our vital DEI goals. And we are firmly committed to making daily strides toward greater sustainability, at Summit and beyond.
We look forward to seeing you in Las Vegas!