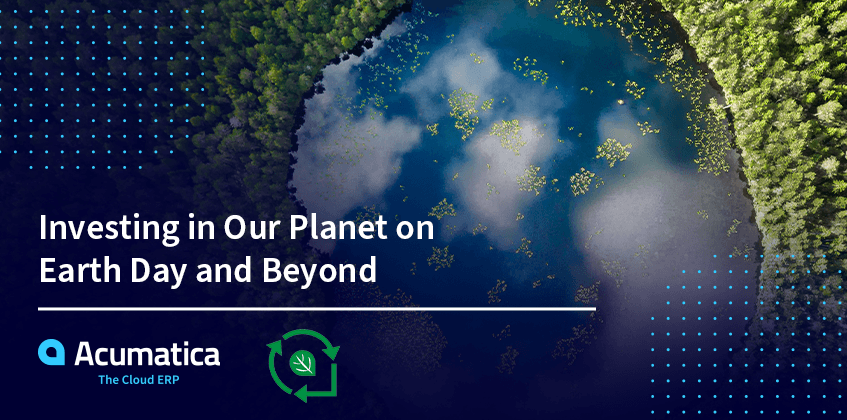 Every year since 1970, Earth Day has been celebrated on April 22. Now, according to EARTHDAY.ORG, over one billion people in over 190 countries are marking this occasion by participating in a wide-variety of activities, including planting trees, attending environmental protection rallies, and organizing community cleanups. An Earth Day theme is created each year to further the global message of engaging every person to do their part. And this year's theme, "Invest in Our Planet," does just that.
At Acumatica, Earth Day is an opportunity to assess how we're living up to our commitment to passionately pursue sustainability efforts, protect the natural environment, and make the world a better, more inclusive place.
Acumatica's Corporate Sustainability Plan: Environment
In 2020, the Acumatica leadership team spearheaded an environmental baseline assessment—an eye-opening project that helped us create a clear, actionable corporate sustainability plan we call AcumatiCares.
AcumatiCares encompasses three major areas: our product, our operational footprint, and our annual Acumatica Summit.
Let's take a look at each one.
1. Our Cloud ERP Product
As a cloud-based ERP solution, Acumatica provides customers with an energy-efficient alternative to on-premises solutions. An IDC forecast suggests that cloud computing may eliminate a billion metric tons of CO2 emissions from 2021 through 2024. We're excited to be a sustainability proponent helping achieve this huge milestone, and we're proud to reveal that, in 2022, we transitioned thousands of customers to the cloud, producing an average 95% reduction in carbon emissions and saving 4x our own emissions in the process.
Our cloud ERP product also helps Acumatica customers fulfill their own environmental and humanitarian objectives. For example, MiiR—a company that makes premium stainless steel food and drink vessels—donates funds to clean water and environmental projects. And Dukathole Group—a company that manufactures high-quality concrete bricks and other cement-building products—is helping ease homelessness in South Africa.
2. Our Operational Footprint
As a Climate Neutral recognized and certified organization, we know operating efficiently requires consistent action. The Acumatica sustainability plan includes continuing to support our partially remote workforce (thus, eliminating employee commutes), reducing our electricity use, limiting business travel, holding virtual meetings, and promoting recycling and reuse programs. We also continually work to identify new green business initiatives to add to our sustainability strategies.
3. Our Annual Summit
Acumatica Summit 2023 was a huge success, bringing over 2,800 customers, partners, developers, and employees together—in person and online—to connect, learn, and discover what the future of business technology holds for the Acumatica Community. Though it contributes to our carbon footprint, Summit is an essential Acumatica event driving Community success, so we make every effort to offset its environmental impact—with amazing results:
All 2023 signage and graphics were printed locally, reducing excess transport miles and fossil fuel burn.
All Acumatica Summit assets, furniture, and décor were owned, rented, and stored for reuse. (144,000 pounds of construction materials and 170,000 pounds of audio-visual production materials were returned to inventory for reuse).
An estimated 90% of "turnkey" exhibit booth materials (originating in Las Vegas, which reduced exhibitor shipping) were returned to the warehouse.
Reusable service-ware saved an estimated 22,029 pounds of landfill waste.
Since 2021, an estimated 53,131 single-use PET plastic water bottles have been eliminated through the use of water stations.
We completely offset/compensated for our Summit 2023 carbon footprint of 2,241 MTCO2
But that's not all we did.
We offered recycling and composting at the venue, donated unserved event food, leveraged renewable/solar energy, and provided digital programs to attendees. We also saved 200 Summit 2022 backpacks for use at Summit 2023 and gifted PET polyester backpacks made partially of upcycled plastic water bottles.
Excitingly, our diligent efforts at Summit have earned us a "Visionary" rating from  MeetGreen, a sustainable event management agency. According to the press release about this recognition, "Visionary" is MeetGreen's highest rating, and it "recognizes organizations that utilize events to push the sustainability envelope and inspire sustainable corporate event practices."
Acumatica also received a Silver Medal from EcoVadis, the world's largest supplier of business sustainability ratings, with an Environment score that placed us in the top 14% of companies in our industry. And we take part in the UN Global Compact, a "voluntary initiative based on CEO commitments to implement universal sustainability principles and to support UN goals."
Acumatica's Corporate Sustainability Plan: Honoring Earth Day Every Day
With Earth Day 2023 upon us, we must recognize that nurturing and protecting our planet is not a once-a-year event but an everyday effort. This means finding ways to make a profound difference, such as joining ForestNation and Tree-Nation—two organizations passionately promoting reforestation. Acumatica is a proud member of both organizations, and to date, we've:
Planted 875 trees, absorbed 22 tons of CO2 and created 88 tons of oxygen yearly, created 35 work hours, and reforested 0.88 hectares of land through ForestNation.
Planted 1,709 trees, reforested 1.63 hectares, and captured 529.63 tons of CO2 through Tree-Nation.
Another difference-making action is supporting global and local organizations with environmental and humanitarian missions. Acumatica proudly supports Wellspring Family Services, Boys & Girls Clubs, the World Central Kitchen, The Trevor Project, and Pasado Safe Haven. We look forward to partnering with more community-minded organizations in the future.
Acumatica is also focused on higher-level AcumatiCares initiatives that make a positive impact. For instance, we've made our website accessible to every individual based on their specific needs. We've also aligned ourselves with the United Nations' Sustainable Development Goals (SDGs), which promote prosperity and the protection of our planet. Of the 17 SDGs, there are four that directly affect our industry and organization:
Gender equality (SDG 5).
Industry, innovation, and infrastructure (SDG 9).
Responsible consumption and production (SDG 12).
Climate action (SDG 13).
Acumatica's Corporate Sustainability Plan: Join Us
How we treat our planet today affects the generations of tomorrow. As a business fully committed to making the world a safe, clean, and welcoming place for all, we hope other businesses will join us. Visit EARTHDAY.ORG—the world's largest recruiter for the environmental movement—to learn more about what can be done to make a true difference.
For additional details about our corporate sustainability plan, our award-winning cloud ERP software, or why we've earned an A+ rating from the Better Business Bureau, contact our experts today.
Together, we can make a difference.