As the CEO of Acumatica cloud ERP, Jon Roskill has had a front row seat to the growth of tech in the Pacific Northwest. He shares his thoughts on the changes taking place in Seattle, its title as Cloud City, and where Acumatica fits into the picture.
What a difference 25 years makes. That's when I moved to Seattle from Boston, a city viewed at that time as one of two main tech hubs in the country. I've witnessed major growth, both in Seattle's skyline and in tech job opportunities (I estimate Seattle now has 10x the tech jobs of Boston). Advances in cloud technology from such Seattle technology giants as Microsoft and Amazon.com have earned Seattle the description of tech hub and the title of "Cloud City."
Interestingly, this title sparked a debate about five years ago. Some people argued Silicon Valley was Cloud City while others staunchly defended Seattle's right to the name. For me, the debate was over before it began. While Silicon Valley is arguably the tech capital of the country, the growth of tech businesses, of Pacific Northwest technology (specifically in the cloud ERP space), and in tech jobs, Seattle clinches the title, hands down.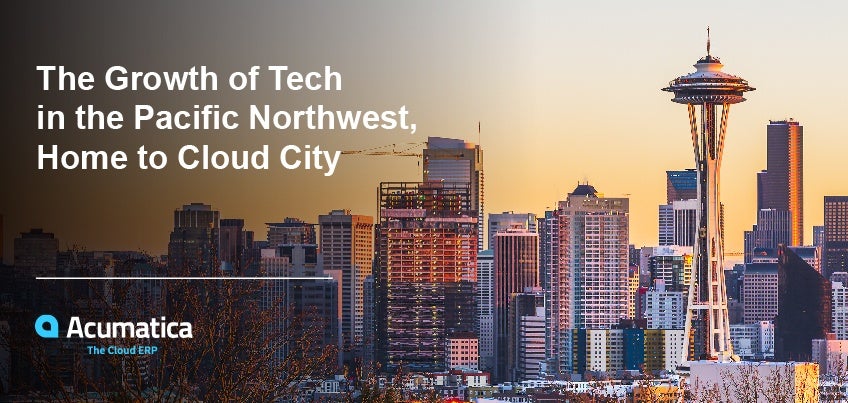 Seattle's journey to becoming Cloud City and the home of cloud ERP
It hasn't escaped me that Cloud City suits Seattle in more ways than one. We're known for our gray skies and incessant rain, but what many may not realize is that Seattle doesn't even crack the top ten rainiest cities—those are judged by the amount of annual rainfall, not on the number of days we feel the wet stuff come down. We have plenty of rainy days, but as a transplant back in 1993, I was happy to find the rainy weather woes to be inflated and settled into my job at a relatively small company called Microsoft.
At the time, Microsoft had about 5,000 employees, and it was keeping company with other Pacific Northwest technology companies like HP, Intel, and even Boeing (though not necessarily a "tech" company, it was the largest employer then). And then there was Amazon.com. The online bookseller entered the tech fray in 1995, claimed its territory in Seattle, and popularized online selling by adding every product imaginable.
In 2006, Amazon took it a step further and launched Amazon Web Services (AWS). They disrupted the status quo by offering cloud services, such as compute power, database storage, and content delivery, for a fee. With the only offering in the race for years, AWS sales took off and it still leads in market share. Microsoft eventually joined the race, and Seattle's tech cred continued to rise.
This is apparent in the number of technology news sites and mainstream news organizations that began calling out the growing competition between Silicon Valley and Seattle. For example, GeekWire shared an infographic in 2012 highlighting Seattle's rise to tech startup leader and as a hub for established tech companies.
While the infographic noted Silicon Valley salaries edged out Seattle salaries for the same tech jobs, the cost of living in Seattle was 17% cheaper. The infographic also claimed that Seattle's appeal to entrepreneurs came from the number of venture capital firms, "startup incubators" in the form of super angels or micro-VCs, and a university claiming one of the top 10 computer science and engineering programs in the country.
These facts are still true today, including University of Washington (ranked No. 14 in the world on the 2018 Academic Ranking of World Universities) as a top academic institute. It's the home of the Paul G. Allen School of Computer Science & Engineering. Their research covers the A-to-Z of computer science and computer engineering research topics, from Artificial Intelligence to Wireless & Sensor Systems, and it continues to pump out highly-trained students with innovative ideas. The university estimates that 90% of their graduates remain in Washington due to its thriving computing industry.
And combining GreekWire's December 2018 report that Amazon and Microsoft are the "most-valuable companies"—thanks to the efforts of their cloud computing divisions— with Seattle's competitive salaries, inherent livability, and outstanding university, Seattle's reputation as being ground zero for cloud technology is solidified, making Seattle indisputably the Cloud City.
Seattle's rain/reign as Cloud City
With the advent of cloud computing, organizations of every size have easy access to needed technology services run by public cloud providers and their data centers, eliminating the need for multiple servers, expensive software, and large IT teams. Amazon's idea to lease this online infrastructure—and Microsoft's jumping on board—put Seattle on the map, leading to inevitable changes.
One change is the mass of talent converging in the PNW (many from the UW gateway). The IT developer and engineering community is huge in Seattle. People seeking tech jobs are often seen going back and forth between Amazon and Microsoft. If they don't land there, they're joining other companies or starting their own. Additionally, companies like Google, Facebook, ServiceNow, and Salesforce.com have brought big operations into Seattle.
The size of Seattle companies has also undergone a change. Going back six or seven years, you basically had either small companies or big companies. Today, those same companies remain in Seattle, continuing to thrive, but you see the rise of what could be defined as medium companies, such as DocuSign, Smartsheet, Impinj, Apptio, Zillow, RedFin, and Expedia. From there, you drop down another size tier with companies such as Avalara, Outreach, and AuthO, to name but a few. Or new startup in Seattle, KiddoWiz, which helps to connect parents to the best after school programs, activities and camps.
Whatever size the Seattle technology business, they're all emerging as forces to be reckoned with. In fact, the CompTIA Cyberstates report shows that the Seattle tech sector contributed an estimated $87.7 billion to Seattle's economy and makes up 14.2% net employment of the overall workforce in the city.
Acumatica's role in the growth of tech in the Pacific Northwest
As the CEO of the fastest growing cloud ERP solution on the market, I'm excited about the role Acumatica is playing in the growth of Pacific Northwest technology and in the Seattle community at large. This includes having the opportunity to be a Seattle Seahawks sponsor last year (hello, four more seasons with Russell Wilson!).
I joined the Acumatica team five years ago and celebrated Acumatica's 10 year anniversary last year. I have worked alongside my team to provide SMBs with a product built for the cloud on a flexible, scalable platform. With our cloud-based ERP, users seamlessly connect their business processes with our full suite of integrated business applications, and gain a real-time view of their business from anywhere, at any time.
Acumatica now ranks in the top 30 of the GeekWire 200 list, a ranked index of PNW startups. We're committed to constant enhancements through twice yearly releases and incorporate emerging tech such as AI and machine learning as intrinsic elements of our offering. At the heart of our efforts are our customers, especially those right here in our backyard. Their proximity allows me to spend time with them, and from their feedback, learn what will make Acumatica a better company.
Acumatica's laser focus on customer satisfaction combined with our active partnering with our PNW brethren—for example, RFID work with Impinj and integrating with Smartsheet, DocuSign, Tableau (providing Acumatica customers with business intelligence technology, data insights, analytics capabilities, and what-if scenarios) and of course, AWS and Microsoft—leaves Acumatica poised to continue growing as well as supporting Cloud City and our PNW customers, such as Avalara, MiiR and Parallels.
For MiiR's founder, Bryan Papé, merging business and philanthropy came in the form of producing stainless-steel, vacuum-insulated drinkware that grants 3% of its revenue to amazing non-profits around the world. The company was running on piecemeal systems and needed a streamlined solution. Acumatica fulfilled that need, providing improved access to real-time data, improved customer service, increased reporting and business intelligence outlook, and more. (More details available in a recent post, Acumatica Cloud ERP Helps MiiR Distribute Products & Purpose Around the World.)
And Parallels, a worldwide leader in virtualization and automation software operating in multiple countries, needed an ERP solution that could consolidate reports and accounts across multiple international offices and subsidiaries, system access worldwide, consolidate different charts of accounts, currency translation, and custom reporting—something Acumatica cloud ERP was able to provide. (More details available in Parallels' success story.)
Growing Acumatica customers combined with the influx of talent and the different tiers of companies based in Seattle indicate continued growth of Seattle technology. I'm excited to watch where Cloud City and Acumatica go from here.
If you have any questions about Acumatica's comprehensive cloud ERP software, reach out to our experts today.