Every year, technology transforms the way businesses operate. It's no surprise that Acumatica CEO Jon Roskill sees cloud ERP as a topic topping the trends for 2020.
What's in store for the tech industry in 2020? Well, predictions can be a tricky thing. Take Y2K. Crashing computer networks and chaos on January 1, 2000 never happened, but it did cause plenty of fear.
Then there are those predictions that did come true:
In 1865, Jules Verne predicted a man on the moon
In 1888, Edward Bellamy predicted the use of debit cards
In 1909, Nikola Tesla predicted Wi-Fi and mobile phones
Pretty incredible stuff, thanks to advances and innovations in technology. We've been conditioned to expect the possible from the impossible, and I believe technology will continue to astound us this year.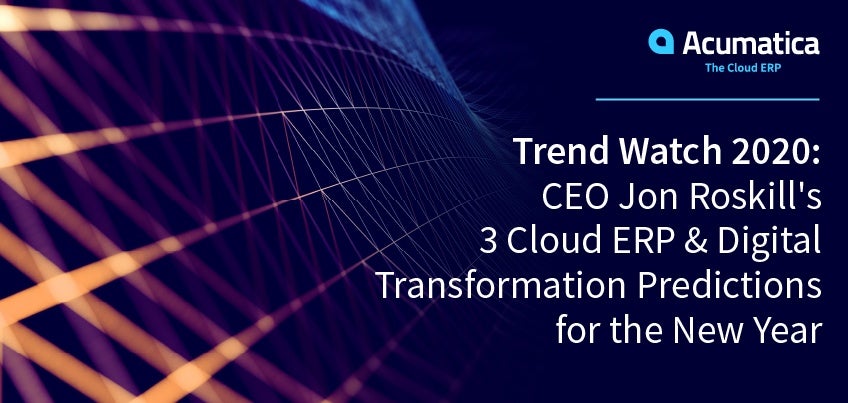 Top trends for 2020
Here are the top trends I see happening in 2020.
1. AI/ML will be widely adopted by (and actually useful for) the finance industry
AI and ML have been around for a while, but their ability to impact businesses, in whatever industry, has been limited by several things. One, they run on neural networks (set of algorithms designed to recognize patterns) that, while sophisticated at the time of their inception, needed a few years to evolve into what they've become today. Two, companies didn't yet have the mass amounts of data needed to make AI and ML possible. And three, if they did have the data, they didn't have the ability to analyze the disconnected data quickly and efficiently enough to keep up with rapid-fire market changes.
That's all changed now. Modern cloud-based ERP solutions incorporate reporting, dashboards, and data analysis tools along with the AI and ML capabilities required to succeed in this digital economy.
For those in the financial services industry, these tools have—and will continue to have—a huge impact. An Autonomous NEXT report estimates that financial firms will see nearly 20% of their costs reduced through the use of AI.
AI and ML allows financial organizations to quickly, effectively, and objectively assess borrowers' credit history. Customer requests can be addressed by chatbots, cutting front office staffing costs. Risk analysis, formerly a human-performed task, can now be handled by AI, producing real-time business predictions and forecasts based on organized data.
Fraud prevention, money management, personal finances—all will be influenced by AI and ML, and companies need to take advantage of the benefits.
A recent Forbes article on digital transformation trends for 2020 says, "Companies that still aren't investing heavily in analytics by 2020 probably won't be in business in 2021. There is simply far too much valuable customer data to be collected, processed, and turned into insights for any company to remain competitive without making full use of modern analytics tools."
I foresee 2020 to be the year when more and more financial service companies will embrace AI and ML to the betterment of the company and their customers. We'll also see ERP vendors, who are seeking to entice these companies, fall into two categories: Those who jam obscure and essentially useless AI/ML features into their product for marketing purposes and those, like Acumatica, who seamlessly integrate these features within their ERP solution so that end users experience better results without being aware they're even utilizing these technologies.
2. Business ops within organizations looking for a cloud ERP solution will focus on comprehensive EULA/data ownership rights
Digital transformation, in essence, is implementing cloud-based ERP solutions, bringing people, technology, and process together, and becoming a connected business through digital technology and a digital platform. It doesn't magically fix your business, but it does give you the tools, resources, and ability to operate in today's marketplace.
The challenge is choosing between the many options and distinguishing between true cloud ERP solutions and legacy ERP systems manipulated to look like cloud-capable solutions. The truth is, having so many options puts consumers in the driver's seat.
2020 will see businesses taking a long, hard look at cloud ERP vendors' unscrupulous vendor practices. I believe the first move many will make is to look for an End-User License Agreements (EULAs)—historically designed to give vendors the advantage—that is customer-centric, comprehensive, and unchanging. They will also search for a cloud ERP solution that provides their users access to their data anytime—something that's already included in Acumatica's Customer Bill of Rights.
3. Cloud ERP investment will continue its growth trajectory
As data analytics, AI, and ML technologies continue to mature and businesses in every industry recognize them as necessary to their success in the digital economy, cloud ERP investments will continue to grow.
A recent Forbes article on IDC's 2020 predictions notes, "IT resources will continue their migration to the cloud (and multi-clouds) and there will be heavy investment in automation and orchestration systems, using artificial intelligence and machine learning."
IDC also predicted that, "By 2020, 70% of enterprises will integrate cloud management—across their public and private clouds—by deploying unified hybrid/multicloud management technologies, tools, and processes."
Cloud ERP software is adaptable, intuitive, collaborative, automated, and insightful, providing users with a single source of truth in real time and with access at any time, from anywhere. It eliminates the cost of IT infrastructure as well as the responsibility for hardware and software updates/upgrades, opens the door to innovation, and allows for easy personalization. It also provides top notch security and is affordable for SMBs that are competing with larger enterprises that have larger budgets.
It's vital that businesses select the right cloud ERP software solution, one that incorporates AI and ML, provides an easy-to-understand and fair EULA, and protects their data ownership rights. They'll also want a solution that allows them to seamlessly integrate their best-of-breed cloud applications (e.g. Microsoft for email and collaboration, Salesforce.com for CRM, etc.) they use every day.
Acumatica: A cloud ERP platform for the future
Looking back at 2019, I can't believe how fast it went, and I expect 2020 to do the same. SMBs planning to remain in business this year will need to invest sooner than later in a modern cloud ERP solution, like Acumatica.
Acumatica's founders predicted that the cloud was the future, and, boy, were they on target. They based our business management solution on the Acumatica Cloud xRP Platform, a future-proof platform with open architecture. It's scalable, easy to use, and allows rapid integrations with critical third-party applications. Our cloud ERP software provides integrated workflows that cover the full suite of business management applications and specialized industry solutions.
I predict that this will be a good year for Acumatica, and I invite you to contact our team to learn more about how we can help you succeed in 2020.