Every wholesale distributor business, whether big or small, will experience growing pains. In the past, larger corporations utilized Enterprise Resource Planning (ERP) to manage these times while small and midsize businesses had to cobble together solutions that didn't integrate and didn't allow for growth. Now, not only are ERP applications available for every size company but cloud ERPs are becoming the choice to make and choosing the right one for your business is imperative.
The world has expanded for wholesale distributors. The Digital Revolution at the end of the 20th century spawned accessibility on a global scale for products ranging from food to gadgets to clothing – and everything in between. Not only are there more products for distributors to keep track of, but changing consumer demands to keep pace with. For companies looking to grow and remain profitable as the rules of business continually change, optimized processes are a necessity.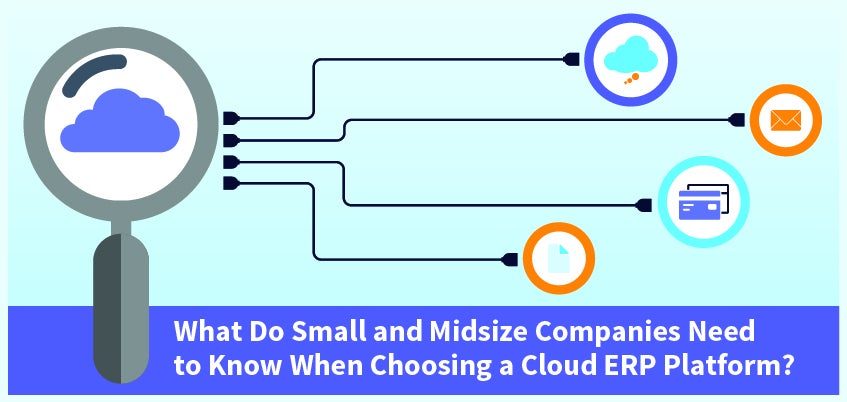 For many companies, this means embracing new technology that can streamline the supply chain and improve visibility throughout the company from top to bottom. One of the best technologies for distributors is cloud-based Enterprise Resource Planning (ERP) software, otherwise known as cloud ERP. These applications have been associated with enterprise-sized corporations, but the market for cloud ERPs now includes platforms for small and midsized businesses (SMBs) to remain competitive. With so many options for cloud ERPs, it's important for SMBs to consider exactly what they need from the software before purchasing and implementing one.
Choosing your cloud ERP
An ERP is one of the most valuable tools you can buy for your business, which is why it takes a considerable amount of planning and resources to select the right one to fit your needs. Here is a list of steps to take when searching for the perfect ERP.
1. Get input from leaders in every area of your company
A cloud ERP is going to act as a management system throughout your entire company – not necessarily just for supply chain or just for finance. With this in mind, it's important to talk to company leaders in all areas to get their input on the functionalities they would like in a management system. ERP applications are meant to unify your company throughout all areas and increase visibility for workers. Making sure that each area has what it needs to function properly will help the ERP run smoother overall.
2. Prepare your company for cloud ERP
This is the more technical aspect to step one; preparing your company for an ERP includes steps like aligning your KPIs and making sure they're measurable, outlining the budget and ROI, confirming who will be learning and teaching the system, and what kind of implementation your company can support. Discussing ERP implementations with IT makes for a seamless process when it comes time to launch your ERP.
3. Research potential cloud ERPs
Up until this point, all research has been about the internal state of your company. Now it's time to actually research possible ERP applications for your company. Before you just jump on the phone and schedule a demo with ERP sales reps, take the time to learn what you can about possible ERPs and how they could fit your company. You should ask questions such as:
Does the ERP have the capabilities you need?
Is it customizable?
Is the price in your range?
Does it require on-site servers?
How long is implementation?
What support is there after go live?
Once you think an ERP is a good candidate to consider, set up a discussion with the ERP company representative to get more insight into the software capabilities and answer any questions you may have.
4. Evaluate your cloud ERP options
Now that you have narrowed down your array of ERP options, it's time to evaluate which ERP to implement. The one you choose should best fit your requirements and help you discover different options for ERP capabilities. An ERP should both grow your business and grow with your business; it's important to keep in mind how you'd like your business to grow in the future and how your ERP can grow to match.
5. Selection and ERP implementations
After you decide on the right cloud ERP for your business, implementation brings with it a new set of challenges. While the software vendor that sells your ERP may promise speedy implementation and results within a month, it's important to be realistic. Some software deployments are faster than others (depending on the hardware needed), but there also needs to be time for training and parameter evaluation. Be patient with ERP implementations and your new software; persist in learning how to maximize your ERP use.
Cloud ERP is the right choice
Bottom line: choose a cloud ERP that will help your company grow. A cloud-based ERP allows your company to stay mobile, leaves room for future software integrations to customize and expand your ERP, and keeps costs down. From increasing flexibility and performance to strengthening overall availability, learn more on why your ERP needs to move to the cloud.
Acumatica also provides a valuable resource to help simplify your decision-making regarding the cloud ERP for you and your business. Go here to download the Business Management System Evaluation Checklist right now and get the information you need to make an informed choice.
Your ERP is meant to work for you and having continued support for updates and optimization is critical. That's where the teams at EazyStock and Acumatica come in – contact us at EazyStock and we'll help you through the entire process!