Does your cloud ERP vendor provide ERP deployment flexibility (e.g. allow you to deploy in a public cloud, like AWS or Azure, or a private one run by your own IT department) and let you switch when and if you might need to? Acumatica does, and guarantees it in the Acumatica Customer Bill of Rights.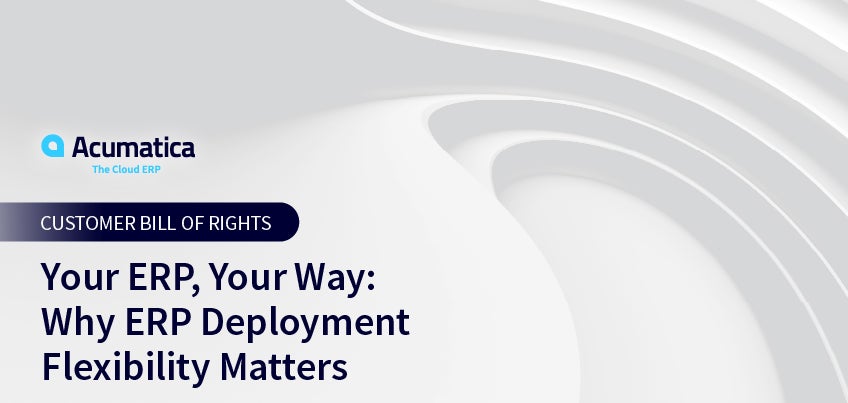 Change is the only thing you can count on, or as Greek philosopher Heraclitus put it, "The only constant in life is change." This is true for everyone, including small to midsize businesses (SMBs) who are subject to fluctuating market demands, new technology, shifting compliance regulations, growing competition, and more. For them to remain viable they must be an agile business, which is only possible with a modern cloud ERP solution and ERP deployment flexibility.
ERP deployment flexibility with Acumatica cloud ERP
When deciding to implement an ERP solution, businesses today rarely question whether they should choose a traditional ERP or a cloud ERP system. Most businesses recognize the need to embrace the benefits of a cloud-based ERP solution, including:
Anytime, anywhere access for the mobile workforce, supporting remote work, telework, and long-distance collaboration
Seamless integrations between applications to become a connected business
Elimination of repetitive tasks
Easy customizations (without the need for IT staff/support)
Access to real-time data by all employees
A single version of the truth
Instant updates/upgrades
Lower upfront costs
Ability to compete with larger organizations
And more
The question now is, which cloud ERP software should you choose? As you weigh your options, your ERP checklist should include ERP deployment flexibility, such as what Acumatica provides with public cloud or private cloud options. We consider deployment flexibility to be your right as our customer and have gone so far as to included it in our Acumatica Customer Bill of Rights.
ERP deployment flexibility matters
Why does ERP deployment flexibility matter? There are a few reasons.
One, compliance regulations in every industry are subject to change. If you're in a heavily regulated industry such as Healthcare, remaining compliant may require you to switch your deployment from a private cloud to a public cloud solution—or vice versa. But if your provider doesn't offer deployment flexibility, you're stuck, or, at the very least, you're looking at an expensive and time-consuming fix.
Two, organizational changes and/or adjusting business processes due to industry shifts, customer demand, or to improve productivity are inevitable. Modifying how you deploy your cloud ERP solution may be advantageous, and having deployment options is the best, most affordable, and least stressful way for you and your business to handle these changes.
Three, there may be reasons deploying in the cloud isn't an option, which was the case for Acumatica customer Danforth Pewter.
The company, which can trace its roots back to 1755, creates over 2,000 beautiful, functional, and handmade pewter products. They sell them in their nine retail stores, online, and wholesale to hundreds of independent retailers. When their 24-year-old, disconnected software and hardware were no longer able to do the job, they knew they needed to find a modern ERP solution.
"We looked around for quite a while for what we wanted—an ERP that could integrate with a POS and our website, and one that wouldn't cost more than a couple hundred thousand dollars," says CEO Bram Kleppner in the company's customer success story. "Everyone told us that it didn't exist, and that it would cost $5 million. 'In your price range,' they said, 'there are no integrated systems.'"
"They" were wrong.
Danforth Pewter found Acumatica, a modern, affordable, and integrated cloud ERP solution. Unfortunately, the company had unreliable internet, so implementing a cloud version wasn't an option at that time. "We are in a small, rural northern Vermont community, and our internet service isn't reliable. If one guy with a snowplow hits a utility pole, our internet goes down."
With Acumatica's ERP deployment flexibility, they were able to choose the option that worked best for them. Bram says that when they secure more reliable internet service, they'll move to the cloud version of Acumatica, something they can do easily and without penalty.
ERP deployment flexibility for all
Every business needs ERP deployment flexibility, and Acumatica guarantees that our customers get it. We're an agile, affordable cloud ERP option, providing you with the ability to deploy where you need, switch when you need, and never incur a fee for doing so.
We're also guaranteeing your right to a readily comprehensible SaaS end user license agreement, a cloud ERP license that doesn't inhibit growth, and cloud ERP implementations with no hidden fees, while helping protect your business against unscrupulous vendor practices.
If you're ready to get your ERP, your way, contact our team today.