Before choosing a cloud ERP solution, you must determine if it's real or fake cloud. If you don't, you may pay the price.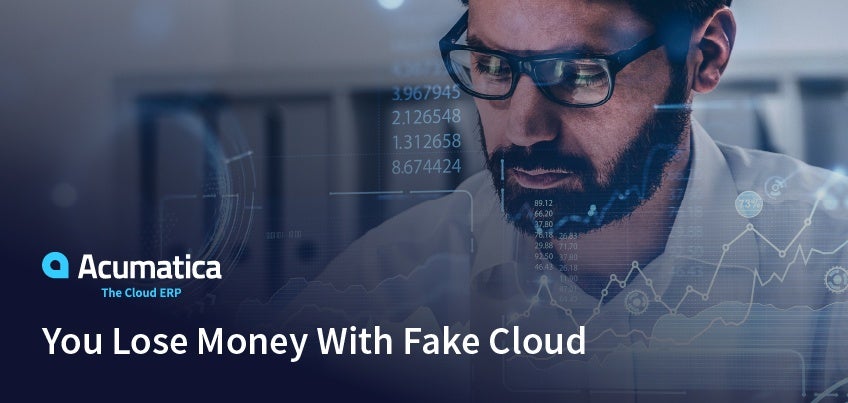 Cloud has always been a highly controversial topic. Its definition changes with each handshake. With such a misunderstanding, there are several variations of cloud ERP systems available. You could gain significant financial benefits with an actual cloud-based ERP solution, and you might lose with an artificial one. Therefore, it's essential to understand the difference between a fake and a real cloud.
This article helps you know how they differ and why a fake cloud may have financial consequences for you.
What's driving the trend for fake clouds?
Before we talk about the cloud, let's review the shortcomings of legacy apps first.
Traditionally, most businesses accessed their business systems on a desktop. These legacy applications, also known as on-prem apps, used old technologies limited to creating the best experience for desktop users. Irrespective of whether you wanted to kick-off a simple job or build an elaborate report, you had to use a desktop interface for such interactions.
With the changing needs of our workforce and the introduction of mobile technologies, cloud computing was the future, and legacy apps' design didn't meet newer channels' needs. Due to the sense of urgency to compete in the fast-growing cloud ERP market, the legacy ERP publishers faced the challenge of rewriting their apps quickly and deploying to a modern cloud infrastructure to cater to new channels' needs.
This sense of urgency with the fear of missing out is driving the trend for fake clouds.
The critical ingredient to creating cloud applications
In the mobile-friendly cloud world, each user group (including desktop, mobile, tabs, etc.) has different needs, ways they interact with the application, and goals they want to accomplish on each device. For example, their desktop interaction involves complex tasks such as creating a part or planning multiple production orders. In contrast, their mobile use-cases entail more straightforward tasks such as monitoring KPIs or recording time.
Writing a user-friendly business application is an expensive and timely process. Designing a cloud application that works equally efficiently for each channel's needs is even more costly. It requires careful planning of how each user will be interacting on a specific device. It also requires mapping each of these interactions while accommodating the personalized need of each user.
Designing an equally efficient app for each user and the channel they use it on is a crucial ingredient for building a cloud application.
Fake clouds miss that critical ingredient
A fake cloud is a close variant of a cloud-native application, but it completely bypasses this process and assumes that users on each device would have similar needs. With minor changes to their look-and-feel, a fake cloud might host the same old app to a modern cloud infrastructure, without going through the critical process of mapping and profoundly understanding how their users would interact with each channel.
Constrained by technical limitations of underlying legacy technologies, a fake cloud app may not work in two browser tabs simultaneously and that can limit your ability to multitask. Additionally, an artificial cloud may just be a VPN session inside a browser where you might need to click an icon to open a desktop session hosted on another computer.
Without a native mobile app, a fake cloud app may require you to open a browser on different devices, which would limit your ability to perform complex tasks on mobile devices with ease. This usability issue will slow your users down and may also deter users from not using the mobile app and avoid entering critical field data.
With a fake cloud, it would feel as if you are accessing a desktop application over a mobile phone. Imagine trying to click that dangling menu on a tiny screen. Not pretty.
While this approach of building a fake cloud helps legacy ERP vendors compete in the cloud market quickly, a fake cloud is worse than on-prem.
On-prem may not be as efficient for all channels—it's designed for desktop users. On the other hand, an artificial cloud is likely inefficient for most users.
Why you lose money with a fake cloud
Before we dive deeper into financial consequences, let's first agree that any business software's overarching goal is to automate your business processes and increase efficiency.
If a fake cloud ERP solution possibly takes two or more clicks to perform an operation and the real cloud performs it with one click, then you improve the efficiency by 100%.
This allows your sales or operations teams to process twice as many orders within the same time.
Here are some specific financial implications for you due to a fake cloud:
Longer Order-to-Cash Cycles: longer shipping time makes winning new and retaining existing customers harder
Faster Competition: Being slower than your competitors would provide them an edge over you
Higher Costs: increased costs of producing your products would result in higher prices or lower profit margins.
How to identify a fake cloud
So, now that you know what differentiates real and fake cloud ERP software as well as how much it could cost you if you chose the wrong one, how do you spot a fake cloud?
There are some self-serve strategies, such as:
Requesting a collaborative demo, which provides a more immersive experience to an app's user experience than your ERP consultant's monologue
Paying close attention to the app's behavior on multiple devices
Doing a detailed comparison of the look and feel of each screen and module with a legacy app familiar to you.
However, due to software's invisibility issue, the best approach to detect a fake cloud application is to bring a technical expert familiar with cloud-native architecture and design principles.
Go with a natively built cloud ERP solution 
I think it's safe to say that going with a natively built cloud ERP solution, such as Acumatica, is in your and your business' best interest. From increasing flexibility and performance to strengthening overall availability, learn why your ERP needs to move to the cloud.
Acumatica is built on a modern, cloud-based ERP platform. The award-winning cloud ERP, which provides two major releases per year (like the recently released Acumatica  2020 R2), offers businesses in every industry significant financial benefits. Check out Acumatica's Customer Success Stories for specific examples of businesses who have thrived with Acumatica cloud ERP.
Don't lose money with a fake cloud ERP solution. If you have any questions about real and fake cloud ERP solutions, contact the ElevatIQ team today.