Acumatica cloud ERP is growing. With over 6,500 customers and counting, choosing our annual customer award winners is a challenge, but these three companies rose to the top. See why.
The Acumatica Cloud ERP 2019 Customer Award winners were honored during the Acumatica Summit 2020 Day One Keynote (available online). The businesses chosen not only experienced fantastic success after implementing Acumatica's award-winning cloud ERP solution, they demonstrated the qualities we were looking for.
Here's a recap of who the winners are and why they won.
Customer of the Year: Power Storage Solutions
Power Storage Solutions was launched in 2018 by Derrick Elledge, Terry Cummings, and Steve Baker after they made the winning bid for Interstate Batteries' power storage division. The company offers DC-power back up systems for Data Centers, Telecommunications, Utilities, and Petrochemical companies, expertly installing and servicing their power solutions.
The owners wanted an all-in-one operating system with a strong accounting foundation and anytime, anywhere access. "Acumatica offered a service package, purchasing, inventory, a Client Relationship Management (CRM), quoting cycles, manages projects and manages sales orders—all right there in one Operating System," Derrick says in the company's customer success story.
With Acumatica, they transformed their business, going live after a fast, 60-day implementation. This, coupled with their awesome team effort, made them the perfect choice to be Acumatica's Customer of the Year 2019.
"It's hard now to even remember all the steps we had to go through before Acumatica just to get a view of what was going on in our business," Derrick says. "I wouldn't want to go back for anything."
Impact Customer of the Year: FoodMaven
As the name suggests, the Impact Customer of the Year Award goes to a company who exists to make the world a better place. FoodMaven fits that description perfectly, noting on their website, "We're transforming the food system to support the people who make our food, help feed the hungry, and protect the planet for future generations."
They were founded in 2015 and sell high-quality local, oversupplied, and imperfect food from distributors, manufacturers, and producers directly to restaurants, hotels, universities, and institutional kitchens at a significant discount. With an online marketplace powered by big data optimization technology and a logistics model they've perfected, they've saved millions of pounds of food lost in the U.S. system each year by either selling it or donating it to hunger relief organizations. They also have a zero-landfill policy.
Greg Lems, Director of Engineering, accepted the award on behalf of FoodMaven. "We create a marketplace using Acumatica. We have real-time data feeds, big data tied into Acumatica that gets good prices out on that marketplace so that food doesn't go to waste," he said. "Growth is our big initiative and Acumatica is what we're using to scale that."
Construction Customer of the Year: Hartzell Construction
"When I looked at Acumatica Construction Edition for the first time, I saw how easy it was to use," says Anderson Pinto, Owner and CEO, Hartzell Construction. "I truly believed Acumatica would be good to partner with after seeing the innovative technology Acumatica is bringing to help modernize the industry."
It has been a successful partnership ever since Anderson and his team implemented Acumatica's cloud ERP software for their growing construction business. They offer the full spectrum of construction services, including commercial, residential, local/federal government, new construction, windows, and plumbing.
The Acumatica Construction Customer of the Year is awarded to the customer who goes the extra mile, working closely with Acumatica to improve the product and the awareness in the marketplace. Hartzell Construction has done just that.
"I highly recommend Acumatica to the construction industry," Anderson says in the company's customer success story. "To be able to go into a system and have a vision of the entire company, not only your finance department but every department and understand how a project is moving—that's just amazing."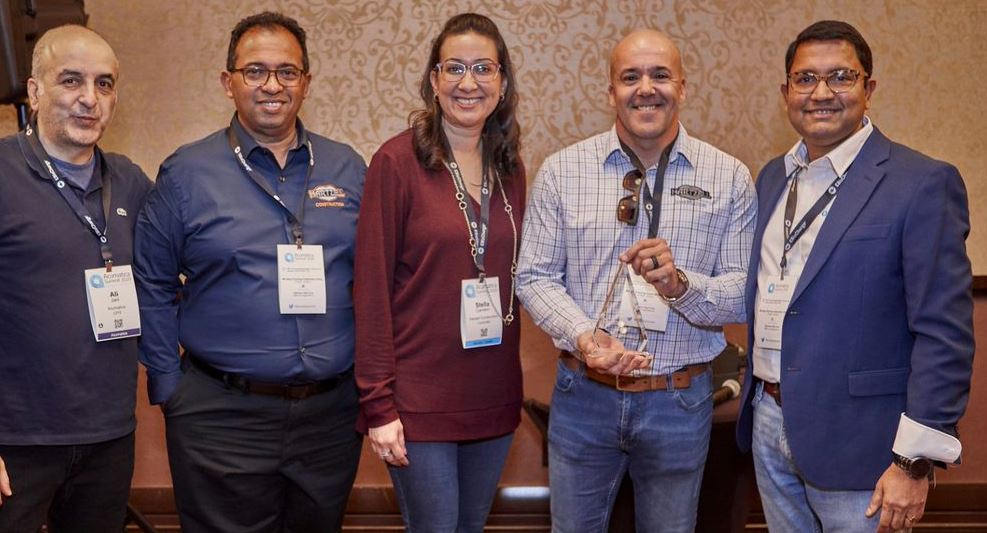 Thank you to our Acumatica customers
We can't thank these three outstanding companies enough for choosing Acumatica's cloud-based ERP solution. Derrick, Anderson, and Greg share the reasons their companies chose Acumatica.
Contact us at any time with questions or for a demonstration. We'd love the opportunity to welcome you into the Acumatica community and to help you transform your business.