For today's business, it's important to take risks—but only if those risks have the potential to pay off. If you continue to rely on outdated on-premise ERP, you're putting your business at risk with no likely reward. You're selling your present and future short if you continue to use on-premise "solutions" and forego the benefits of cloud ERP.
The technological landscape of the business world has continued to change. From emerging technologies—like IoT—to enhancements to the business software landscape, one of the core drivers of innovation in business software has been the cloud. Now a mature delivery option, companies are ascending to the cloud faster than ever—with good reason. But you may still have your doubts about cloud ERP, feeling that an on-premise ERP is still right for your company.
Today, we'll discuss a few reasons this mentality is holding your business back.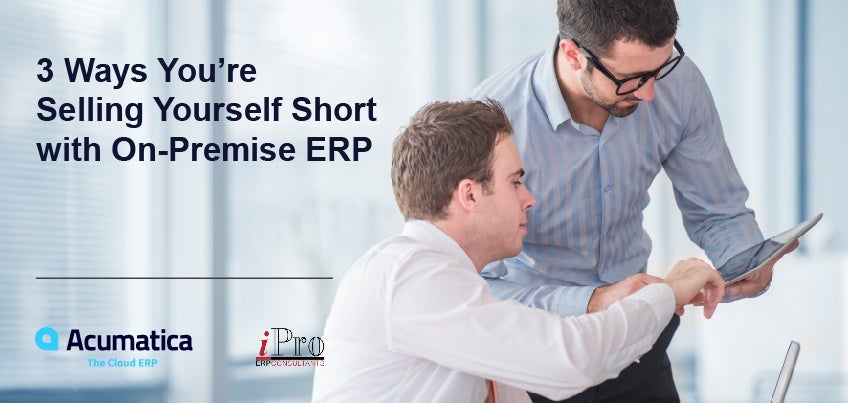 Three ways you're selling yourself short with on-premise ERP
When looking at ERP, the path to purchase is often a long, winding one. However, as more and more businesses make the move to the cloud, they're realizing just how much their outdated, on-premise ERP was holding them back and just how much they were selling themselves short.
1. You're setting yourself up for stagnation
Over the years, your company has grown to become the business it is today. During this time, you've made upgrades to machinery, facilities, technology, and more. All of this was done to position yourself for the future. However, you aren't done growing or changing—why should your software force your business to stagnate?
Legacy ERP is inherently "clunky." Designed for the business of the past, an on-premise deployment makes it a challenge to make even the simplest changes. Vendors and partners of on-premise software nickel-and-dime you for every user you add and remove, make customizations a challenge, and ultimately force your business into stagnation.
If you expect to grow in the future, it's likely you are buying additional licenses in advance—just in case. Integrating other applications is even harder when you use an on-premise ERP, as you are likely relying on an outdated or proprietary code base and a consistently dwindling network of partners who support the product.
With the growth and maturation of the cloud in the past two decades, one key selling point has remained: It grows and changes with your business. Need to add or remove a few users? Simple. Looking to integrate new software into your cloud-based ERP? Drop by the software's marketplace to see if there is a readily available integration.
The cloud has changed the game for pricing, integrating, and using software, remaining flexible so that your business can grow, change, and remain agile. But pricing and integration is only one benefit of the cloud.
2. Your lack of mobility can hinder growth
In today's business climate, you need complete anytime, anywhere access. Whether you have multiple locations or just need to keep up to speed remotely or on the road, having access to your ERP solution from anywhere is a necessity—but one that few on-premise vendors can deliver.
Even if an on-premise vendor can say that they can provide "anytime, anywhere access," what are they really promising? What will you be able to access, and how much work will you have to do to get to your application? With on-premise applications, you either rely on Web Apps (considered to be "ERP Light") or you have to jump through hoops to set up access to your platform using a virtual desktop.
Even if your legacy ERP vendor promises they are in the cloud, rarely if ever is this a "true cloud" experience. These fake clouds have popped up in recent years and often present your business with more risk than they are worth.
Cloud ERP is designed to deliver your entire business management software at your fingertips—whether you're tapping or typing. Featuring mobile apps that can give complete access to your business management software and secure browser-based access to your applications, true cloud ERP is designed to truly provide the benefits of the cloud without compromise.
3. You're subject to rare, business-disrupting updates
For the average on-premise ERP user, IT person, or executive, update time is often a painful experience. Will the software be compatible with our hardware and server firmware? What will the update do to our customizations and integrations? Often, there are more questions than answers, which is why companies may be on one of many different versions of a software.
However, with cloud ERP software, it's much easier to stay on the same page—updates are pushed out easily and without pain.
There is a good reason that on-premise ERP only has a couple major updates over its useful life—upgrading is a nightmare. While you can upgrade on your schedule, the real reason that they call this a benefit is because the upgrade process is disruptive and headache-inducing. Not only do your IT people have to scramble to update the product, an on-premise ERP update often results in integration and customization-breaking changes.
While legacy system upgrades are slow and expensive; true cloud solutions are just the opposite.
When you make the move to cloud ERP, the upgrade and update process is not only less painful, updates themselves are more robust. With legacy ERP, the very idea 'twice-yearly updates' either sounds like a pipedream or a painful experience. However, in the cloud, this is not only a reality, it is relatively pain free.
With cloud ERP, the update process is simple and hands-off. Added to this, the design and integration capabilities of the cloud make it so that when an update gets pushed out, it's not going to take weeks to fix.
Learn more about the benefits of cloud ERP
Cloud Enterprise Resource Planning applications have evolved over the years to provide businesses with the benchmark consistency, flexible configurations, and unprecedented visibility and ease of access to mission-critical data they need. Over the past decade, many legacy on-premise vendors have failed to keep up with the technology innovations and speed of development of their cloud counterparts.
Whether clients are just afraid to make the leap to the cloud or haven't thought about all of the other advantages of cloud ERP with regard to data security, reduced administrative and support requirements for expensive on-premise application and data server hardware, and flexible access from anywhere, anytime on any device, businesses choosing to hold on to the vestiges of their legacy ERP systems are truly selling themselves short.
Are you selling yourself short with on-premise ERP? If you're worried that you haven't positioned your company for growth in the future, it may be time to learn the true value of a true cloud ERP. We invite you to take a look at Acumatica's TCO calculator—The Cost of Doing Nothing—to see just how much you are selling yourself short by using on-premise ERP.
If you'd like to learn more about Acumatica cloud ERP, contact our team at iPro; we're committed to your success. And for any questions about becoming an Acumatica VAR, contact Acumatica today and learn more about their Acumatica Partner Program, an invaluable resource for all Acumatica VARs.