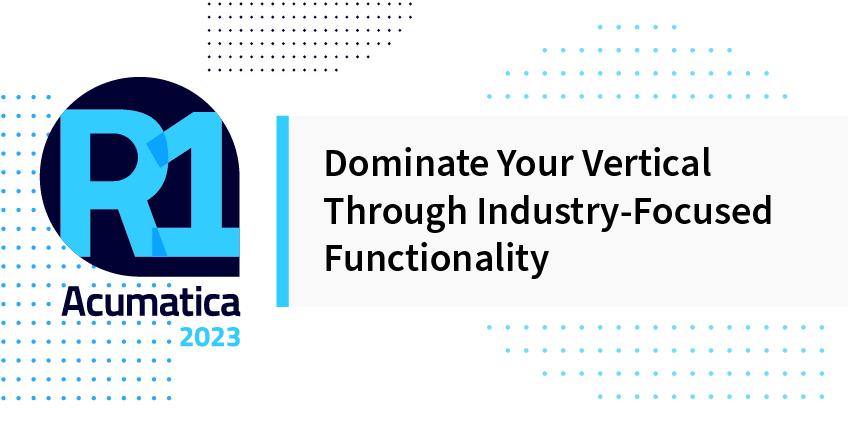 Competition is a fundamental part of running a business for all organizations, especially if you are a small or midsized business (SMB). While usually a source of stress, competition also provides a few benefits. For instance, having competitors demonstrates that there's a market for your product and/or service. Observing your competitors allows you to identify and avoid their mistakes. And competition pushes you to be more efficient, do more—and do it better.
At Acumatica, competition drives us to constantly improve our already comprehensive cloud ERP solution through our twice-yearly product releases that deliver innovative features, pragmatic upgrades, and powerful improvements. To truly help our customers requires understanding the competition they may face in the industry verticals in which they operate.
Today, we'll reveal how our latest release, Acumatica 2023 R1, aligns with your specific needs and addresses the challenges of your industry vertical to help you beat the competition.
Acumatica Industries: Aligning with Your Specific Verticals
Acumatica understands that ERP solutions are more effective if they are tailored to meet the needs and requirements of specific industry verticals. That is why we have developed separate Industry Editions for Construction, Distribution, Manufacturing, and Retail. Regardless of which vertical you're in (and plan to dominate), you can be confident that our Acumatica 2023 R1 features are tailored to meet your unique industry requirements. We are committed to asking for and listening to customer feedback, which empowers us to fine-tune our product so that it aligns with your specific verticals and organizational needs.
Using customer feedback—or, as we call it, customer-driven innovation—helps us solve real-world problems and drive powerful efficiencies. For instance:
During the Summit Day 2 Keynote presentation, Debbie Baldwin, Acumatica's Director of Product Management – Manufacturing, summed up our relationships with our customers well: "When we work together and we innovate, it actually benefits the entire community."
Benefiting the Entire Community: Acumatica 2023 R1 Details
Since customer feedback is at the core of every decision we make at Acumatica, let's examine the details customers in every industry can expect from Acumatica 2023 R1.
Feature Benefits for Distributors and Retailers Merchants:
Streamline counter sales, will-call orders, and in-person returns from a single screen.
Expedite and standardize system and data access with 18 pre-defined sales, purchasing, and inventory security roles, such as sales managers, salesclerks, buyers, receivers, shippers, and more.
Increase the flexibility of your pricing tactics per customer and item variant with simplified matrix item creation, through which you can easily define variant characteristics for each object generated from the template.
Keep a constant view of inventory levels across your Merchant-Fulfilled Network (MFN) websites on Amazon with seamless data flows from Acumatica's back-end system.
Boost your B2B sales and delight customers with exceptional Shopify storefronts; capture multiple buyers under a single corporate account, while Acumatica makes it easier to manage selling profitably.
Feature Benefits for Manufacturers:
Streamline manufacturing reporting, correct previously entered transactions, and empower employees by entering labor, material, move, and disassembly information directly from Production Order Entry.
Save time with side-panel access to purchasing, sales, inventory, and manufacturing information from data entry screens (Production Orders, Bills of Materials, Estimating, Sales Quotes, Sales Opportunities, Material Requirements Planning, and Scheduling).
Feature Benefits for Contractors and Service Organizations: 
Gain insights into construction data with on-the-fly report filters and an updated, unified report design for improved readability.
Save time with simplified joint payee and lien waiver processes, including automated maximum available payment balances and automated compliance document creation.
Monitor revenues, costs, and profits and track how they impact each project with automated budget quantity calculations.
Empower remote workers with the Acumatica mobile app, through which they can instantly access drawing logs, submittals, annotations, and progress worksheet activities from daily field reports.
These practical feature benefits, which specifically address the challenges and pain points unique to each industry, can help you get a leg up on the competition and set you up to dominate your industry vertical.
In an Acumatica Summit recap blog, Todd Wells, Chief Marketing Officer, underscored the value of customer-driven innovation and what the right technology can do for a business:
[I]nnovations and advances in technologies can empower organizations and individuals alike with intelligence and data to be more productive and to imagine new possibilities. The transformative power of technology is made more impactful through a community-led approach to innovation where new features and capabilities are driven by the input of customers, partners, and users to address real-world needs.
Building the Future of Business: Together
During Acumatica Summit 2023, John Case, CEO, Acumatica, introduced our new rallying cry: "Building the Future of Business, Together."
The key word here is "together." You're working hard to dominate your vertical, and you don't have to go it alone. You can lean on Acumatica's robust Community of over 10,000 customers (who have amazing customer success stories). You can lean on our dedicated partners (who receive excellent training and no-compete support). And you can lean on our award-winning cloud ERP solution (which earned G2's Best Usability, Best Relationship, Easiest to Use, Best Meets Requirements, Users Most Likely to Recommend, and High Performer badges in 2022). Our Community can give you an edge over the competition and help you forge a leadership position in your industry.
But don't just take our word for it.
Here's what Acumatica customer Loni Dockter, Head of Accounting and Operations, Curran, has to say about being an Acumatica customer: "Acumatica is by far one of the best decisions we have made. It positions us perfectly for growth with everything we need today and for the future."
To learn more about how our Community, our cloud ERP software, and Acumatica 2023 R1 can help you grow today and tomorrow, contact us right away. We'll answer any questions and set up a demonstration at your convenience.
And before you go, make sure to read the first article in our Acumatica 2023 R1 series about why ERP usability matters.