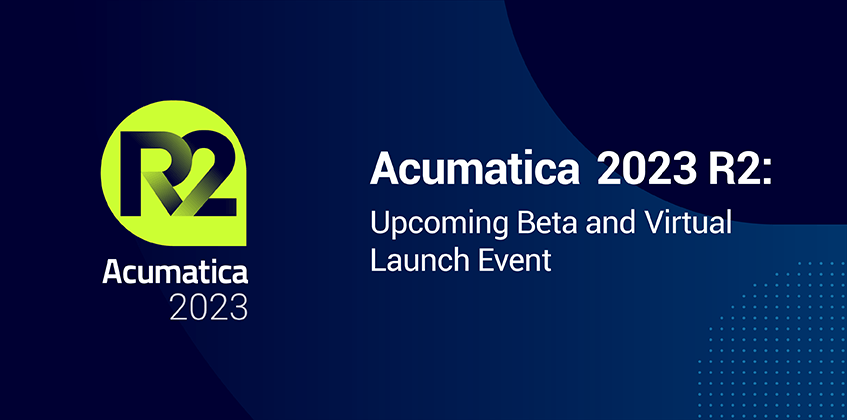 The world of technology moves fast, and so does Acumatica. In April, we released 2023 R1, the first of our biannual product updates of the year, featuring significant and user-requested cloud ERP improvements that addressed real-world business challenges. Now, only a few short months later, we're excited to announce that our second release, Acumatica 2023 R2, is coming.
The beta release of Acumatica 2023 R2 is currently scheduled for sometime in August. This Beta Program is designed for customers who want to preview new features and provide feedback.
We expect that the upcoming release will be generally available in the first week of October. As we've done in years past, we're offering a virtual sneak peek of our latest release at the 2023 R2 Virtual Launch Event on Thursday, October 5, 2023, at 10 AM PT.  Customers, prospects and businesses looking to upgrade their business management software are encouraged to register and attend this informative and engaging session.
Acumatica 2023 R2 Launch Event: What to Expect
The 2023 R2 Virtual Launch Event offers Acumatica customers, partners, and developers a first look at our new user-friendly features. When they register for the free online event, they'll sign up for the General Session and one of five specific breakout sessions:
Manufacturing
Distribution
Construction Edition
Retail Edition
Developer Session
Designed to be short and informative, each session will showcase our latest major cloud ERP product updates via live demonstrations. Attendees can ask questions, share their feedback, and engage directly with Acumatica Product Team members.
Acumatica 2023 R2: Intuitive Design, Seamless Execution
The innovative, intuitive, and personalized feature updates in Acumatica 2023 R2 will elevate the already award-winning usability and functionality of Acumatica's cloud ERP software The product development team is guided by input from customers as well as a mandate from Chief Product Officer Ali Jani to develop features that deliver "seamless execution. "My mandate to them is: make it seamless—like they don't know it exists, but it's there."
According to reviews by real, verified Acumatica users, we're succeeding. In G2's Summer 2023 reports, Acumatica was ranked #1 in key categories including Best Relationship (Project-Based ERP); Easiest to Use (Small-Business Distribution ERP); and Momentum Leader Badge (ERP Systems). And Acumatica secured the top spot in Nucleus Research's highly venerated SMB ERP Technology Value Matrix 2023 report.
Join us for our Acumatica 2023 R2 virtual launch event to learn more about Acumatica's latest product improvements and to provide input into Acumatica's roadmap to the future. We hope to see you there!
For any questions about the event or our cloud ERP software, contact our team today.