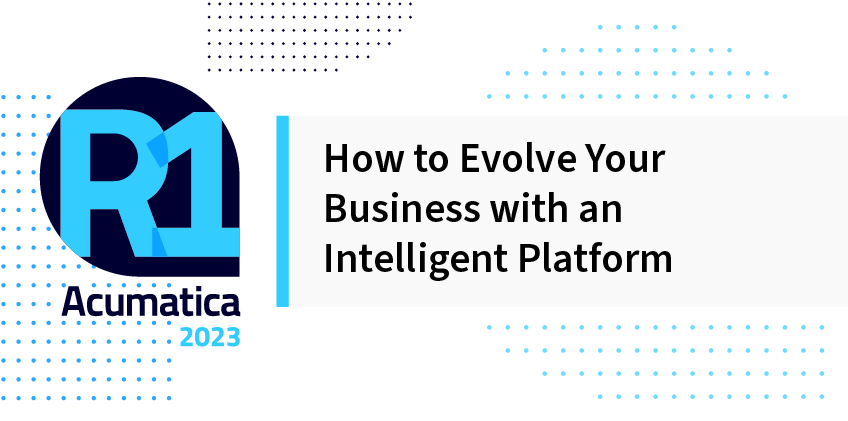 In today's digital economy, competition is fierce, and a business must perform better, faster, and smarter in order to survive. According to Fundera by NerdWallet, 20% of small businesses won't make it through their first year; 50% won't reach their fifth year; and 70% will close in their tenth year.
Businesses are looking for an edge to help them in this challenging environment and are increasingly relying on the latest technologies and innovations. Modern enterprise resource planning (ERP) solutions built on intelligent platforms provide exciting new capabilities small and midsize business (SMBs) can trust to help them evolve and grow for years to come.
In this, the final of three articles on the value Acumatica 2023 R1 delivers to small and midsized businesses, we examine why evolution is essential, what an evolving business looks like, how Acumatica can help SMBs evolve, and how our latest release delivers the intelligence companies need to grow. (If you missed our first two articles about this release on exceptional usability and industry-focused functionality, now is a good time to check them out.)
What Is an Evolving Business and Why Is It Essential to Evolve?
Anything that evolves—including a business—is growing, progressing, changing, advancing, producing positive results, and anticipating future success. If they're not doing any of these things, they're in danger of extinction. As Stephanie Burns puts it in a Forbes article: "[W]e're reaching a critical impasse where the businesses that don't evolve may very well fade out of the picture. Evolution is a natural part of all of our lives, and our businesses are no exception."
Burns goes on to say that an evolving business must pay attention to what its competitors are doing, listen to its customers, and double down on marketing. This is true, but one more point should be added to the list. An evolving business should embrace the latest business technologies—starting with an intelligent ERP solution.
ERP software connects all aspects of an organization, acting as a centralized repository for companywide data. Every department and team member can tap into the same accurate, updated information in real time, which means everyone can work in harmony toward company goals.
If the ERP solution is cloud-based, these same team members can access their ERP data whenever they need it, from wherever they are, using any web-enabled device—an absolute must-have feature in today's remote and hybrid working environments. Company leaders also have complete visibility into everything that's going on in the business, 24/7.
An ERP system with an intelligent platform can connect teams, people, data, systems and processes and deliver the features and functionalities a business needs to actively pursue growth opportunities in a changing environment. In short, the right ERP solution encourages and supports vital business evolution—and Acumatica does all this and more.
Our award-winning cloud ERP solution rests on a universal, intuitive cloud platform designed to unlock the potential of every business. It employs the world's best cloud and mobile technology and seamlessly incorporates artificial intelligence (AI) and machine learning (ML) behind the scenes, automating organizational processes and powering strategic, business-enhancing decision-making.
Each year, users have the option to implement two powerful updates of our cloud ERP software, ensuring that they continue to enjoy the most innovative, intuitive, and intelligent business management technology available. Our latest release—Acumatica 2023 R1, which was introduced during Acumatica Summit 2023—is scheduled to go live in April.
How Will Acumatica 2023 R1 Help Businesses Evolve?
Customer satisfaction and customer-driven innovation are Acumatica's top priorities, so we weave customers' voices into our development process. As Chief Product Officer Ali Jani explained in the Summit Day 2 Keynote press release: "We aggregate customer feedback to make informed and insightful decisions on identifying new capabilities in the product. This is what we mean by customer-driven innovation."
The updates found in Acumatica 2023 R1 are based on customer input, and the new release will help users:
Strengthen global operations by retrieving values in any language through OData.
Streamline AP processes by automatically exporting ACH payments in the proper file format and enabling users to specify accounts for each vendor.
Save payment processing time and effort by creating batch payments with the Prepare Payments form.
Enable additional workflow capabilities and automate with intelligence by triggering actions through business events.
Send emails and share files with internal and external contacts without leaving Acumatica; our Gmail Integration makes a leading web-based email service accessible from inside Acumatica.
These customer-driven enhancements offer organizations the capabilities they need to become more efficient, allowing them to spend their valuable and limited time on more business-enhancing activities, which includes serving customers better. Jon Reed, a blogger, analyst, and co-founder of diginomica, wrote about his experience at Acumatica Summit 2023 in a recent article:
"'Is ERP helping to serve your customers better?'…I asked that question of every Acumatica customer I spoke with—and they all had good, specific examples of how Acumatica is helping serve their own customers better. That's not too shabby."
Evolve and Grow with Acumatica Cloud ERP
Acumatica's comprehensive cloud ERP software is intelligent business management technology that aids SMBs in their effort to serve their customers and grow even in the face of an unknown future. As Stephanie Burns writes:
One thing is for sure: nothing can stay the same in a world that has evolved as much as ours has this year. While the future remains uncertain, businesses can stay ahead by choosing to evolve however is necessary, with a focus on providing value to customers at the forefront.
ComCenter, which distributes religious education books, Bibles, and other devotional materials from 100 publishers to schools and churches, leveraged the intelligence and power of Acumatica to evolve and grow its business. David Salmon, Director of Information Services at ComCenter, says: "We have seen over 90% growth over the past five years, and we expect to see continued growth in the years to come. Acumatica has been a huge part of our success."
Contact our experts with questions about our cloud ERP solution or to schedule a demonstration. And if you would like to hear what else we have in store for the Acumatica Community, watch the on-demand recordings of the Summit Day One and Day Two Keynote Presentations.