It's sometimes easy to look at a business as a single entity, forgetting that it cannot exist without the individuals who work tirelessly to make it what it is. The team at Acumatica (makers of the leading cloud ERP platform), appreciate how each part makes up the whole, and we are pleased to share the good news about one of our team members honored as a Top Mid-Market Vendor Executive in our industry!
Every year, the Midsize Enterprise Summit team – along with its advisory board and industry analysts and experts – assembles The Channel Company's 2017 Top MidMarket Vendor Executives List honoring the "most influential executives in the midmarket". I'm pleased to announce that our very own Ali Jani has been named to this prestigious list.  As Vice President of Partner Strategy, Enablement, and Services, Jani has influenced Acumatica's rise to a leadership position in the industry. It is a well-deserved recognition.
The Channel Company's Senior Vice President of Event Content and Strategy, Robert C. DeMarzo, says, "The Channel Company and Midsize Enterprise Summit are proud to recognize these individuals and the companies they represent for their remarkable efforts to meet the unique IT needs of this fast-growing industry. We congratulate each of the honorees and look forward to their continued success."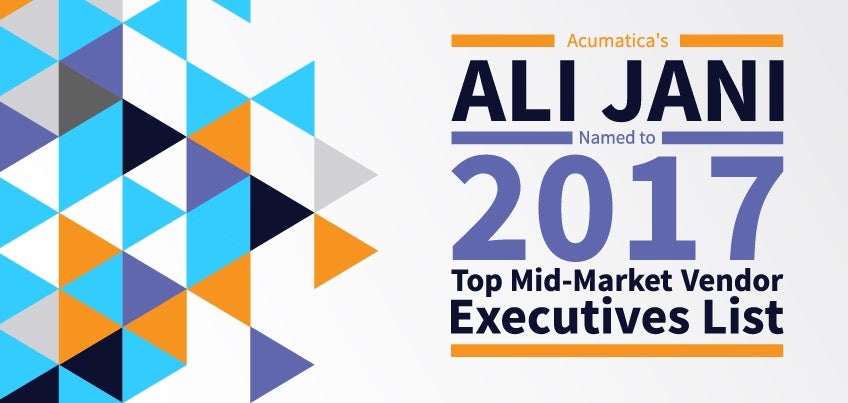 Individual recognition strengthens Acumatica's team
Jani had this to say about the acknowledgement, "It's a real honor to be recognized this way by the Channel Company, and an absolute pleasure to work with our amazing VAR community. Acumatica is 100% channel-driven, we rely on our great partners every day, and their success is our success."
Jani's dedication and hard work have influenced Acumatica's phenomenal growth, which has led us to be the fastest growing cloud ERP on the market. We know that our flexible, efficient, and all-encompassing ERP applications along with our quick and easy ERP implementations are due to the amazing efforts of our team.
Acumatica customer Chad Lockwood agrees. The President and CEO of Lockwood Products says, "Instead of spending time maintaining our in-house solution, Acumatica has allowed us to use that time on things that improve our bottom line and focus on making new and better products for customers." He adds, "The software isn't driving how we do business. We dictate how we need to use it."
And Acumatica customer Bradley Laflaive, Sales Manager at Toffeln, states, "[Acumatica is] a company that is constantly developing their product, that's up-to-speed with the latest movements in the industry. We thought that Acumatica would continue to make changes in the future, and being a cloud-based system you would get the advantage of that ongoing improvement."
Read more about how our customers benefit from the inspiring individuals that make up our Acumatica team.
Make a difference with Acumatica
Are you ready to make a difference for your business by enjoying the many cloud ERP benefits such as adaptability, mobility, and a real-time view? Don't let the myriad of ERP applications to choose from or the fear of ERP implementations stop you from taking advantage of the technology that will accelerate your business and your bottom line.
Please contact our team and start using the one true cloud ERP platform for the midmarket. You can also register to speak to our team in-person via Acumatica Summit 2018 in Nashville, Tennessee. See you there!