Acumatica Construction Edition, which helps construction firms become mobile, connected, and efficient, is coming to Canada. When? Acumatica's virtual launch event has all the details.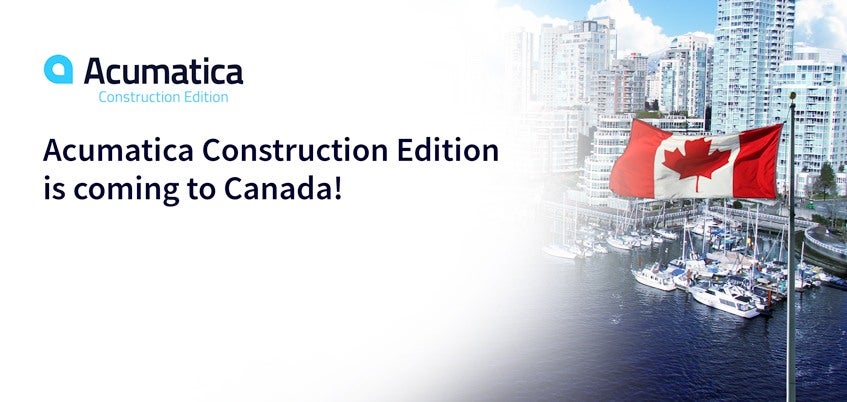 Register today for Acumatica's Construction Edition Canada Launch Event
As 2021 marches on, the construction industry in Canada (and all over the world) has some challenges ahead of it, but those firms that implement true cloud construction management software will have the tools that can help them overcome whatever comes their way. They'll enjoy an integrated business with smoother workflows, better business decisions based on real-time (and synchronized) data, and increased efficiency.
Says Acumatica customer Jeff Hamilton, president of Roberts Glass & Service, "We've torn down the silos we had with the client-server solution, so now we have access in one view of the data. We're now able to see where we are cost-wise with our existing construction projects; we're able to look at the profitability of each project, look at the customer base and understand how we are most successful."
Register for Acumatica's Construction Edition Canada Launch event today to learn how your construction firm can do the same. You're also invited to contact our team with any questions about Acumatica's cloud ERP software as well as to learn more about Canadian localization now available in Acumatica.
What 2021 looks like for the Canadian construction industry
According to Randstad, a company that provides staffing, recruitment, and employment services, 7% of the Canadian workforce works in the construction industry. That's about 1.2 million people, all of whom have been directly or indirectly affected by shutdowns, but Randstad says, "It's widely expected that this downturn was a minor blip due to the pandemic and the construction industry will bounce back better than ever in 2021."
The staffing company notes that though many construction projects were put on hold or delayed in 2020, they weren't cancelled. By 2024, Canada's construction industry is looking at a Compound Annual Growth Rate (CAGR) of 8.5% by 2024.
A sunny forecast, but Mary Van Buren, president of the Canadian Construction Association, listed the ten trends she sees happening in the Canadian construction industry in her 2021 construction forecast in On-SiteMag, and it's not all blue skies. For example, she writes that though billions of dollars have been set aside by Infrastructure Canada's Investing in Canada Plan, much of it has been stalled since 2018. She also notes loss of confidence in the private sector, workforce shortages, and contractors taking the biggest risk by shouldering much of the upfront costs as a few of her concerns.
There is, however, a bright spot in her 2021 construction trends and that is digital acceleration. "The construction industry also appreciated the value of connecting through technology during the pandemic, complying with physical distancing while managing projects remotely. The added benefit has been improved data on projects, the modernization of procurement…and a demand for permitting to go digital."
This digital acceleration is where Acumatica Construction Edition comes in.
Acumatica Construction Edition crosses the border (virtually)
Acumatica, which continues to hold the title of fastest growing cloud ERP solution in the market, provides businesses with a single business-wide software suite that is designed to meet their specific needs. Acumatica Construction Edition, a comprehensive ERP for construction industry, was unveiled in early 2019, and its success has been substantiated by construction firms across the board.
Owner and CEO of Hartzell Construction, Anderson Pinto, says he was looking for a complete system and couldn't find it until Acumatica. "When I looked at Acumatica Construction Edition for the first time, I saw how easy it was to use. I truly believe Acumatica would be good to partner with after seeing the innovative technology Acumatica is bringing to help modernize the industry."
In Acumatica 2021 R1, Acumatica's first of two annual updates, our cloud-based accounting and construction software received industry-specific improvements. They included Procore integration enhancements, the ability to pay AP Bills by project, linked AP bills to field service appointments to simplify cost tracking, and boosted customer responsiveness by simplifying field service invoice correction.
Acumatica customers can look forward to such improvements every year, and we're excited that Acumatica Construction Edition will be officially launching in Canada! Acumatica's Construction Edition Canada Launch will be taking place on Thursday, April 15, 2021 at 10:00 AM Pacific Daylight Time.
Register for the 45-minute digital event and learn:
The future direction of design, technology, and product development
What makes Acumatica a leader in the construction software industry
How Acumatica has already helped Canadian construction customers grow their business
Attendees of the virtual event will also see product demonstrations on French localization, dashboards, API integrations, and payroll for the Canadian construction market.
The speakers include Acumatica CEO Jon Roskill, EVP Product Management/CSO Ajoy Krishnamoorthy, Senior Product Manager (Construction) Joel Hoffman, and Product Specialist Mike Gillum.