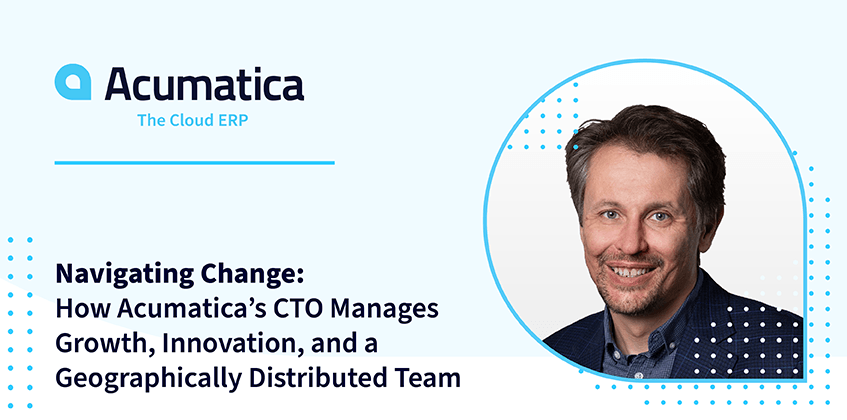 Acumatica CTO Mike Shchelkonogov shares his thoughts on the company's inception, how the company has adapted to change in the last 15 years and how his geographically diverse team of engineers and developers can collaborate remotely.
Q: What was the general reaction to the product when it was first released?
A: At the time, business decision-makers across industries were skeptical about adopting a web-based ERP solution, primarily because of security concerns. They were used to housing ERP data on-site rather than in data centers and doubted the value of ERP as-a-service. Many people viewed our approach to product development as an experiment. But despite those concerns, it became clear that technology was advancing and a shift toward off-site, cloud-based management systems was inevitable. As more businesses adopted Acumatica, they saw firsthand how beneficial cloud-based ERP was to their business.
Q: As the company's Chief Technology Officer, tell us how your role with the company has evolved and how the product development and design team has grown in the past five to 10 years.  
A: When we started the company, we were a team of 10 people. Each one of us wore multiple hats. I remember acting as a product manager, designer, and customer support agent, to name a few. But then, when we started growing, my focus narrowed to overseeing technical development.
That period of expansion was a great lesson in delegation and empowering team members. We've been able to coach and guide our teams on improving Acumatica's services sustainably for our business.
I'm extremely proud of what we've achieved, the product we've created, and the fact that it's been so successful in the market. It is great when customers share how Acumatica has helped them scale, adapt to change, and better serve their customers.
Q: There have been changes to the team recently. What is the geographic breakdown of the team and locations? Can you tell us about your move to Seattle?
A: Our development team is comprised of more than 250 people who are distributed across Canada (Montreal and Ottawa), Ohio, Serbia, and Sri Lanka.
We previously had much of the team based in Russia. With the global COVID-19 pandemic, like many other businesses, we increasingly relied more and more on working remotely and built the skills of collaborating across locations. As the conflict between Russia and Ukraine escalated in 2022, we supported team members in relocating out of the country.
Those relocation efforts included my move to Seattle, Wash. The move to Seattle has been a great opportunity for me to connect with local customers and partners and collaborate closely with our management and executive teams.
Q: Tell us about your experience in managing a more geographically diverse team. What best practices have you utilized to embrace this kind of distribution and remote working style?
A: It's been a combination of things. First, we were already operating in a multinational, multicultural environment, given team members are distributed across different countries. Second, the COVID-19 pandemic gave our development team firsthand experience in remote work. Third, we have established and mature engineering processes – meaning our team members have a deep understanding of their responsibilities, as well as Acumatica's process for developing and testing software. Fourth, our infrastructure is organized in such a way that it's relatively automated, so we can redistribute it across locations with minimal disruption. These four elements gave us an advantage in working remotely across geographical boundaries. And of course, it's about the people and their commitment to the company. I'm extremely grateful to the employees who have been loyal to the company during these adjustments and embraced remote work.
Q: How do you foster a culture of innovation and creativity within your team?
A: Fostering a culture of innovation and creativity is a top priority for our technical development team. However, our unique challenge is not about remaining creative and innovative; but rather about fitting the cycle of development into the constraints of ERP, which has a development cycle of around five to seven years, and customer lifetime value of 15-20 years. We prioritize practical innovations that address the realities of what users need, rather than chasing the latest trends. We believe that practical innovation that meets the needs of our users is the key to our long-term success.
One thing we strive to do is foster open communication and collaboration. We encourage team members to share their ideas and perspectives, and this helps us fire on all creative cylinders at a manageable and realistic cadence.
Q: What will the next several years of ERP technology bring to Acumatica customers?
A: Our main priority is continuing to improve the user experience in two ways: integrated reporting tools and non-programming customization. We will accomplish this goal by introducing new technologies that will improve the visual appearance and overall usability of the product.
Integrated reporting tools give users a powerful way to analyze and understand their business operations. By providing users with access to real-time data and customizable reporting tools, Acumatica helps businesses make better decisions and improve their overall performance.
We enable our partners and customers to customize the product to meet their unique needs without extensive programming knowledge. This is what we call "non-programming customization." Users can configure the system for their business processes without needing support from developers. We will continue to simplify non-programming customization in the coming years.
And, of course, we will continue to extend the ERP functionality we deliver for our customers by coming up with new and improved business functionality, particularly in those industry areas we focus on.
Learn more about the latest updates and key features of Acumatica Cloud ERP here: /cloud-erp-software/acumatica-release-news/