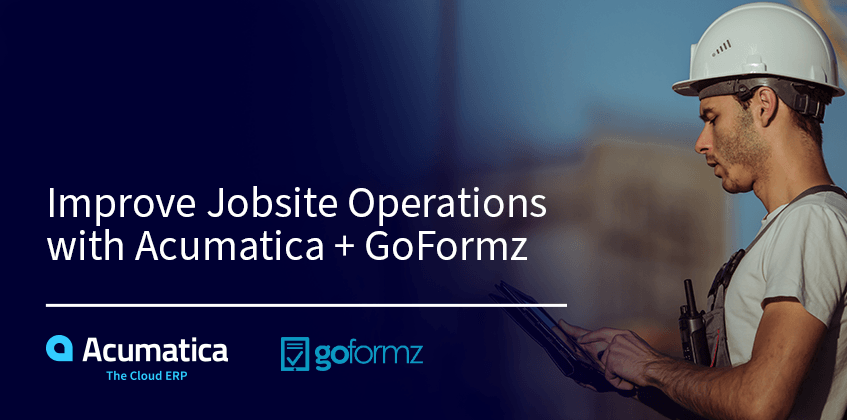 At Acumatica, it's always exciting when we have the opportunity to announce new Acumatica integrations, and today's announcement is no exception: GoFormz is now available in the Acumatica Marketplace.
The GoFormz and Acumatica Integration
GoFormz is the leading data capture platform that allows users to collect data using mobile forms, sending the data wherever it needs to go without IT services or coding capabilities. With over 40 million pages processed and more than 100,000 customers in 150 countries, the popular solution helps businesses "digitize their forms, work smarter, and modernize how work gets done."
Now, members of the Acumatica ecosystem have access to GoFormz Mobile Forms. GoFormz CEO Rob Brewster says in the GoFormz press release, "The partnership between GoFormz and Acumatica eliminates common obstacles to data collection and processing, such as manual document hand-offs, rekeying from data into Acumatica, and physical record-keeping. This integration allows data to be passed in real-time between digital forms and Acumatica records, empowering businesses to digitally transform the way they gather and share information."
The solution caters to businesses with teams working at remote jobsites, such as those in the construction industry that have also embraced a construction ERP solution. Businesses that implement GoFormz Mobile Forms can digitize existing forms using a drag-and-drop form builder. They can also create new forms. Whether existing or brand new, the forms can be accessed via phones, tablets, and computers—and they don't have to be online to do it.
Should a form need to be accessed and filled out while offline, it will quickly upload when service is available, routing the information to other employees, customers, and connected applications. The use cases for digitizing documents are many, including daily construction reports; pre-task plans & job hazard analysis (JHA); quality and safety checklists; change order requests; requests to bid forms; extra work authorizations; safety documentation and orientation forms; permits; waivers; and more.
A GoFormz article on the integration notes that jobsite paper documents can cause "project delays, errors in reporting, and inefficient workflows," as well as cause "bottlenecks in your project timeline." However, GoFormz believes these challenges are eliminated with the GoFormz and Acumatica integration.
Acumatica + GoFormz = Improved Job Site Operations
Users receive many benefits from seamless ERP integrations, such as the integration with Acumatica and GoFormz.
According to the GoFormz Acumatica Marketplace listing, "Once a form has been submitted it can be instantly routed to colleagues, customers, and connected applications, like Acumatica. Completed forms can be instantly uploaded to corresponding Acumatica records or used to create entirely new records. Data collected within digital forms can even be used to update Acumatica objects, alleviating administrative burdens and reducing opportunities for error."
Additionally, with GoFormz Mobile Forms, digital forms can be easily:
Equipped with fields to capture new types of information (e.g., images, sketches, GPS/maps, barcode data, and signatures)
Configured with logic to guide user data entry, reduce data entry error, and ensure forms are correctly completed before submission
Enforce important review and approval steps before the information reaches Acumatica
The automatic and real-time delivery of jobsite data to Acumatica saves time and frustration, while also ensuring security.
Says Acumatica's Christian Lindberg, Vice President of Partner Solutions, "The challenges of the past year have encouraged businesses across sectors to prioritize digital transformation. The GoFormz platform empowers digital newcomers to modernize operations and work more efficiently. We're proud to add GoFormz to the Acumatica system."
Go to the Acumatica Marketplace and check out GoFormz Mobile Forms today. The integration between these two innovative and sophisticated platforms means improved jobsite operations for businesses in today's digital economy.
To learn even more, contact our team with questions and/or to request a demonstration.