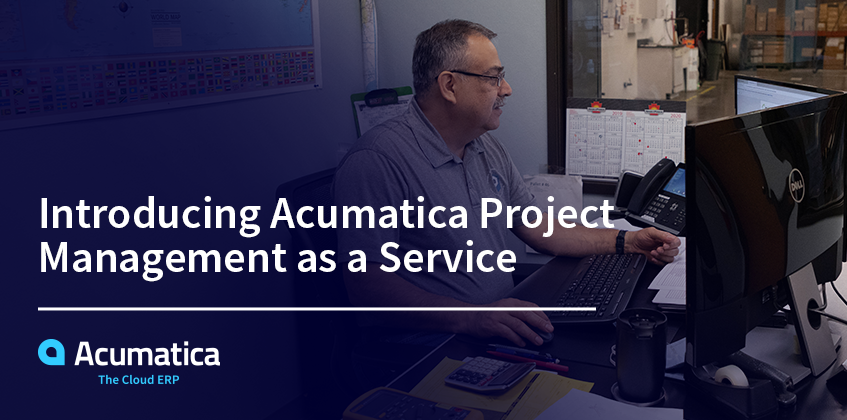 Acumatica, the world's fastest growing cloud ERP company, is excited to announce a new service: Acumatica Project Management as a Service. Designed to help our partners achieve ERP implementation success, the service pairs Acumatica project managers' wealth of knowledge with our partners' expertise for an unbeatable combination.
First, A Little Background
From the outset, Acumatica's founders focused on the importance of the partner channel. The founding team members believed that the channel was the perfect conduit for selling the future-proof cloud ERP solution and for supporting customers throughout the ERP implementation process. Ali Jani, Chief Product Officer, Acumatica, explains why in an article celebrating Acumatica's 10 year anniversary:
Everything that we did from day one was not about adding sales teams or doing direct sales. We recognized the platform, and the power of the platform can only be exposed if we have people who want to leverage the platform, to build products and adapt the ERP solution for their end customers. We can't be experts in every vertical and we needed the partner channel to help us with their domain knowledge and expertise to leverage the platform, build customizations, and use our tool sets to deliver solutions.
He adds: "That helped us really secure a differentiation by building a product that is highly adaptable and then staying true to the channel. We don't compete with our channel, we have the best channel program on the market, and this helps us focus on one thing, making our partners successful."
In addition to our no-compete promise, our award-winning Acumatica Partner Program provides excellent training, ongoing support, and the most generous margins and terms in the industry. Now, Acumatica Project Management as a Service will help our partners grow their Acumatica business further.
Acumatica Project Management as a Service Details
With Acumatica Project Management as a Service, our partners work directly with Acumatica certified project managers, who help them successfully complete each stage of the ERP implementation lifecycle. Partners can choose between two service options.
The Standard Project Management option includes:
Project Planning
Kickoff Meeting
Weekly Project Management Meeting
Weekly Core Team Status Meetings
Weekly Status Report
Project Plan Tool
The Premier Project Management option—recommended for enterprise-type projects—includes the above services as well as periodic follow-up and status updates, monthly Steering Committee meetings, task/issue log monitoring, and a personalized dashboard.
Partners benefit from either option. They'll work closely with Acumatica's expert project managers to monitor and control projects by managing scope change, providing project status reports, maximizing resources, facilitating communications, setting expectations. The highly experienced project managers will also drive continuous improvement activities.
Ultimately, partners will learn how to manage highly effective ERP implementations using Acumatica's eight-step implementation process, best-in-class practices, and the Acumatica Success Deployment Framework, pictured below.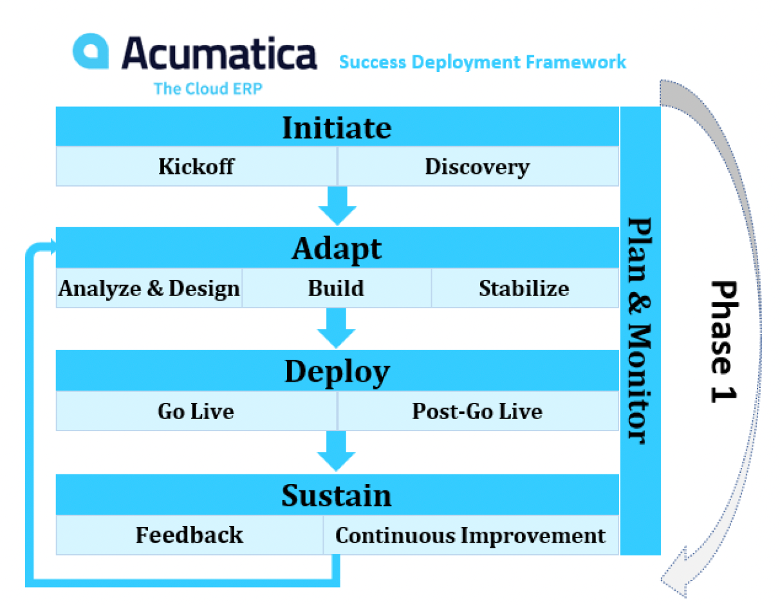 Is Acumatica Project Management as a Service Right For Every Partner?
The Acumatica Project Management as a Service may not be for everyone—but it can be.
If a partner desires productive projects, increased team productivity, and improved internal processes and cross-functional team performance, then this service is an excellent fit. It's also an excellent fit for partners who want to effectively balance work and eliminate redundant tracking and monitoring tools.
To learn more about the new service—which is available as part of the standard implementation assistance program or as a standalone service—contact your Partner Account Manager (PAM) or create an implementation assist case to speak with an Acumatica Services team member.
And to learn about how to become an Acumatica partner or about Acumatica's cloud ERP software, contact our experts today.