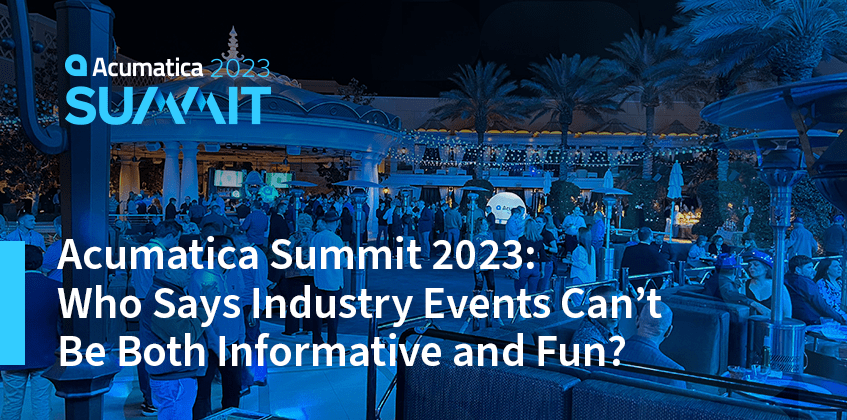 Thousands will gather in Las Vegas later this month for Acumatica Summit 2023 (January 29 – February 3), where they'll learn new ways to transform their businesses, receive training on the latest features of our cloud ERP solution, and connect and network with peers and industry leaders. We've definitely created an agenda that will help everyone get the most out of their Summit experience, but…what's a great event like this without a little fun? The Summit Agenda is also filled with social activities we believe will meet most everyone's definition of fun.
Acumatica Summit 2023 Social Events
It all starts with the venue. Wynn Las Vegas is a five-star, luxury resort minutes away from everything Las Vegas has to offer. But you don't even have to leave the resort to have fun. Just a few steps from your guestroom door, you'll find vast entertainment options, including gambling, live theatre, swimming, golfing, shopping, dining, a fitness center, and a full-service, award-winning spa experience.
In this spectacular venue, we'll be hosting the following social events, planned for your enjoyment at Acumatica Summit 2023.
Can't-Miss Parties
The three parties scheduled across the event will help make Summit a relaxed, entertaining environment to network and connect with the Acumatica Community.
Welcome Reception
Every year, we kick off Summit with our Welcome Reception on Sunday night (January 29). With appetizer and cocktail in hand, you can wander through the Acumatica Marketplace to check out the pioneering third-party applications exhibited by Acumatica ISV partners.
The Welcome Reception also provides you with the perfect opportunity to chat with your peers and meet members of the Acumatica team.
Summit Celebration Party and Dinner
At the end of a Monday jam-packed with innovation and technology, it will be time to unwind with amazing food and beverages during our Summit Celebration Party and Dinner. The event will be returning to the XS Nightclub, which surrounds Encore's European pool. DJ Kara will be on hand to set the right mood and get the energy going, providing Acumatica customers, partners, and developers with the perfect music to dance the night away! But don't stay up too late, because Tuesday's keynote, general sessions, and breakout sessions are also can't-miss events.
Closing Reception
When we added a Closing Reception to last year's Summit, we got such positive feedback that we've decided to make it an annual thing. Located outside of the Acumatica Marketplace, the Closing Reception will feature live music, cocktails, and food. It will also give you a bit more time to network with your peers and build relationships that can bolster your business and grow into good friendships.
Energizing Workouts
To help you keep fit, healthy, and energized, we'll be hosting two exercise events at Summit 2023.
Yoga
Bright and early Monday morning (6:15 AM), you can join Justine Crowley of Cloud 9 ERP Solutions for an hour-long yoga session. As a Reiki Practitioner and nutrition enthusiast, Justine motivates her clients to seek spiritual growth and physical transformation. She's always on the lookout for techniques that create a sustainable mind, body, and soul connection, and, when she finds them, she shares them with her clients. And don't worry if you are a novice at yoga. All levels are welcome.
Morning Run Through Vegas
On Tuesday morning, avid, semi-inspired, and even indifferent runners are all welcome to meet at 6:00 AM in the Main Entrance Lobby for an hour-long run down the Las Vegas Strip. Like the yoga session, you'll have a chance to reset and energize your mind, body, and soul before the day begins—while also enjoying a rare look at a quiet Vegas.
A Few Extras
In addition to the spectacular venue, the celebratory parties, and opportunities to exercise, we'll also have the Acumatica Hackathon, where participants think outside the box, build a stronger community, learn all about Acumatica's cloud ERP solution, grow their communication and collaboration skills, make friends, and—you got it —have fun.
On Monday, January 30, we will again be hosting our popular Women in Tech Luncheon, which will be followed by an all-new Women in Tech Networking Workshop and Reception. These engaging sessions will feature Nada Lena Nasserdeen—bestselling author, TEDx speaker, and founder of Rise Up For You. This year, Acumatica's community of talented women will have an extended opportunity to explore powerful conversations, forge and deepen valuable networking connections, and learn "How to Be Heard, Be Seen, and Be Relevant."
But the fun doesn't stop there. Acumatica is a proud sponsor of Joe Gibbs Racing (JGR), and, for the 2022 NASCAR Cup Series at Kansas Speedway, we were the primary sponsor of JGR's No. 11 Toyota Camry TRD, with renowned NASCAR driver Denny Hamlin at the wheel. We couldn't be more excited that, at Acumatica Summit 2023, you'll get to see this show car (complete with Acumatica logo), experience an interactive NASCAR exhibit, and even visit the tire changing station to try your hand at being a member of a pit crew. All of this will be conveniently located in the Acumatica Marketplace.
Also in the Marketplace will be a complimentary headshot booth. With the help of a skilled makeup artist, you'll walk away with a professional picture suitable for all your business and marketing needs.
Join Us For Some Fun at Acumatica Summit 2023
Our objective for Acumatica Summit 2023 is to bring the Community together to celebrate achievement, discover and learn, and imagine how we can shape the future of technology. But we also want you to have a good time, and we think our amazing venue and the varied social events we've planned will make that possible. We encourage you to join us and check it all out for yourself!
Register for Acumatica Summit 2023 today. And if you have any questions about Summit, do contact our event team at support@acumaticaevents.com.