Every year, I have the honor of planning and participating in the Acumatica Hackathon—the kickoff event for our annual cloud ERP Summit. Every year, I'm amazed at their amazing talent— the creativity, expertise, and teamwork exhibited by the developer and non-developer participants alike are always top-notch. This year, the Acumatica Summit 2023 Hackathon participants came fully prepared to take the top spot at our competitive (but extremely friendly) Hackathon event, and I'm ready to reveal which teams walked away with the first, second, and third-place prizes.
Acumatica Hackathon: What Happened, Who Won
At this year's Hackathon, teams were made up of 6 or 7 participants, including one or two Acumatica Developer MVPs, a Subject Matter Expert (SME) from Acumatica, and other developers and non-developers, collaboratively working to generate high-quality, unique application ideas. These ideas are then brought to life within a very short period of time—a little over 15 hours, to be exact—during our highly anticipated and growing Hackathon event.
This past Saturday (January 28) at 12 PM PST, the 12 teams were let loose, diving straight into the creation of a one-of-a-kind app that works on—and extends—the functionality of our award-winning Acumatica cloud xRP platform. Teams were allowed to continue innovating, building, and having fun until midnight.
Returning at 10 AM PST on Sunday, January 29, each team had just a few short hours to tweak their application and their presentation before presenting their problem-solving technology at 12 PM PST to our prestigious panel of judges. The judges included CTO Mikhail Shchelkonogov; CPO Ali Jani; VP of Platform Engineering Andrew Boulanov; VP Partner Solutions Christian Lindberg; VP Product Strategy Dimitri Blondeel; VP of Services Todd Kuhns; and Sr Dir. Technology & Product Evangelism Steven Houglum.
After deliberations, the judges' scores were tabulated based on the applications' creativity, completeness, technical difficulty, usefulness, and presentation quality.
As always, the scores were very tight and every single team designed outstanding applications, but the following three teams distinguished themselves above their peers.
Third Place: Team Gamma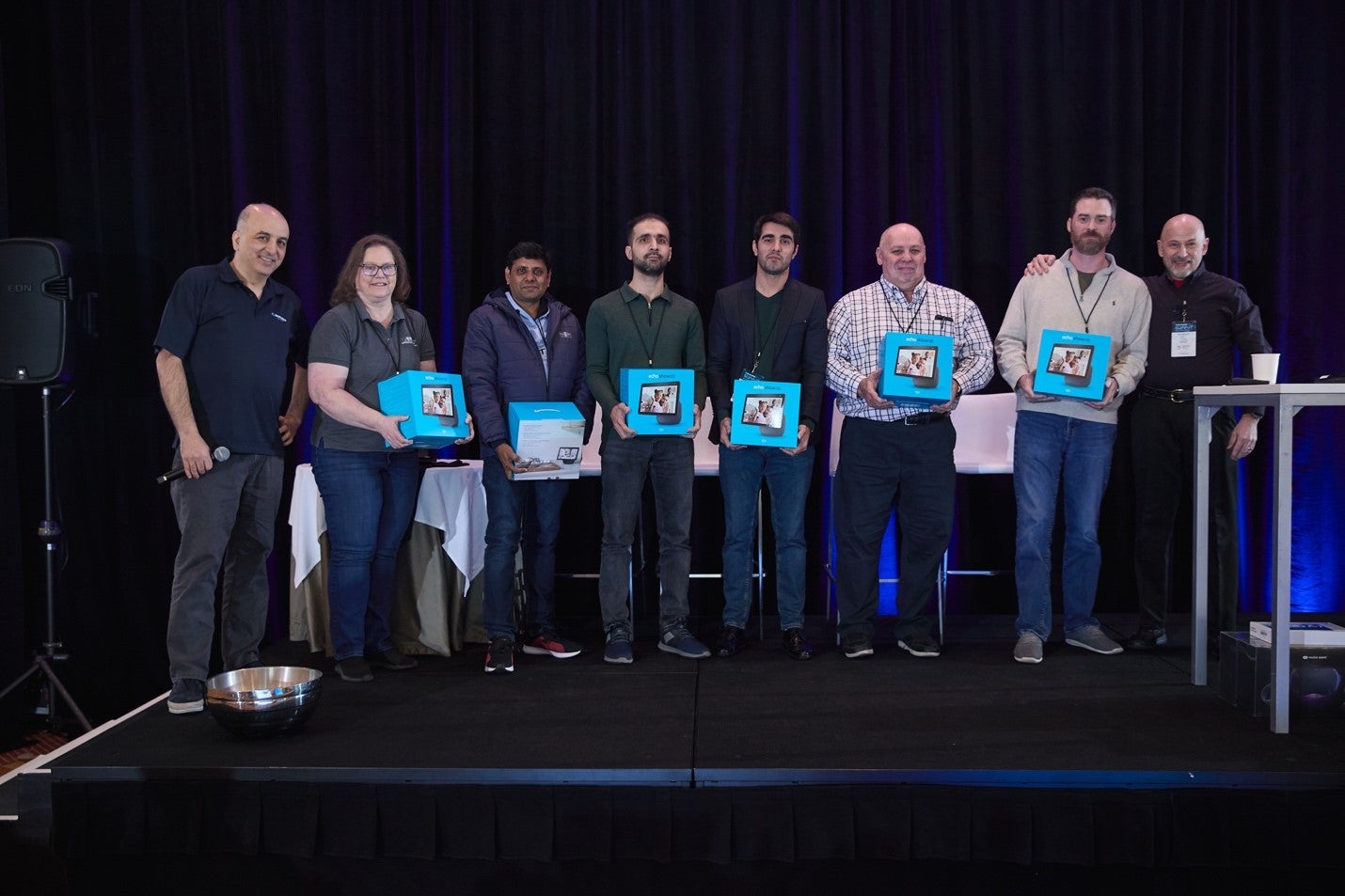 Diane Cawley, Savant Software, Inc.
Samvel Petrosov, Information Integration Group, Inc.
Norayr Petrosov, Information Integration Group, Inc
Thomas Finney, Get Sojo
Michael Coman, Synergy Resources
Brian Lombardo, Unilog
Chandra Sekhar Mani, Kensium Solutions
Solution: Gamma's project allows a warehouse shipping dispatcher to group shipments together into a route, to be delivered on a company-owned vehicle. The software then runs the shipment through an outside API called Route4me.io which will optimize the sequence of deliveries for those shipments in the route.
Second Place: Team Zeta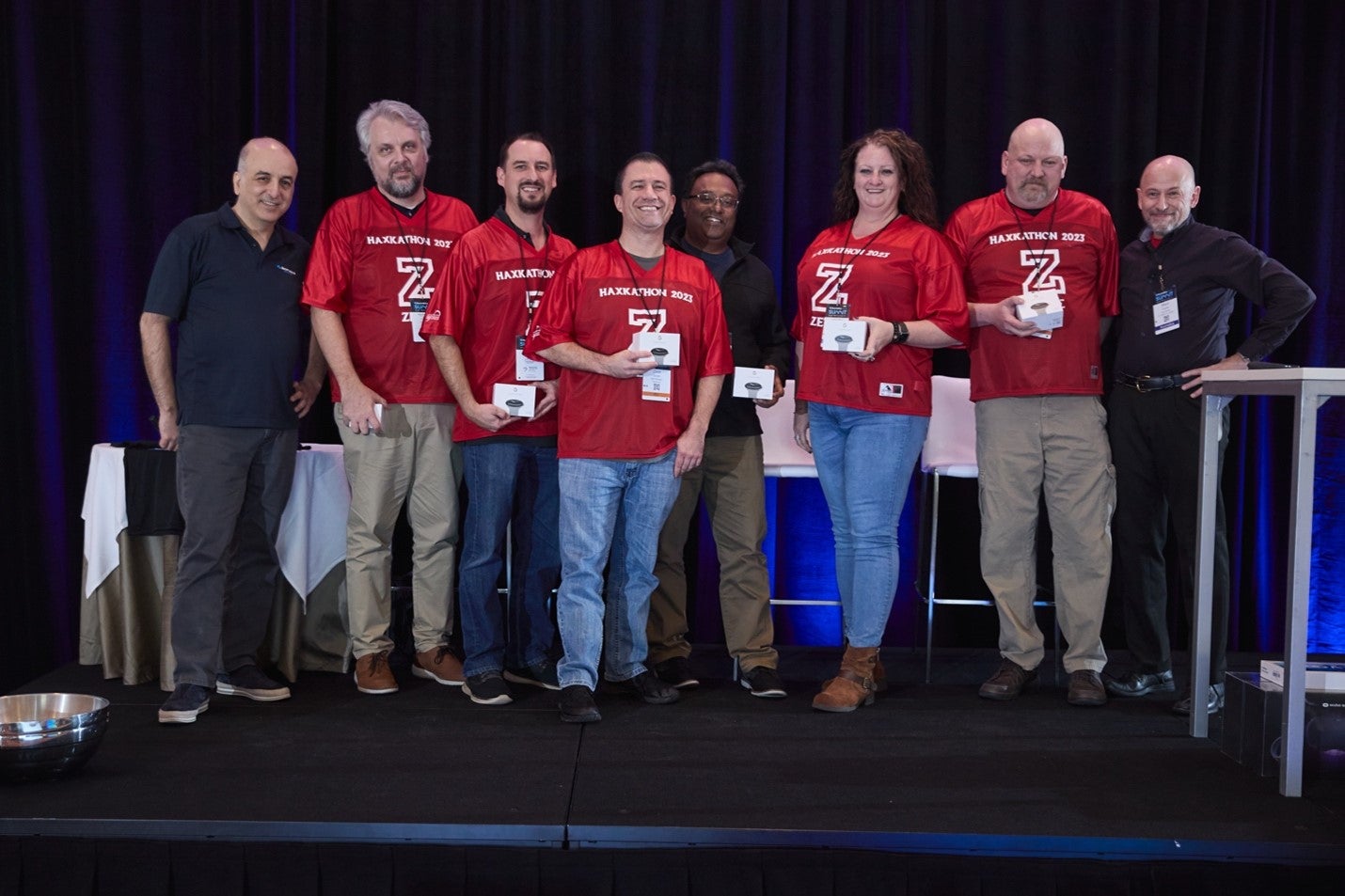 Tony Lanzer, Aktion Associates
Troy Vars, CS3 Technology
Clint Smith, MFGStream
Steve Iwanowski, NextStep / DSD Business Systems
Jennifer Douglas, Wind River Tobacco
Rahul Gedupudi, Kensium Solutions
Solution: Team Zeta created a single Dashboard in Acumatica that allows a VAR to see all the relevant details for customers in a single place. The VAR will have the ability to add new customers by deploying the packages to each client instance.
First Place: Team Mu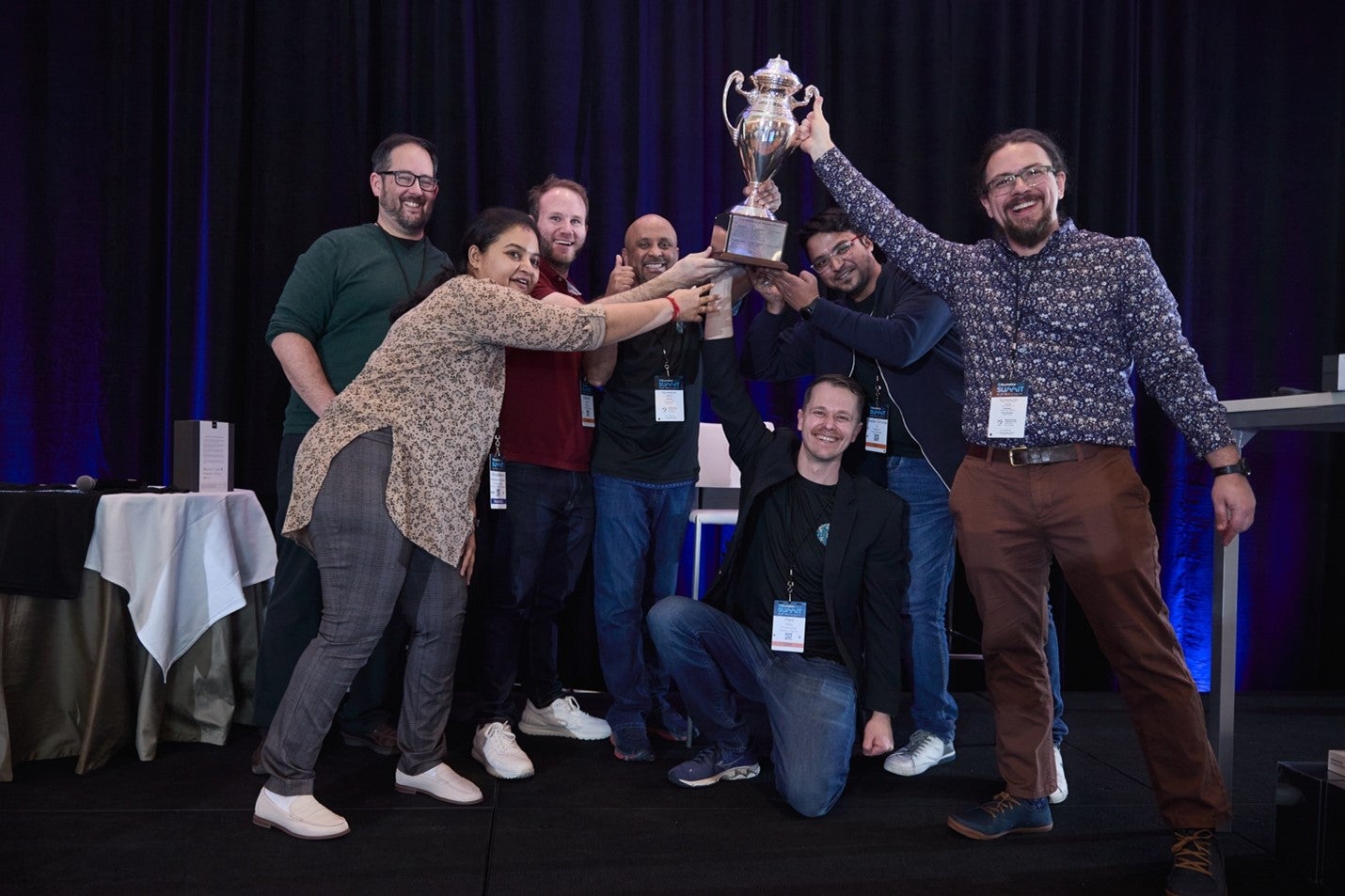 Patrick Chen, SPS Commerce
Harsha Sarjapur, InfoSourcing Inc
Chetan Srinivas G, Kensium Solutions
Shawn Goodwin, Martin and Associates
Paul Gilfoy, PriceKubecka
Brandon Sproul, Blytheco
Vidhya Hariharasubramanian, Acumatica
Solution: Team Mu created an all-in-one Customization Package manager. No longer do Admin's have to wait until 2 am to publish a customization project. No longer do ISVs need to tirelessly track the customization version their customers run.
Congratulations to the winners! Their hard work has earned them the honor of having their names inscribed on the very popular Acumatica Developer Network Hackathon Cup. In addition, they were recognized during the Tuesday Keynote. Additionally, Team  Mu presented their winning project, kicking off the Lightning Sessions we hold as part of our Summit Developer Track.
Each of the winning teams above took home the following prizes:
First Place: Bose Wireless Noise Cancelling Headphones
Second Place: Google Pixel Watch
Third Place: Amazon Echo Show
Where can I find the Acumatica Hackathon Projects?
We have our own GitHub Acumatica Hackathon Repository. Since 2017, each team has used GitHub as a repository for their code.  So yes, you can review the actual code that each team created and learn in detail how they built their projects.  Not only this year but over the past 7 years.

To access and review this year's hackathon team projects and in years past, click the link below:
https://github.com/AcumaticaHackathon
Acumatica Hackathon: Real Feedback
Most people consider me one of the biggest—if not the biggest cheerleader for our annual Acumatica Hackathon, and therefore, I may not be the best person to ask how this year's event went (it really was fantastic). So, to ensure that everyone has a clear picture of what the Acumatica Hackathon is like and why every Summit attendee should participate, I spoke with a few participants from this year to get their unbiased, real-time feedback.
Kulvir Kaila, Director of Application Development, The Answer Company, is one of our 2023 Acumatica Developer MVPs, a second-time Summit attendee, and a first-time Hackathon participant. Prior to attending, he admitted he had some concerns.
"I was a little nervous coming in. There's a lot of bright minds here. I wanted to contribute and see how it went, but it was above my expectations. There's a lot of brilliant people here, and I thoroughly enjoyed it," Kulvir says.
He and his team built an automated deployment application that automates the publishing of code from the repository to the live instance of Acumatica. "I'm looking forward to taking it back to The Answer Company," he says.
As to whether he'll attend another Hackathon, Kulvir says he will be back.
I'm probably going to bring my development team because it was such a great experience to collaborate with people from different sections of the community, whether they're a customer, VAR, ISV, or independent developers. I thought that the collaboration was interesting and trading ideas and stories were something I wasn't really expecting. The relationships you build in this community in just 24 hours are really good.
He adds, "I've never experienced anything like this before."
Unlike Kulvir, Diane Cawley, Chief Software Architect, Savant Software, has experienced this particular Hackathon before—in fact, five times before. We love that she is one of our Hackathon regulars, but why does she keep coming back?
I like to work with other developers and just kind of see who's doing what and learn something new every single time. [At the 2023 event], we have a good, collaborative team. Walking around, it looks like others have the same feeling. Everybody's working really hard but also having fun.
With her extensive experience at our numerous Acumatica Hackathons, Diane has helped create a number of diverse applications but says not all of them have had a bearing on what she and her company do. However, a few have, and she says, "We can take it and maybe expand it. We have a foundation for what we're trying to accomplish."
Diane believes developers and non-developers should sign up for Acumatica Hackathon, explaining that no one needs to be nervous. "You don't have to be the smartest person in the room and sometimes people get intimidated by a whole room of technical people."
And, as the only woman Developer MVP this year, she's encouraging more of her female peers to join the Hackathon fun. "I'd like to see more women here. There's a few but not very many, and I always want to encourage more women to show up."
Diane also says she's looking forward to the next one—something to which three-time Hackathon participant Gerhard van den Heever, Technical Director, FBA Software, is also looking forward. Hailing from South Africa, Gerhard says the trip is worth it every time, and he anticipates the community and the sharing of knowledge that takes place.
For me, it's actually amazing that you get VARs, clients, ISVs, internal Acumatica execs/employees—just everyone can come together. I've never seen a group of individuals that actually sit, put their differences aside, and help each other in really trying to find solutions. That, for me, is one of the biggest highlights.
Regarding the applications developed during Hackathon, Gerhard notes that they're based on specific needs within each industry, and because they're available on GitHub, he and his team can capitalize on each other's application as "a nice little boilerplate template."
For those attendees who are either participating or thinking about participating in the Acumatica Hackathon, he says, "[There needs to be] a willingness to always receive feedback and also to provide feedback."
He also points out that the Acumatica Hackathon is the time for beginner and advanced participants to ask and answer questions, whether the questions are simple or complex. What one considers simple, another may see as complex, he says. In the end, they can all come together and advance their cloud ERP knowledge.
Acumatica Hackathon: Good-Bye is Just Hello to Next Year
Saying goodbye to another well-attended, learning-filled, and very enjoyable Acumatica Hackathon is never easy, and I'm already counting the days to when we can all say hello to Acumatica Summit 2024 Hackathon. Until then, I encourage community members to check out the Acumatica Developer Landing Page and our Acumatica Community Developer Forums.  It's the perfect place to stay abreast of Acumatica innovations, news, events, and more and to form deep connections with other developers and community members.
Thank you again to everyone who joined us for our annual Acumatica Hackathon! For any questions about the Hackathon or about Acumatica's transformative cloud ERP software, contact our experts today. They'll be happy to answer any and all questions and to schedule a demonstration.
Until next year – Happy Coding!